The Truth About KJ Apa's Girlfriend, Clara Berry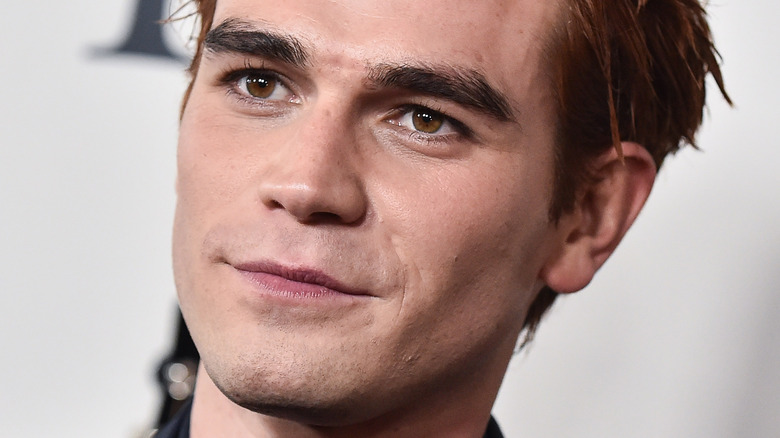 DFree/Shutterstock
Riverdale star KJ Apa and Clara Berry first went public with their relationship in February 2020 in a now-deleted Instagram post of the two kissing on Apa's account, per People. The couple later announced that they were expecting their first child together in May 2021 via Instagram. Apa posted a photo of him and Berry on the couch with his girlfriend's growing belly exposed. This was the first clue that the couple were expecting, but Berry seemingly confirmed the news with another post that same day. She posted part of a maternity photoshoot on Instagram and tagged Apa as her baby bump.
Apa opened up to NME in 2021 about experiencing fears before becoming a father. "Definitely I was scared," Apa told the outlet. "I don't think you're normal if you don't have a little bit of fear going into such a huge, monumental time in your life. But as soon as I saw him and I saw [Clara] do what she did, everything kind of fell into place. All my questions were answered."
Apa's Riverdale co-stars Camila Mendes and Lili Reinhart shared their support and excitement for the couple following their pregnancy announcement on social media. Prior to their announcement, however, the couple were very private about their relationship and kept it offline for the most part. So, who is Clara Berry?
Get to know Clara Berry
According to Us Weekly, Clara Berry is a French model who has been working full-time in the fashion industry since she was a teenager. Vogue reports that Berry was signed by Present Model Management, a modeling agency, back in 2016, when her full-time career began. She has modeled for Off-White, Diesel, Tommy Hilfiger, and more high-profile brands over the years. The rising model is popular on Instagram, where she captions almost all of her photos in French. Berry's dog, an adorable Pomeranian named Nenem, also his own Instagram account run by the model.
Berry is definitely focused on fashion and her modeling career, but she also cares about and advocates for important social justice and environmental causes, according to V management. She has also been involved with music, just like her partner KJ Apa. A musical project from 2017 features Berry singing with another artist Insomni Club on YouTube. As of recently, she's been focused on being a mother, not only to her fur baby Nenem, but also her baby boy Sasha.
Berry and Apa welcomed their first child together on September 23, 2021. Since then, the couple have been more public about their relationship on social media. Berry captioned Sasha's birth announcement on Instagram, "He is a perfect perfection. I am the luckiest to have now two men of my life, filling my heart with this cosmic gigantic vast love." So, what's next for these two?
Are Clara Berry and KJ Apa married?
KJ Apa is beyond in love with Clara Berry. The actor even told Entertainment Tonight that he sees the model when he looks at their son, Sasha. "I find myself looking at him and getting goosebumps 'cause I feel like I'm looking at a version of myself — which I guess I am," Apa said. "I see a lot of Clara in him too, which is something you can't really describe. You can't really describe the feeling, it's amazing."
Rumors began flying when Apa posted a video on his Instagram in October 2021 with the caption "My wife is a milk machine and I love it." In the video, the actor is pouring what seems to be Berry's breast milk from a baby bottle into his coffee before drinking it on camera. The hint that Berry may now be his wife sent fans into a frenzy in the comment section. However, TMZ caught up with the Riverdale actor in April 2022 and he confirmed that the couple are not yet married and showed off his naked ring finger. But he did tell the TMZ reporter, "I do want to get married." While the couple has not yet tied the knot, it doesn't seem like the wedding bells are too far away.