Why Jaden Smith Had A Hard Time Getting Along With His Dad As A Kid
Rich Fury/Getty Images
Jaden Smith, the son of Will Smith and Jada Pickett Smith, is both an actor and music artist who started his career at an incredibly young age. With famous parents in the entertainment industry, Jaden was destined for success. One of his most memorable roles was his acting debut in the 2010 film "The Karate Kid." He also starred in other films such as "The Pursuit of Happyness" and the 2008 adaptation of "The Day the Earth Stood Still," per IMDb.
Although Will and Jaden are both actors — and have starred in movies alongside each other — the father-son duo are completely different individuals with separate outlooks on life. In a 2015 interview with TIME, Jaden opened up about his father, saying, "His thoughts are equally if not more complex than mine, and more individual, in a way that I'm still learning and understanding." He later goes on to add, "He's just trying to crack the code of life and relationships because that's what life is."
Despite the fame and fortune, growing up in the public eye with famous parents is not as ideal as it may seem. In a 2018 interview with DAZED, Jaden said, "People treat me like I'm not a normal human so much, that you start to believe (it), like, 'Am I not a normal human?'" This confusion could have led the young entrepreneur to have a difficult relationship with his parents growing up, but what's his relationship with them like these days? 
Will pushed Jaden more than Jada liked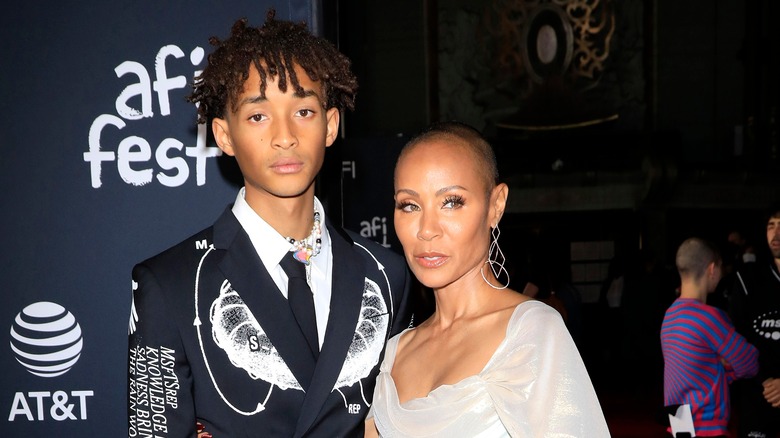 Kathy Hutchins/Shutterstock
Jaden Smith spoke about his relationship with his father on "The Late Show" with David Letterman in 2010. He spoke highly of Will Smith, saying, "He's guiding me, he's helping me a lot, and I really love him and he's a great guy." He then later revealed that he's, however, closer to his mother, Jada. "I think I'm a mom's boy more than I am a dad's boy because my dad — when we're shooting movies, he will just push me to the edge of death." 
Jaden explained that Will pushes him in a good way, but it seems as though his mother Jada Pinkett Smith didn't put as much pressure on the young star. In fact, during a 2018 discussion on her Facebook Watch series, "Red Table Talk," Pinkett Smith spoke about her disagreeing with Will when it came to parenting their son. She also revealed that she felt like he was being pushed too far while filming for "The Karate Kid." 
"Will and I were in constant conflict, to the point that we were warring over Jaden," she explained, later adding, "Even in those battles that we've had over what's too much, what's too little — trying to find the balance in regards to parenting. I'll tell you one thing about the two of you all: You all know how to work, you all work hard, and you all do it well and I'm proud of that."
Jaden has his dad's back no matter what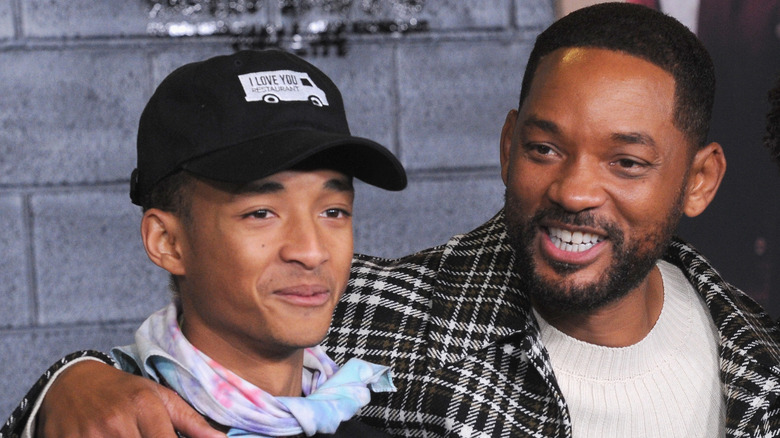 Albert L. Ortega/Getty Images
Despite their difference in parenting tactics while Jaden Smith was growing up, it appears that his parents aren't disagreeing as much these days. Most recently, Will Smith has been all over the news for slapping Chris Rock on stage after the comedian made a joke about Jada Pinkett Smith's appearance during the 2022 Oscars. While this controversial encounter shocked the world, Jaden has come to his father's defense. 
Following the incident, the actor's son tweeted, "And That's How We Do It." Although Jaden's supportive of his dad's actions, a source told US Weekly that Pinkett Smith wishes Will did not slap the comedian. "It was in the heat of the moment and it was him overreacting," shared the insider. "He knows that, she knows that. They're in agreement that he overreacted."
The Smith famous family continues to navigate their lives in the public eye and seem to have unconditional support for each other no matter the circumstances, and honestly, what more can you ask for?