Travis Scott Completely Stunned Kylie Jenner With His Mother's Day Gift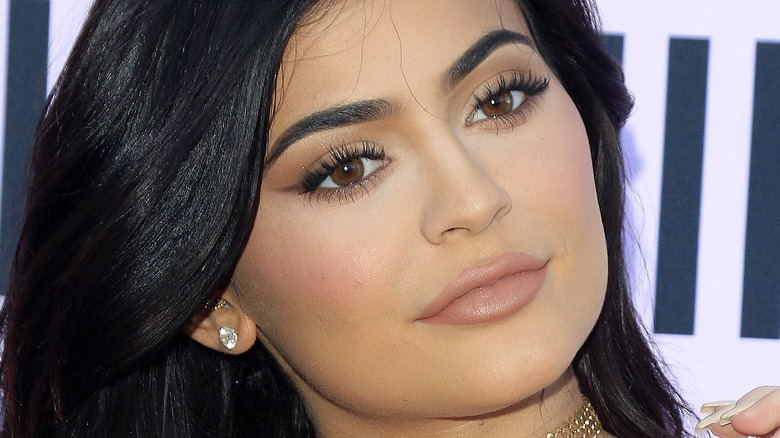 Joe Seer/Shutterstock
Travis Scott's never been one to do anything in moderation, especially when it comes to Kylie Jenner and their on-off-on again relationship. Jenner became pregnant with their first child, daughter Stormi, within just months of dating. However, after she accused Scott of cheating — which he denied — they split in October 2019. The parents reunited again in 2020 after quarantining together during the pandemic. In September 2021, Jenner announced she was pregnant for a second time. She gave birth to their son in February 2022.
During their time together, the rapper has spent millions of dollars on his baby momma. Amongst the luxury items is a $60,000 diamond encrusted necklace with a glittering butterfly pendant, which according to TMZ was in homage to Scott's hit single, "Butterfly Effect." The necklace reportedly included "28 carats of VVS diamonds." Then, there was one of the priciest "push presents" you can envision –- a sparkling new Ferrari LaFerrari (which has a base price of a cool $1.4 million). 
"Can't believe she's mine," Jenner typed on the photo she posted to Insta. "Kylie got a new car, push present goals," she captioned the pic. Six months later, Scott added further to Jenner's car collection. For her 21st birthday, he gifted her with a $320,000 monogrammed white vintage 1950s Rolls Royce, per Elle. However, despite all the previous bling and sweet rides, Scott completely stunned Jenner with his Mother's Day gift in 2022.
Travis Scott went all out for Kylie Jenner's Mother's Day gift
Travis Scott completely stunned Kylie Jenner with his Mother's Day gift –- knocking it out of the park on the romance stakes. In contrast to the lavish presents he's previously given, Scott kept it sweet and (kind of, relatively) simple. The rapper went down the floral route with hundreds and thousands of daisies. Jenner posted a pic of her and Stormi sitting together at a little table in the middle of the impressive display. "The sweetest mother's day," she captioned the photo.
It's not the first time budding blossoms have played a significant role in the couple's milestone celebrations. Jenner gifted Travis with a massive arrangement of flowers, which included daisies, a year before. He shared a photo of the beautiful bouquet on his Insta Story. "Early Father's Day love," he captioned the pic, via E! News.
Meanwhile, just three months after giving birth for the second time, Jenner sparked engagement rumors. The gossip mill went into overdrive when she posted a romantic sunset photo of her and Scott embracing in front of the ocean on her 'gram — the same day Travis Barker proposed to Kourtney Kardashian. However, in 2021, Jenner insisted marriage wasn't on the cards — at least not for now anyway. During the "Keeping Up With the Kardashians" reunion show, Jenner told Andy Cohen she wasn't "thinking about marriage," but hedged her bets by adding, "I would hope to get married one day."