Diane Keaton Opens Up About Her Unexpected Friendship With Justin Bieber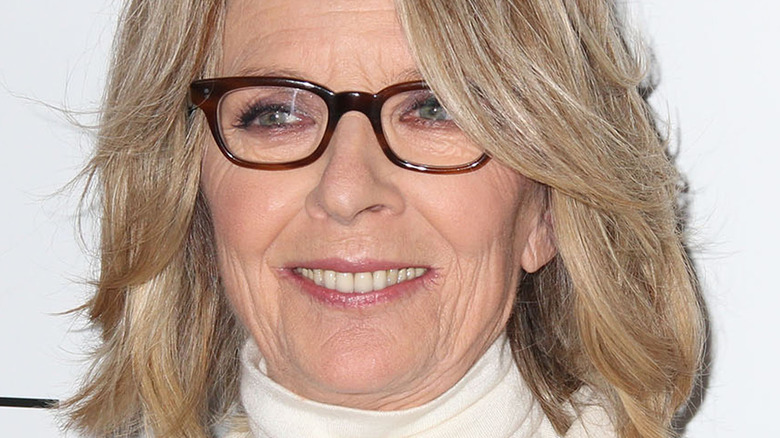 s_bukley/Shutterstock
Few people in Hollywood are more iconic than Diane Keaton. With a career spanning six decades now, the Oscar-winning actor is just as well-known for her emblematic roles in American classics like "The Godfather" trilogy and Woody Allen's "Annie Hall" as she is for her fashion style. Through the use of neutral colors and simple pieces elevated by her expert use of accessories and cutting-edge details, Vogue noted that Keaton has remained current throughout the years thanks to her ability to adapt while staying true to herself. Keaton has never been afraid to be bold. 
Now in her 70s, the celebrated actor continues to embrace her innovative nature. In October 2021, Keaton showcased both her acting skills and style sense by appearing in a music video with none other than Justin Bieber. In "Ghost," Keaton portrays Bieber's grandmother as the two lean on each following the grandfather's death. Bieber and Keaton deepen their bond by strolling along the beach and going out for dinner and drinks. Throughout the video, Keaton embraces some of her most famous fashion statements, including her own hats and wide belts. 
That is unsurprising, considering Keaton had a say in how she would dress. "The outfits were indicative of my style because they're mine," she told Vogue after the video's release. "Some of the outfits are from my closet. I had some wonderful things from Gucci." What is surprising is that Keaton was featured in a Bieber video at all. But maybe it shouldn't be.
Diane Keaton and Justin Bieber met in 2015
Diane Keaton has known Justin Bieber for several years — and is an admirer on many fronts, as she revealed on "The Ellen DeGeneres Show" on May 9. "He is the greatest guy, honest to God," Keaton gushed. Keaton has no regrets about starring in "Ghost" alongside the singer, either. "It was one of the most pleasant experiences of my life," she concluded. When the video came out, Bieber's manager, Scooter Braun, joked with DeGeneres that she was responsible.
That's because Keaton and Bieber first crossed paths in May 2015, when DeGeneres arranged to have the pop star surprise the actor on the show after she learned Keaton had a crush on Bieber. "I like that boy," Keaton told DeGeneres. When the host pointed out Bieber was already 21, Keaton's interest was even more heightened. "Even better," she joked. While pictures of Bieber's Calvin Klein ad were shown on the screen behind them, Bieber walked onto the set — much to Keaton's disbelief and excitement.
The two kept in touch following the encounter. When Bieber started working on "Ghost," he immediately knew who he wanted to play the part of his chic grandmother. "He called me up and I said, 'yeah, sure,'" Keaton told Vogue. "I thought the song was wonderful." Keaton also enjoyed the process of starring in a music video, something she had never done before. "All my life, I've been an actress and had lines," she said, "... this was just completely loose and relaxed."