The Truth About Donnie Wahlberg's First Wife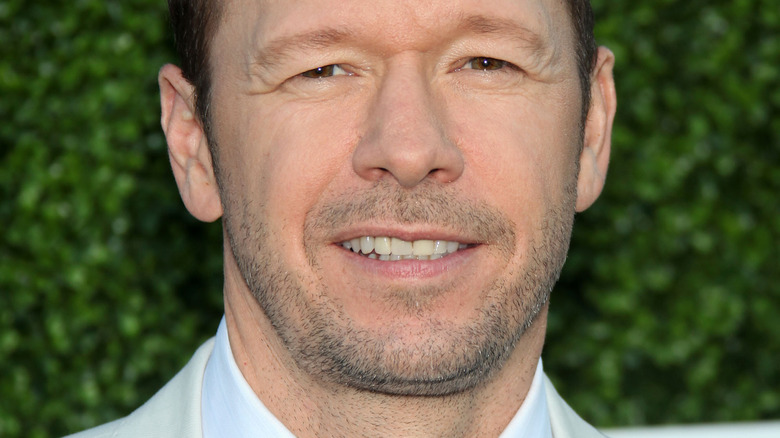 DFree/Shutterstock
During the late 1980s and early 1990s, Donnie Wahlberg was one-fifth of the hottest boy band on the planet: New Kids on the Block. However, in an interview with the Associated Press in 1991, Wahlberg hinted that there were some misconceptions about the band, their image, and even his public persona. He said, via the Daily Press, "I'm not just a brainless little puppet of Maurice Starr. I think the media has turned our image into the image of milk and cookies. I'm not necessarily milk and cookies. I'm about positivity."
While some New Kids on the Block fans saw Wahlberg as the "bad boy" of the group because in 1991 he faced 20 years in prison for first-degree arson after he set a hotel room on fire. However, he still had a legion of fans who followed his each and every move and needless to say adored him in the same way that fans adore chart-toppers like Justin Bieber and Shawn Mendes today. Despite all of the fans and the worldwide attention that Wahlberg was getting during the height of his fame, there was one person who stuck by his side long after the lights turned off after the concerts: his first wife, Kimberley Fey.
Kimberley Fey was Donnie Wahlberg's wife for almost 10 years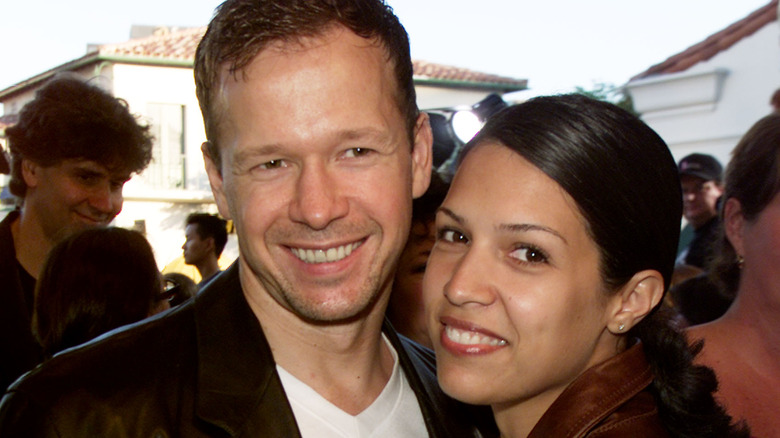 Kevin Winter/Getty Images
Donnie Wahlberg might be one of the most famous ex-boy banders in the world, but there isn't much that is known about his first wife, Kimberley Fey. According to People, the couple first tied the knot in August 1999 before breaking things off in 2008. The ex-couple share two sons together: Xavier and Elijah. Interestingly enough, Wahlberg and Fey both filed for divorce on the exact same day, which was later settled out of court a year later, per the New York Daily News.
While both Wahlberg and Fey have never really made any comments about their marriage or divorce, there was speculation at the time that Wahlberg was connected to a Canadian model by the name of Michelle Tomlinson, as detailed by the National Enquirer. Not only was Wahlberg supposedly getting up close and personal with Tomlinson, but there were also some reports suggesting that she was expecting a new kid on the block, too. Wahlberg apparently "freaked out" over the news and that's when he supposedly pulled the plug on his romance with the model. A source close to the situation said at the time, "He told her then and there it was over."
And while it's never been publicly confirmed if Tomlinson's baby is Wahlberg's child, it seems like everyone has managed to move on in their lives, including Fey and Wahlberg.
Kimberley Fey has kept Wahlberg's name
These days, Kimberley Fey is living a very non-celebrity life as a realtor in Los Angeles, as per her Instagram page. She appears to go by the name Kim Fey Wahlberg for some professional purposes. Her former husband, meanwhile, also lives in the Los Angeles area, as he's still keeping busy on the hit television series "Blue Bloods." He's also managed to move on and has found love again with Jenny McCarthy. In an interview with CBS News in 2014, Wahlberg admitted that he was surprised to find out how much he and McCarthy had so much in common and how he also wished that he could have met her much earlier in his life. He said, "Her and I came around in the same era, both have gone through divorces, and so many similarities professionally and personally and to discover each other for the first time in our forties, we never really met in those years, we just hit it off."
That said, it sounds like the Donnie Wahlberg of today would still agree with the Donnie Wahlberg of yesterday when he said that he's "all about positivity," and maybe a side of milk and cookies, too.