How Shiloh Jolie-Pitt's Style Has Changed Over The Years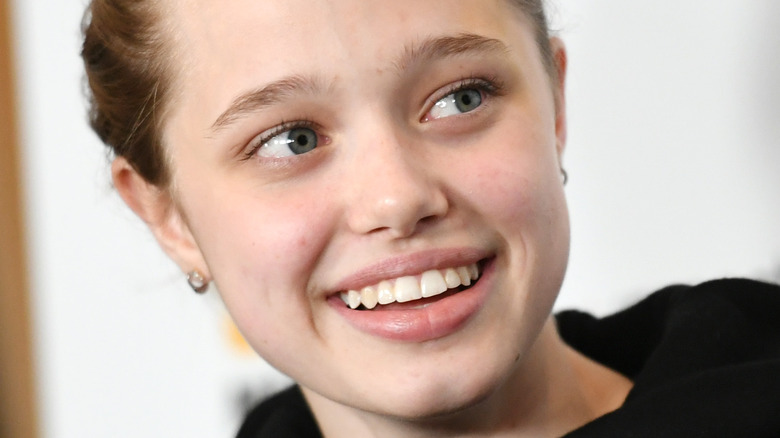 Jc Olivera/Getty Images
Very few celebrity children have as much star power as Angelina Jolie and Brad Pitt's daughter, Shiloh Jolie-Pitt. The former couple's fourth-born child is also their first biological one. This arguably makes Shiloh one of the most famous of her six siblings — something that has, of course, been evident since she was born in May 2006.
According to The Hollywood Reporter, in June 2006, Shiloh made history as one of the highest-paid babies to grace a cover when People magazine paid a whopping $4.1 million to debut her pictures. Additionally, at eight weeks old, she became the first infant to have a wax figure at the Madame Tussauds wax museum in New York.
Given this level of fame, it is no surprise that fans have taken an interest in literally every aspect of her life, but especially what she chooses to wear or how she styles her hair.
Angelina Jolie denied choosing Shiloh's outfits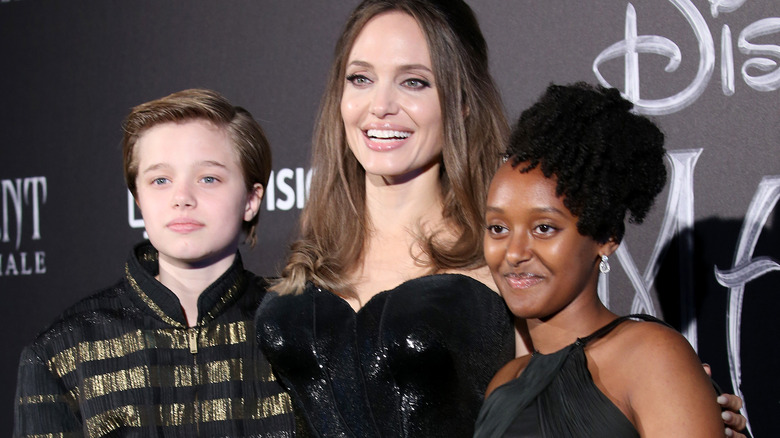 Franco Origlia/Getty Images
In her earliest years, Shiloh Jolie-Pitt raised eyebrows with her style. Initially favoring more male-inspired fashion, Shiloh rocked pixie cuts and was often spotted in tuxedos, polos, and vests. She was consequently tagged a tomboy by fans. Angelina would later seemingly confirm this. "Shiloh, we feel, has Montenegro style," she told Vanity Fair in 2010. "It's how people dress there ... She wants to be a boy. So we had to cut her hair. She likes to wear boys' everything. She thinks she's one of the brothers."
People, however, found it very hard to believe Angelina was not influencing Shiloh's fashion style. Still, the "Tomb Raider" actor insisted that she had very little to do with her daughter's distinct outfits. "It's not my choice," Jolie said in an interview with Stylist (via PopSugar). "I think children should wear what they want and express themselves, so we give them different options of things."
Despite having an unconventional fashion style as a child, Shiloh was a lot more similar to Jolie than it seemed. "Shiloh's hysterically funny, one of the goofiest, most playful people you'll ever meet," the "Maleficient" actor said in another interview with Vanity Fair, before adding that as a child, she was a lot like Shiloh — goofy and verbal. Interestingly, Shiloh is a lot more like her mom these days, especially in terms of outfits.
Shiloh Jolie Pitt has been borrowing her mom's wardrobe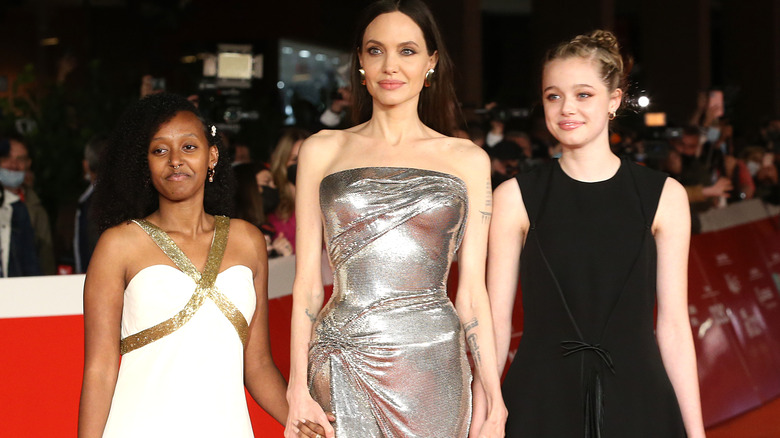 Elisabetta Villa/Getty Images
In October 2021, Shiloh Jolie-Pitt had jaws dropping when she showed up with her siblings to the New York premiere of "The Eternals," wearing a deconstructed beige dress, with white flats and stud earrings. According to Vanity Fair, the teenager's dress is the Gabriela Hearst Quillaume dress Angelina wore in July 2021 to a "Women for Bees" event in France. This was, however, not the last we saw of Angelina stunning on the red carpet with her kids.
For the London premiere of the Marvel flick, Shiloh opted for another of her mom's previously worn dresses – the Dior 2019 black-and-white dress Angelina wore while promoting her action/fairytale flick "Maleficent: Mistress of Evil." The famous daughter put a different touch to the dress — wearing it in a shortened version, and pairing it with a pair of black flats and silver earrings, per People.
In addition to her newfound love for her mom's old dresses, Shiloh is also seemingly enjoying switching things up with her hair. In contrast to the pixie cut — her signature hairstyle as a child — you will most likely now spot the teenager rocking a bun or a new hair color, per Hollywood Life.