10 Times Angelina Jolie Stunned On The Red Carpet With Her Kids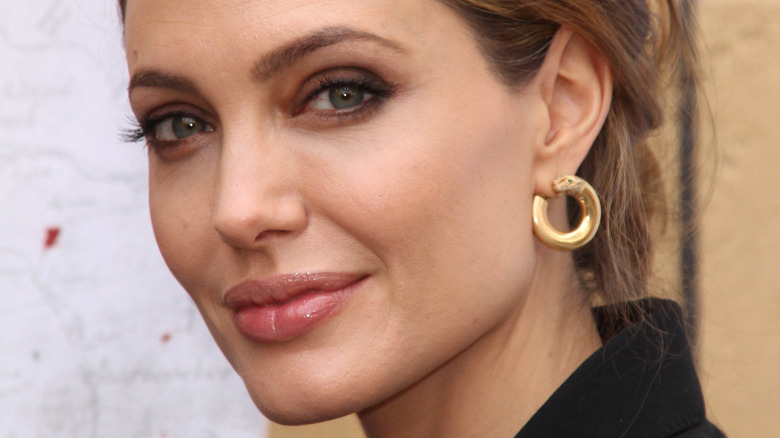 s_bukley/Shutterstock
There's no doubt that Angelina Jolie adores her six children, who she shares with ex Brad Pitt. And now that her brood is growing up quickly, Jolie is perfectly willing to open up — within reason, of course — about Maddox, Pax, Zahara, Shiloh, and twins Knox and Vivienne.
"They're pretty great people," the star told People while talking proudly about her sons and daughters in October 2021. She went on to say, "Because there's so many of them, I think they've had a very significant effect on each other." Beyond that, Jolie also touched on the nature of her own relationship with her children when she added, "It's not like I'm the head of anything. I'm very honest with my kids. And I'm very human with my kids."
It's not unusual to hear Jolie talking fondly about her family in such a way, and she's also willing to bring them with her when she shows up at industry events. And considering she is one of the biggest movie stars on the planet, many are surely interested in all of the times she stunned on the red carpet with her children.
1. Jolie and her kids embraced a hint of darkness at Maleficent
Shiloh, Zahara, Vivienne, and Knox accompanied Angelina Jolie on the red carpet of the "Maleficent" premiere in October 2019. Wearing mostly black outfits — complete with spooky details — to suit the movie's edgy and villainous vibe, each kid looked as fabulous as their mom.
2. Jolie, Shiloh, and Zahara sported classic looks
Back in October 2017, Shiloh and Zahara Jolie-Pitt accompanied Angelina Jolie to the premiere of the animated film "The Breadwinner" in Los Angeles. While the sisters wore formal black outfits, their mom was a contrast in simple yet sleek white.
3. Jolie glowed in a draped dress alongside her sons
Angelina Jolie was joined by two of her sons — and the stars of her movie "First They Killed my Mother" — at the Toronto International Film Festival in 2017. While she looked pleased to be with her family, she also looked amazing in a draped black dress.
4. Jolie and Pax looked sharp at the Golden Globes
5. Jolie, Shiloh, and Zahara went formal for a gala
Angelina Jolie also opted for a black dress with a sheer upper section when she attended the 2018 National Board of Review Awards Gala. Zahara and Shiloh were also there, wearing dark jackets and pants, although Shiloh did opt for a white shirt.
6. Jolie and her kids had a ball at the Dumbo premiere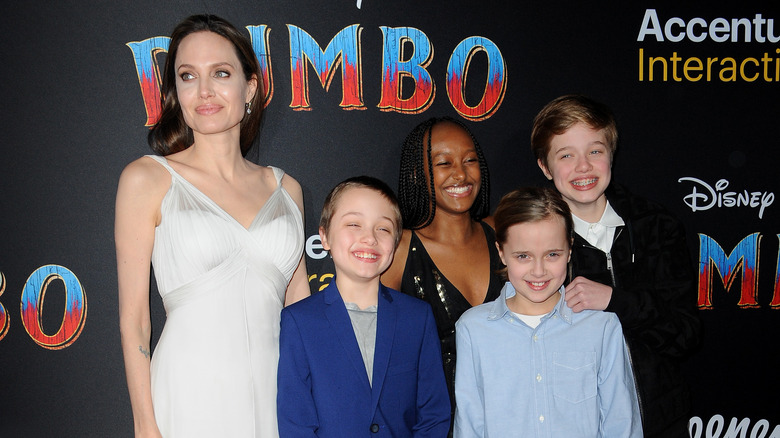 Tinseltown/Shutterstock
Angelina Jolie may not have worked on 2019's "Dumbo," however, she apparently still wanted to attend the premiere of the fun-filled film with her kids. That's why she showed up with her four youngest — Zahara, Shiloh, Knox, and Vivienne — at the Los Angeles premiere in March of that year.
7. Zahara has inherited Angelina Jolie's chic style
Angelina Jolie looked simply wonderful in a flowing light brown dress while on the red carpet at Variety's Power of Women event in September 2021. Her daughter Zahara looked just as lovely in a white shirt and matching pants that proved she's inherited her mother's chic style.
8. Jolie and her kids went full glam at the Eternals premiere
9. Jolie and her kids wowed with their gorgeous smiles
While the family opted for semi-formal outfits to the "Eternals" premiere in the UK as opposed to going super-glam, Angelina Jolie still looked perfectly put together as she posed with her children. Granted, the fact that Shiloh Jolie-Pitt wore her mom's Dior dress did grab the public's attention. And did we mention the group's smiles? Laughter is often the best accessory.
10. Jolie, Zahara, and Shiloh embodied elegance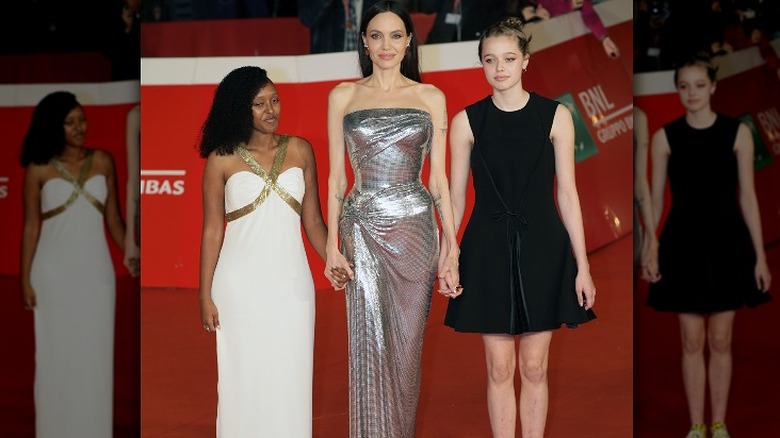 Gennaro Leonardi Photos/Shutterstock
It's hard to imagine Angelina Jolie looking any more glamorous than she did on the red carpet in October 2021 while in Rome for another "Eternals" premiere. Bringing both Zahara and Shiloh along for the event, the three ladies looked like goddesses (although Shiloh did make things slightly more casual with her cool sneakers).
Of course, Jolie looks incredible wherever she goes — but she shines the most when with her favorite people in the world — aka her six amazing children.