Who Is Zoë Kravitz's Famous Godmother?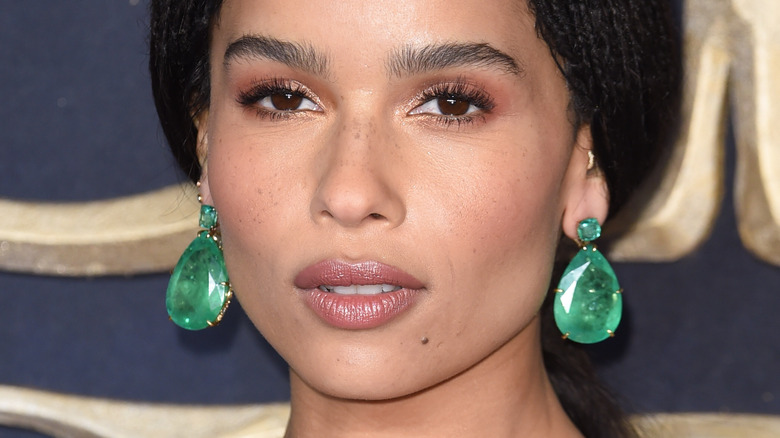 Featureflash Photo Agency/Shutterstock
Zoë Kravitz has made a lot of different headlines over the years and for a lot of different reasons. In April, Zoë said that she wanted to ditch her famous last name. As many of her fans know, her father is Lenny Kravitz and her mother is Lisa Bonet.
While on the "Armchair Expert" podcast back in 2020, Zoë said she wanted to change her stage name to "Zoë Isabella," which happens to be her first and middle name, but it just didn't stick (via E! News). Unfortunately, her father Lenny didn't think it was a good idea, either. When she told her father about her thoughts, she told E! News that "I could feel that it made him a little sad ... I did [use] to be really insecure about people just associating me with my family and now I love it — I'm so proud of them and it's cool."
While there's no doubt that coming from a famous family certainly has its perks the same way that it has its downsides, Zoë's got plenty of famous connections like her chart-topping father and her Hollywood mother. As a matter of fact, a lot of people have been shocked to find out who her famous godmother is, too. 
Marisa Tomei has been a huge part of Zoë Kravitz's life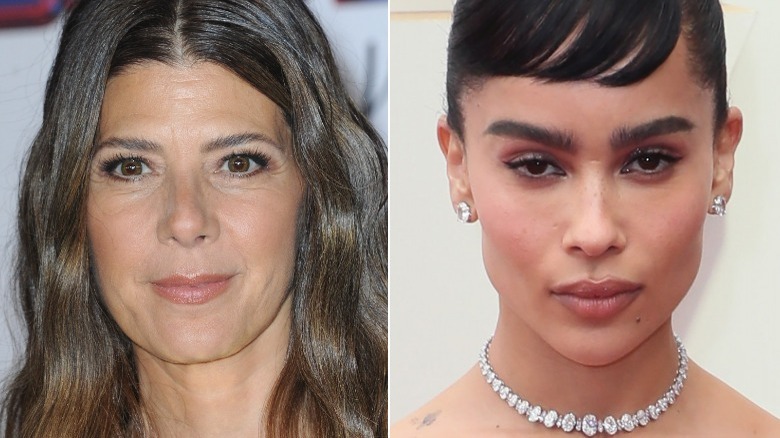 Albert L. Ortega & David Livingston/Getty
It's safe to say that Zoë Kravitz does come from celebrity royalty. Her godmother is Hollywood star Marisa Tomei, who many fans might remember from the Tom Holland-era "Spider-Man" films along with "My Cousin Vinny," "Untamed Heart," and so much more. Tomei is in Kravitz's life because of her strong friendship with her mother, Lisa Bonet. Kravitz told Allure back in 2017,  "My mother had really great girlfriends. Marisa Tomei is my godmother. I've always been around strong women, funny women. Humor is a big thing in my family."
While a lot of relationships come and go in the entertainment world, Tomei and Bonet have remained tight. The two first met on the set of "A Different World," per Yahoo!, where it didn't take very long for them to form their friendship. 
In December 2021, the two long-time friends had an illustrious conversation with Interview Magazine in which they talked about their friendship, fashion, and how similar they are — unbeknownst to a lot of their fans out there. Tomei said, "We'd go to the flea market together and be so turned on by the vintage clothes. We'd have our days where we'd come back to the house, and realize we'd chosen the same clothes." But the fact that Tomei is Kravitz's godmother isn't the only thing that connects them together, as Tomei has truly proven herself to be a one-of-a-kind Hollywood friend.
Marisa Tomei is supposedly the godmother to Lisa Bonet's other kids as well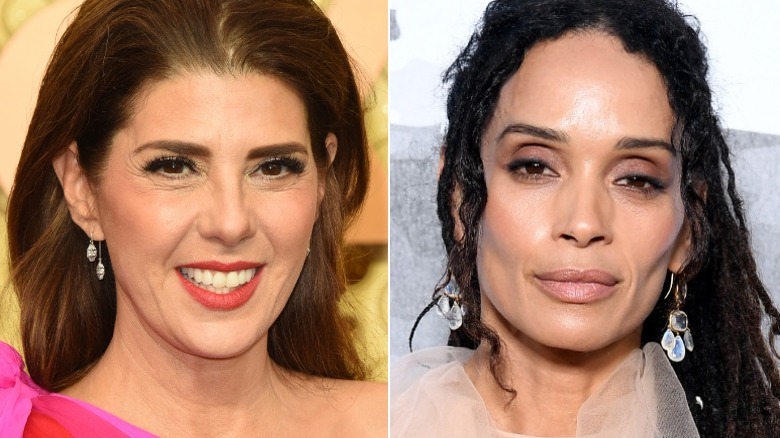 Daniele Venturelli/Getty & Kathy Hutchins/Shutterstock
There are friends, and then there are the best friends that you don't let go of and keep for the rest of your life. It's safe to say that Marisa Tomei does belong in that latter group. According to POPSUGAR, Tomei is not only the godmother to Lisa Bonet's daughter Zoë Kravitz, but she's supposedly also the godmother to Bonet and Jason Momoa's other two kids, Lola and Nakoa.
During a joint interview for InStyle in 2018, Kravitz made it clear that her godmother isn't just a good friend to her mother, but a member of her family as well. During their conversation, Kravitz told her, "I've grown up with an amazing support system. You're part of it! My mother has always surrounded herself with fantastic women who have paid such wonderful attention to me from an early age."
That said, it sounds like Kravitz is an incredibly lucky person; not only gets to call Bonet her mom, but also has a great second mom in Tomei. We definitely envy the girl time that they all get to spend together!