Sean Murray's Daughter Made A Guest Appearance On NCIS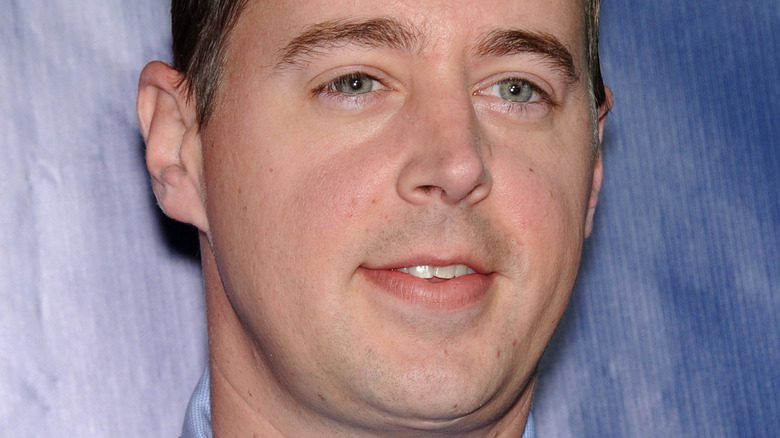 DFree/Shutterstock
It turns out that acting runs in the family for "NCIS" star Sean Murray, because did you know that his daughter made a special guest appearance on the show he's best known for? Murray has appeared as Special Agent Timothy McGee on the popular CBS series since 2003 — and it's clear he's a man who loves his job.
"Time has flown by, but it really does mean a lot to me in terms of... Not in some sort of competitive sense, but hey, we really made an impact. We continue to make an impact," he told Starry Mag in 2020 as the popular show celebrated 400 episodes. "This is a powerful thing that has gone on for almost two decades. The fact that we have completed or continuing to surpass the four hundredth hour of one-hour television is like being part of the mile-high club. You can count on one hand the number of shows that have done that. I'm not sure. I've never really looked into it. But I know we've done well!"
The actor loves the show so much that he's even got his family in on the gig, and he had no problem opening up about what it was really like to work with his kin.
Sean Murray's sweet acting moment with his daughter
Sean Murray made it a daddy daughter day on the set of "NCIS," as the May 2 episode, "The Brat Pack," featured his daughter, Cay Ryan Murray. The up-and-coming actor (who goes by they/them pronouns according to their Instagram) appeared as Teagan Fields, a teenager who helps Sean's Timothy McGee get to the bottom of a case, per TV Insider. There's also a sweet moment in the episode when McGee tells Fields that he would be proud if his daughter grows up to be anything like them, while the character responds by saying that his daughter is fortunate to have him. Aww!
Sean opened up about working with Cay while chatting to Parade, admitting he found it difficult to separate his daughter and Fields but was "pleasantly surprised" by how well they did in their first professional acting role. "[They] didn't let all the chaos of the machine of television get in the way. It didn't overwhelm [them]," he admitted, adding that he thought Cay did "such a terrific job" and he was "so proud." The two also got to spend a lot of time together on set, with Sean confessing he saw Cay only as another actor even during their downtime. "I think it spoke to [their] professionalism quite a bit," he said.
Sean also gushed about his daughter on Instagram before the episode aired, sharing a snap of them in character and writing, "I couldn't be more proud."
Sean Murray's family affair
Cay Ryan Murray clearly enjoyed their day on the "NCIS" set and shared a series of behind-the-scenes snaps to Instagram, which included a look at their chair complete with their name across the back. So, could we expect to see more of Cay on-screen? It sounds like Sean Murray wouldn't be totally against the idea. "You have these preconceived notions as to what you want your kids to do and all these sorts of things. And then you learn, ultimately, at least in my case, that you really want them to be happy and you want them to do what makes them happy as long as it's not something destructive. Acting is where [they get their] joy," he told Parade.
Sean is clearly a fan of working with his family too, as this isn't the first time the actor has hit the set with a family member. In case you didn't know, he's actually related to former "Pretty Little Liars" star Troian Bellisario, who even appeared on the crime drama as Timothy McGee's sister, Sarah McGee. In real-life, the two are step-siblings. Not only that, but (stay with us here) Troian's half-brother is "JAG" actor Michael Bellisario, with Sean appearing in several episodes of "JAG" between 1998 and 2001. What a small world, huh?