Britney Spears' Behavior Has Fans Seriously Concerned
Tinseltown/Shutterstock
Instagram sprees are nothing new for Britney Spears, but her May 9 nude selfie uploads were still comparatively bold. The "Womanizer" singer first posted a photo of herself from a vacation, fully naked and standing, covering her breasts with her hands. Spears censored the snap by sticking a heart emoji over her pubic region. "Photo dump of the last time I was in Mexico BEFORE there was a baby inside me ... why the heck do I look 10 years younger on vacation," read Spears' casual caption. The post also included a photo carousel of the same photo displayed in five different filters, as well as some zoomed-in. 
Hours after this photo was posted, Spears displayed her nude self-photography skills again. This time pictured in a slightly different (but not really) pose, Spears wrote in the caption, "Don't underestimate the power of doing it myself and shooting with a selfie stick !!! Photo dump before there was a child inside me." But there's more! Seemingly ending her streak (get it?) for the day, Spears captioned one more photo in the same, equally naked posture, "I love you all SSSSSSSSSOOOOOOOOOO much." Both of the latter posts also boasted the same pic in a variety of filters.
Mind you again, this all happened within the span of hours. As Spears' fanbase tends to do, her comments section lit up with a varying spectrum of reactions. 
Not everyone was bothered by Britney's Instagram nudity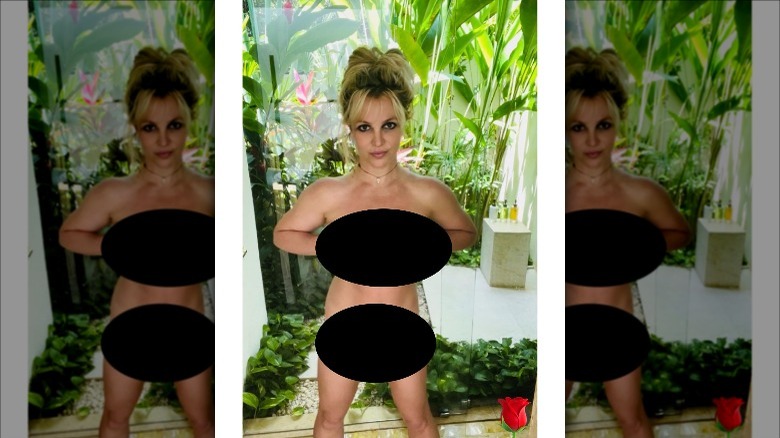 Instagram
After Britney Spears posted three similarly nude photo series of herself on Instagram, many fans wondered the simple question: Why? Some worried about how this would affect Spears' public image, with one commenting, "I really like Britney but I am so worried about her. Why???? Who is her publicist????" Another such fan expressed concern for Spears' mental state, writing on her first series of photos, "Those eyes look like they're screaming for someone to help her. Just no life in them." Yet one more fan implored Spears to get "some real friends" and "think about [her] babies." 
Plenty of comments kept it significantly lighter, however. One fan seized the opportunity to liken Spears' redundant posts to a lyric, writing on her second such post, "Oops she did it again." Others complimented Spears' naked form, with one exclaiming, "Hotney!" There were also those who saw Spears' displays of nudity as self-affirming. "You look sensational Brit... you are such a strong and empowering woman," raved one such fan. 
The reigning comment, however, came from fiance Sam Asghari, whose opinion of Spears' snaps interested many fans already. "Alright that's it I'm buying you some cloths [sic]," Asghari wrote in a comment that he appears to have since deleted. Well, if her fiance is taking it in stride, I guess the rest of us should relax ... right?