The Real Reason Britney Spears Posts Topless Photos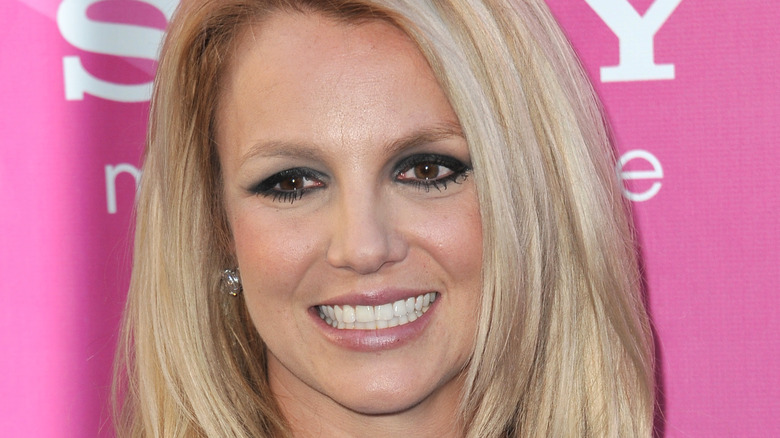 Jaguar PS/Shutterstock
It seems like every day there is news surrounding Britney Spears and her conservatorship. After 13 years of trauma at the hands of her father, which she described in harrowing detail in two court hearings, Jamie Spears finally agreed to step down as her conservator, giving both the pop singer and supporters of the #FreeBritney movement hope. However, there is still a long road ahead. 
While Jamie did agree to step down because he "does not believe that a public battle with his daughter over his continuing service as her conservator would be in her best interests" according to the filing (via Page Six), his attorneys are saying he will not step down right away. "Mr. Spears is willing to step down when the time is right, but the transition needs to be orderly and include a resolution of matters pending before the Court," they wrote.
The "Hold it Against Me" singer has been using social media, specifically Instagram, to connect with her fans and give her 33 million followers a glimpse into the reality of what is going on with her conservatorship battle. "I know in my previous post I said you guys know my situation but LET ME CLARIFY ... you only know half of it !!!!" the 39-year-old singer wrote alongside an image of a #FreeBritney flag.
So why is her Instagram account turning heads yet again? Read on to find out.
Britney Spears feels like a weight has been lifted
Britney Spears' Instagram account has always been a source of intrigue for her fans and followers. Her bare-it-all images paired with her somewhat bizarre captions have occasionally been cause for concern as more details of her conservatorship battle have come to light. The singer has posted a number of topless images on her account, going back to at least July 7. However, on August 16, the "If U Seek Amy" singer posted a series of topless images of herself in red knee-high boots, along with a lengthy caption finally explaining why she continues to bare it all on her Instagram. 
"Before I show you more pics of my body ... I want you to understand my thoughts on exposing my skin !!!!" the Grammy winner began in her caption. "...I was born into this world naked and I honestly feel like the weight of the would [sic] has been on my shoulders and it's made me view myself that way !!!!" she continued. "I wanted to see myself in a lighter way ... naked ... like the way I was born and to me looking back at my pictures when I shoot it's insane the psychology in seeing myself in my purest form gives evidence that pain ... hurt ... tears ... and heavy burdens aren't who I am," the performer reflected, noting, "I am a woman .... a beautiful ... sensitive woman who needs to look at myself in my purest form !!!"
Britney Spears is just the latest to show some skin on Instagram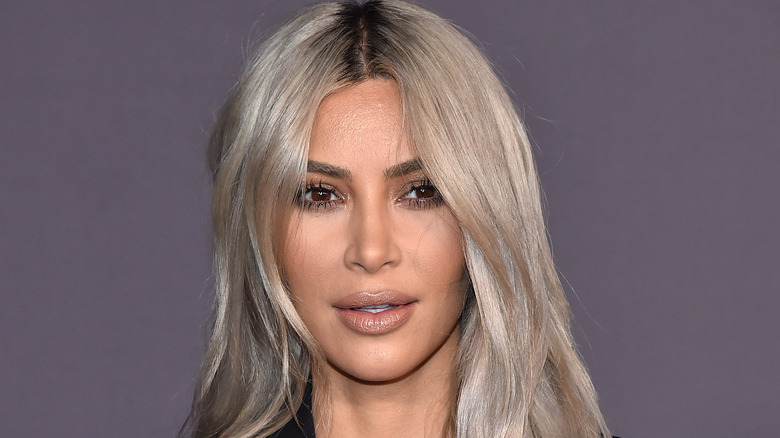 DFree/Shutterstock
Britney Spears isn't the only celebrity willing to bare it all on social media. Kim Kardashian, for example, is no stranger to sharing nude selfies with her followers. She once tweeted a picture of herself on International Women's Day which featured two black bars to keep her from being totally exposed. When she received backlash from her followers and celebrities like Bette Midler and Chloe Grace Moretz, she clapped back and explained her decision. "I am empowered by my body. I am empowered by my sexuality," she wrote on her website (via ET). "I am empowered by feeling comfortable in my skin. I am empowered by showing the world my flaws and not being afraid of what anyone is going to say about me."
Likewise, Emily Ratajkowksi regularly posts images of herself on Instagram wearing her bikini line, Inamorata Women, and has been shamed for doing so. In a Poosh interview with Kourtney Kardashian, Ratajkowski fired back at her critics. "It's part of branding," the model and actress explained. "It's kind of funny, you think about the idea of those... older, white men in suits being like, 'Oh no, we don't take her seriously.' And then we're making more money than them." 
It looks like Spears is taking a playbook out of the Kardashian/Ratajkowski playbook when it comes to sharing revealing selfies on their social media accounts!