Jack Harlow Spills The Beans On His Viral Interaction With Emma Chamberlain
John Shearer/Getty Images
Jack Harlow dressed to impress at the 2022 Met Gala in a brown Givenchy suit that definitely turned heads. Prior to the event, he got ready in a special segment with Vogue and opened up about being asked to attend the honorable gala. He told the outlet, "Growing up on social media, you catch wind of the Met Gala, but it definitely seems like this distant highest level thing. Maybe that's what it is. It's cool to walk inside and see what it's about."
Shortly after walking the carpet, the "First Class" rapper was trending all over social media, specifically TikTok, but it had nothing to do with fashion. An interaction between the musician and social media influencer Emma Chamberlain sent viewers into a complete frenzy online that fans still can't stop talking about.
Chamberlain was conducting red carpet interviews for Vogue when she struck up a conversation with Harlow. It started off normal, but things quickly became awkward. When Chamberlain told the rapper that she would see him inside, he replied, "Can't wait. Love ya. Bye!" She responded, "Love ya," and then looked uncomfortably stunned before bursting into laughter. The clip quickly went viral on Vogue's TikTok and the comment section practically exploded with reactions to Chamberlain's awkward shock. It seems Jack Harlow is aware of the online madness that's ensued after his comment and he's keeping tight-lipped about the interaction.
Jack Harlow responds to his viral moment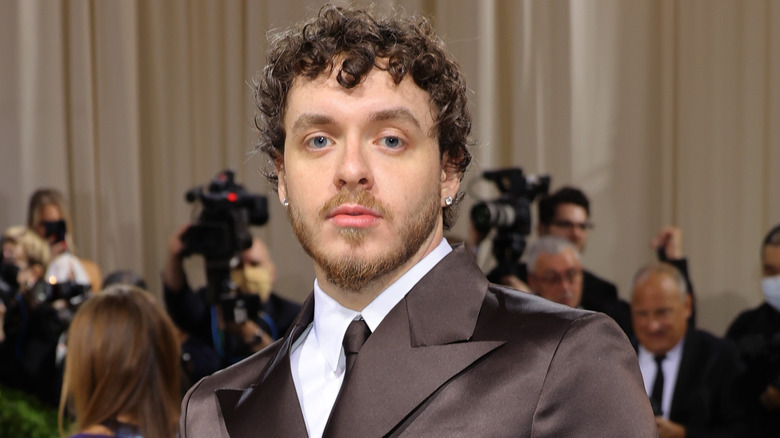 Mike Coppola/Getty Images
During an interview on "The Tonight Show" with Jimmy Fallon, Jack Harlow rewatched the viral Met Gala interview clip and finally responded to it. When asked if Emma Chamberlain's reaction was "the Harlow effect," the rapper replied, "That's like a piece of art because there's so many ways to interpret that. Everyone has a different take on what was going through her head, so I'll leave it up to interpretation." Harlow then explained that he wouldn't tell her he loved her if he didn't mean it and that he has "a lot of warmth to share." It seems like Harlow didn't it find her reaction as awkward as others. Chamberlain has yet to publicly address the interaction, but it's only a matter of time until the influencer speaks about it.
This is not the only viral clip of the rapper that has been trending. At a recent Celtics game, two referees went viral on Twitter for asking each other who Jack Harlow was when the rapper made in on the jumbotron while attending the event. After Harlow was made aware of the clip, he attempted to introduce himself to the refs at the game. He told Jimmy Fallon that after trying to get one ref's attention in the fourth quarter, the referee replied, "My daughter already texted me." Harlow called the clip "iconic." It seems like despite all of the awkward trending clips, the rapper could not be more of a good sport.