The Truth About Mark Harmon's Connection To Bruce Springsteen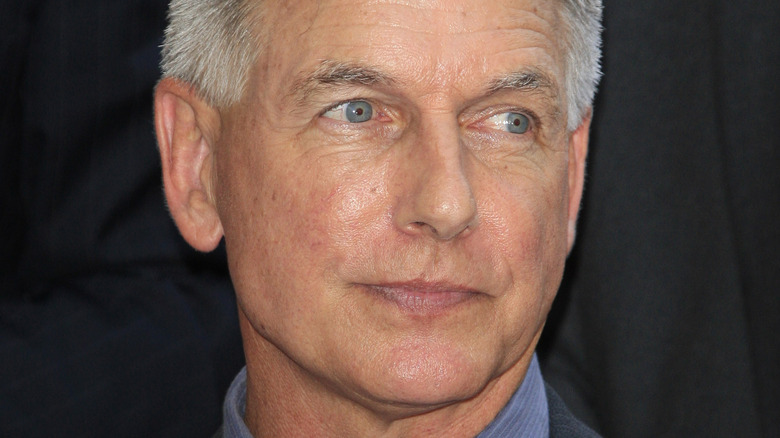 Joe Seer/Shutterstock
Mark Harmon has something in common with his "NCIS" character, Leroy Jethro Gibbs: They're not rock-n-roll kind of guys. During a Season 5 episode of "NCIS," Gibbs told forensic scientist Abby Sciutto (played by Pauley Perrette) — who is a huge music fan — that there are only five songs that he enjoys listening to. In a tearjerker of a reveal, these songs are all piano music played by his late daughter, per SheKnows.
As for Harmon himself, Parade asked him to share his favorite song in a 2019 interview. "Some obscure big band thing. Ozzie Nelson had a song called 'I'm Looking for a Guy Who Plays Alto and Baritone, Doubles on a Clarinet and Wears a Size 37 Suit.' I always thought that was a pretty cool name for a song." So Harmon's top tune is nothing like Bruce Springsteen's signature brand of Americana rock, but the guy Nelson described in that mouthful of a title sure sounds like a boss.
Springsteen has a few connections to the "NCIS" extended universe. One of his songs, "My City Of Ruins," was featured in a 2017 episode of "NCIS: New Orleans," and "NCIS: Los Angeles" star LL Cool J got to perform at the same NYC concert as the Boss in 2021, per The New York Times. But Springsteen and Harmon share personal connections beyond the CBS crime drama franchise.
How Bruce Springsteen changed Mark Harmon's wedding plans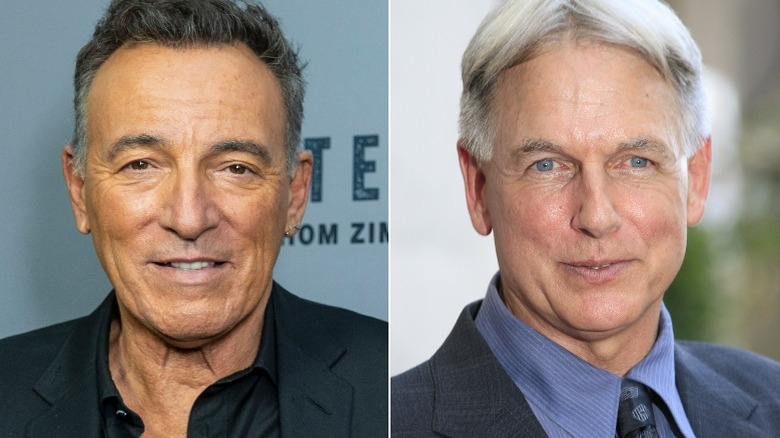 Lev Radin & Joe Seer/Shutterstock
Bruce Springsteen and Mark Harmon were tight back in the '80s. They even went on double dates with their significant others at the time: actors Julianne Phillips and Pam Dawber, respectively. While speaking to People, Dawber revealed that the press' reaction to the Springsteen-Phillips' wedding made her decide to keep details about her own union under wraps. When she and Harmon wed in March 1987, they also opted to have a low-key ceremony at Harmon's high school chapel, per AP, instead of a lavish affair.
"Julianne was in tears almost the entire time. There were helicopters hovering over her parents' house. People were camped out on their front lawn," Dawber said to People about her friend's nightmare wedding experience. According to Entertainment Weekly, Springsteen and Phillips' wedding took place at Lake Oswego in Oregon. They originally planned on getting married on May 15, 1985, but secretly wed at Our Lady of the Lake Catholic Church two days earlier after a florist shared the date with a radio station. The aforementioned helicopters descended on the reception, which was still held on the 15th. "I do not believe or comprehend the world that I live in," Springsteen reportedly said of their presence.
Dawber noted that she and Harmon didn't have the same top celebrity status as Springsteen at the time, but added, "If we choose a big church, everyone will find out about it. All of a sudden we'll have Entertainment Tonight out there with microphones."
Bruce Springsteen's ex-wife ended up with a house once owned by Mark Harmon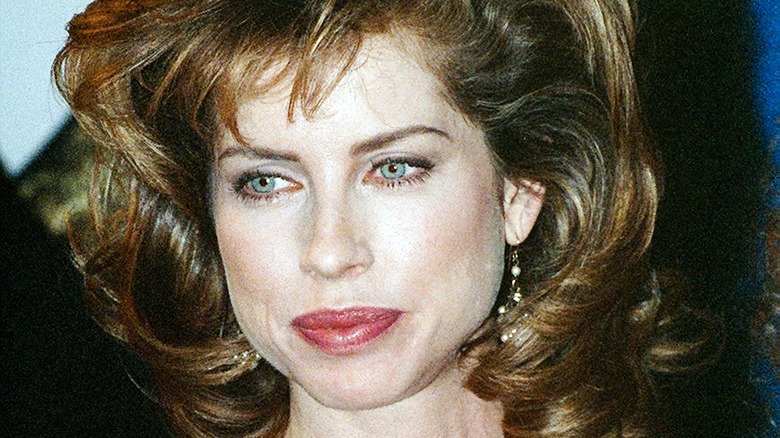 Kypros/Getty Images
After over 30 years of marriage and raising two children together, Pam Dawber and Mark Harmon are still going strong as of this writing. According to Radar, they celebrated their happy Hollywood love story with a vow renewal ceremony in 2017. But Bruce Springsteen and Julianne Phillips didn't get a happily ever after; they separated in 1988 after just three years of marriage, per The U.S. Sun.
In their divorce settlement, Phillips was awarded a house that Springsteen purchased in 1986. Its previous owner was none other than Mark Harmon, per the Baltimore Sun. The sale was made possible by MLB pitcher Rick Sutcliffe, who gave Springsteen a $500,000 loan so that the singer could complete the transaction while he waited for a certificate of deposit to mature. Springsteen and Harmon bought the athlete a gold gun to thank him for his help.
Harmon would later appear alongside his friend's ex-wife in the 1995 TV movie "Original Sin." Meanwhile, his own wife took a break from acting. "I don't think two people can work all the time in show business and stay married," Dawber told ET in 2016. However, the "Mork & Mindy" star didn't give up acting completely; she appeared alongside her husband on "NCIS" in 2021. "My husband is so supportive of me," Dawber told Entertainment Weekly while discussing what it was like to work with Harmon. "He's just a giving, great guy."