The Heartbreaking Confession Prince William Made In An Emotional Speech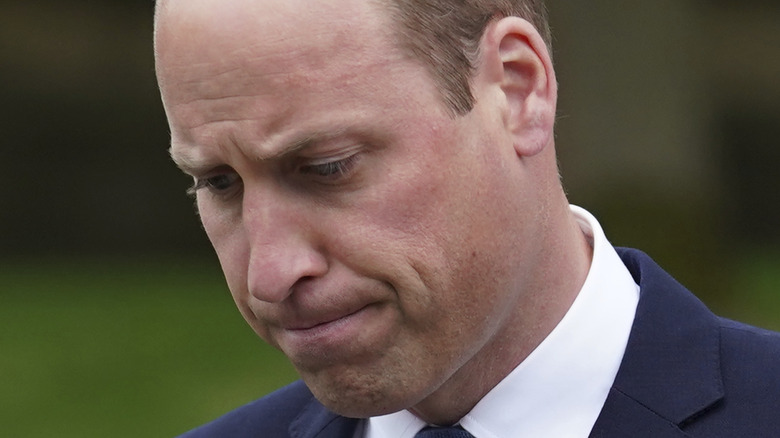 Wpa Pool/Getty Images
Prince William, though normally stoic, gave an emotional speech at the opening of the Glade of Light memorial, honoring the victims of the 2017 Manchester terrorist bombing. The Duke and Duchess of Cambridge attended the opening with William telling the audience, "For Catherine and I, it is very important that we are with you here, today. To remember the 22 lives so brutally taken. To acknowledge the hundreds of lives that were irrevocably changed." As you may recall, a shrapnel bomb was detonated at the Ariana Grande concert at Manchester Arena on May 22, 2017, killing 23 people, including the attacker, and injuring over 1,000. The Islamist extremist suicide bomber responsible for the attack was Salman Ramadan Abedi. The BBC reported that Salman's younger brother, Hashem Abedi, was jailed for a minimum of 55 years in 2020 for helping with the terrorist blast.
After her husband's speech, Kate Middleton placed flowers at the memorial which consists of a white marble halo and contains the names of the 22 victims. The royal couple then attended a gathering for families and first responders. Although Prince Harry is known for showing his feelings,William's speech included a heartbreaking confession, reflecting his emotions and grief for his mother, Princess Diana.
Prince William's speech broke hearts as he and Kate honored Manchester victims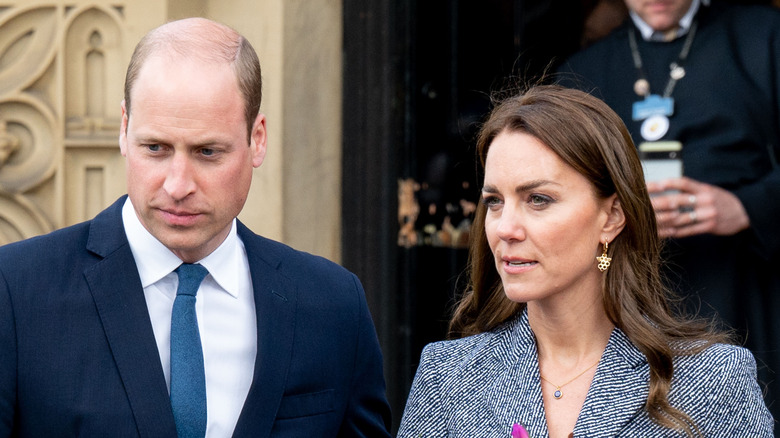 Shirlaine Forrest/Getty Images
The normally reserved Prince William broke hearts with a poignant speech at the Glade of Light memorial service. Amid his words honoring the victims, William said, "As someone who lives with his own grief, I also know that what often matters most to the bereaved is that those we have lost are not forgotten. There is comfort in remembering. In acknowledging that, while taken horribly soon, they lived." William, who was only 15 when Princess Diana was killed in a car crash in Paris, continued with his speech by acknowledging the affection that the victims experienced in their cut-short lives. "They were loved, and they are loved. It is why memorials such as the Glade of Light are so important. Why Catherine and I so wanted to be amongst you today," the second in line to the throne continued. 
According to People, William and Kate additionally spoke to each family privately. Manchester council leader Bev Craig told the outlet that the royal couple's visit sends an incredibly strong message to the families that "they haven't been forgotten." William's speech moved many royal watchers, and Twitter had many feelings. One Twitter user wrote: "Shivers. Beautiful." Another tweeted: "A beautiful sentiment."
But William — who works to honor his mother through his royal post — appears to be sharing more about the loss of Diana with time. In January, the Duke and Duchess of Cambridge visited a community center, and the New York Post reported that William comforted an 11-year-old boy who lost his mother. The prince spoke to the young man, Deacon Glover — who lost his mom in 2021 — telling him, "It gets easier."