Adam Sandler's Daughter Had A Totally Star-Sudded Bat Mitzvah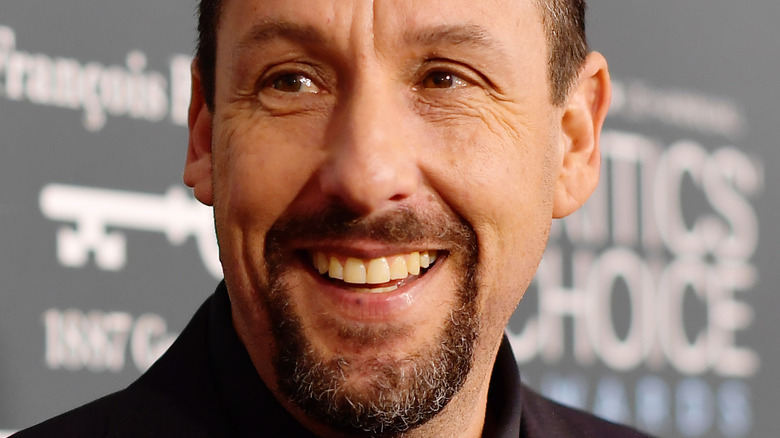 Matt Winkelmeyer/Getty Images
Adam Sandler's daughter Sunny Sandler just celebrated a bat mitzvah ceremony that had an impressive celebrity guest list. Adam and his wife, Jackie, are parents to Sunny and one other daughter, Sadie. in October 2019, Adam explained that his daughters have started to show they, too, could end up as entertainers with their impressive singing skills. "Both my daughters come on stage and sing sometimes because they're on the road with me all the time," he said to Us Weekly. "They like to sing ... and they see Daddy up there and they're like, 'Can I try that?' So I say, 'Get on up there.'" 
Adam has also revealed funny moments he's shared with Sunny and Sadie, like when he brought them on a movie set and they were less than enthusiastic about the occasion. In an October 2020 interview for "The Drew Barrymore Show," Adam discussed this experience, which took place when his wife and the kids made appearances in his then-new movie, "Hubie Halloween." "You would think the kids would be very excited ... to be in a movie," Adam said before adding, "If ... they get to set around 8:00, I'd say, around 9:20 I'm hearing, 'How much more? Please let me leave.'" 
The recent bat mitzvah event, conversely, was a celebration where a good time was had by all!
A-list actors and musicians showed up to Sunny Sandler's bat mitzvah
Sunny Sandler, the 13-year-old daughter of comedian and actor Adam Sandler, just celebrated an exciting bat mitzvah event. Many celebs turned out for the festivities, and some were seen in a TikTok video posted by user Lilah Newkirk. Newkirk had attendees pose with a plush Smarties toy for the video. Adam, Peyton List, Josh Richards, Taylor Lautner, Jennifer Aniston, and Charlie Puth were among those shown in the clip. 
Victor Boyce, the father of the late actor Cameron Boyce, was at the gathering and posted a photo of himself with fellow guests on Instagram. Actors Karan Brar and Sophie Reynolds were some of the famous faces who posed for this selfie. "Good times! Sunny Sandler's Bat Mitzvah," Victor wrote alongside the photo documenting the party, which took place at the Hillcrest Country Club in Los Angeles. The Boyces have remained friends with Adam, since Cameron played Adam's son in the "Grown Ups" films.
This isn't the first time Adam has held a bat mitzvah bash that high-profile celebrity friends showed up for. In November 2019, David Spade revealed to Ellen DeGeneres that he attended the bat mitzvah of Adam's older daughter, Sadie, which he called "so fun" for him and his daughter, Harper. Congrats to Sunny on this fun and memorable coming-of-age celebration!