The Truth About Paul Rudd And Seth Rogen's Friendship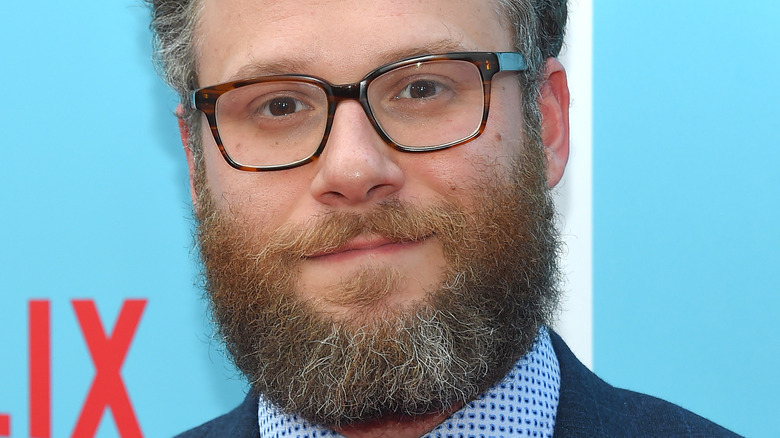 DFree/Shutterstock
On-screen, Paul Rudd and Seth Rogen make for a dynamic, side-splitting comedic duo. For proof, one need look no further than the Lays' 2022 Super Bowl commercial featuring the duo. Hilarious and over-the-top, the commercial was a special ode to their more than 20-year friendship. 
Throughout their careers, the pair has appeared in movies such as "This Is The End," "Sausage Party," "Knocked Up," and "The 40-Year-Old Virgin" together. After all, who can forget the scene in "Knocked Up" where Rogen and Rudd's characters go on a drug-filled romp to Las Vegas that's equal parts sad and hilarious? "I think when they sent us to Cirque du Soleil in Las Vegas was one of the most fun things I've ever done," Rogen told "Good Morning America." Rudd also agreed the moment was a special one in their budding friendship. "And also because we went to Las Vegas for the last four days of 'Knocked Up' and the entire experience. I mean, the whole movie was really fun to make, but that was just a completely surreal and fun way to kind of wrap things up."
But for Rogen and Rudd, most times when they're filming together, it feels like just hanging out with a buddy. Rogen admitted he was surprised they managed to produce films at all. "It's shocking that they were able to make a movie out of it because we were really just hanging out," Rogen said during a promotion interview for "Knocked Up" (via TheThings). "We're kind of idiots, as you can probably see, so when left to our own devices we'll do this — which is not interesting. Through the magic of editing, this will seem hilarious."
Seth Rogen describes his 20-year friendship with Paul Rudd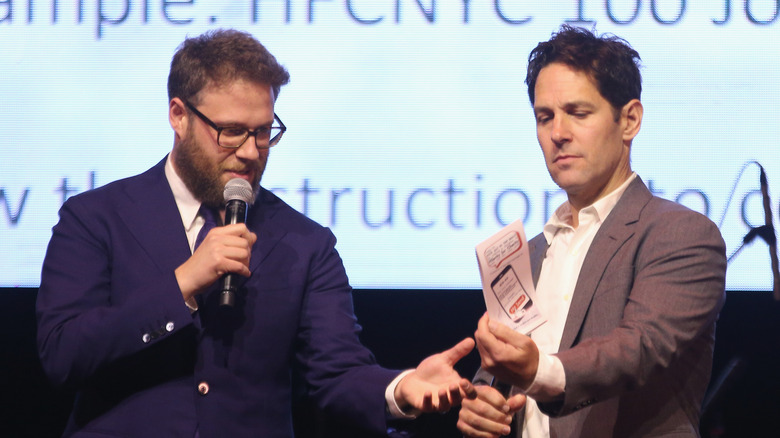 Robin Marchant/Getty Images
It makes sense that it took a movie to bring Paul Rudd and Seth Rogen together. Both Rogen and Rudd met on the set of "Anchorman: The Legend of Ron Burgundy." At the time, Rogen played a bit part as a cameraman on the project. Rudd starred in the project as one of the film's supporting characters. "I played Christina Applegate's cameraman in a few scenes. We reshot the finale and I actually think the first time we hung out were literally being driven in a van, to and from set, watching Steve Carell and Christina [Applegate] almost get mauled by a bear," Rogen told People. That kicked off the beginning of what was to become a decades-long friendship. 
Rudd was a fan of Rogen thanks to Rogen's time on the short-lived project "Freaks and Geeks." But Rogen said their friendship didn't really solidify until they spent hours auditioning together for "The 40-Year-Old Virgin." 
"[We] spent like, hours and hours and hours and hours in a very small room together, just reading actors like nonstop," Rogen continued. Like any good friendship, it was founded on the basis of humor. Take this 2019 video from "The Graham Norton Show," for instance. Here, Rudd reduced Rogen to uncontrollable laughter describing a time he failed to entertain Michael Douglas on the "Ant-Man" set. There's no doubt these two know how to have a great time together.
Paul Rudd likes to prank Seth Rogen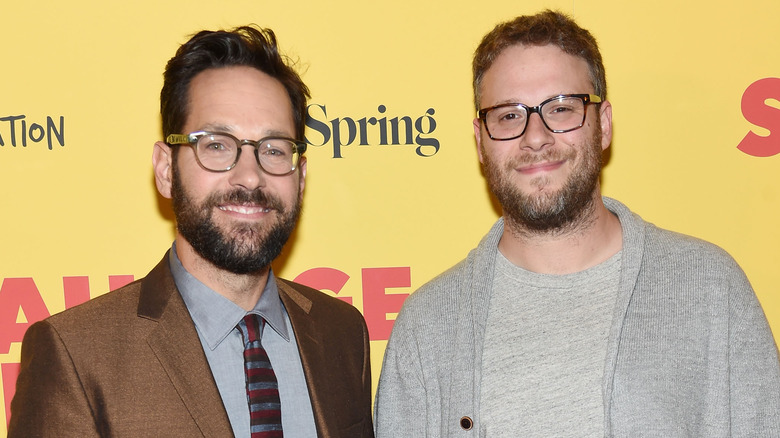 Jamie Mccarthy/Getty Images
Naturally, comedians like to pull pranks on each other, but sometimes they backfire, as well. Seth Rogen described one occasion in which Paul Rudd took over as his masseuse at a spa in Las Vegas. When Rogen didn't notice the swap, Rudd decided to finish the massage. "Once I was in the spa in a hotel in Vegas getting a massage," Rogen tweeted. "When I finished I turned over and to my shock Paul Rudd was massaging me. He saw me go in and convinced the masseuse to let him take over, thinking I'd notice immediately. I didn't, and Paul did the entire rest of it."
It sounds very much like a scene out of one of their comedies — but that's the nature of Rogen and Rudd's friendship. Just because they're friends, though, doesn't mean Rogen doesn't believe Rudd may secretly be a vampire or immortal. In a hilarious interview, Rogen discussed how he somehow looks older than Rudd now despite Rudd being older when they met. "It was a little alarming in some ways, honestly, because when I started working with Paul Rudd, he was older than I was," Rogen told "Jimmy Kimmel Live!" "And now, I somehow passed him! You would assume I was his uncle between the two of us."
While the jury's still out on whether or not Rudd is actually immortal, his and Rogen's friendship appears to be withstanding the test of time.