Kendall Jenner Causes A Controversy That Absolutely No One Expected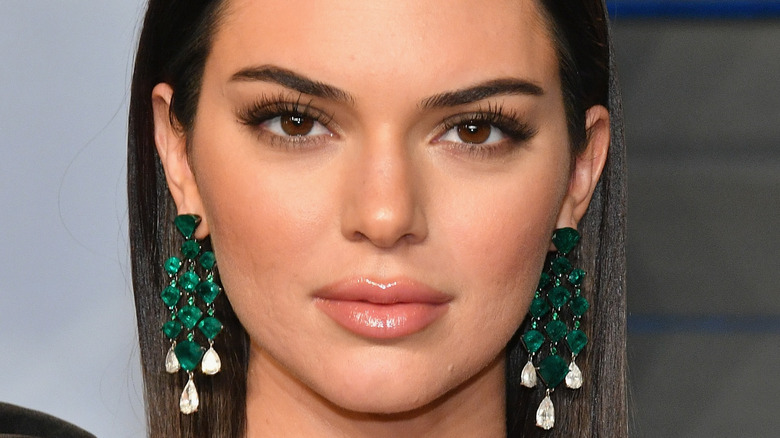 Dia Dipasupil/Getty Images
The Kardashian-Jenner clan is no stranger to controversy. In fact, one could argue that the family's fame was founded on scandal. The Kardashian family first gained nationwide attention when Robert Kardashian — Kourtney, Khloé, Kim, and Rob's father — joined the legal team of O.J. Simpson's sensational murder trial. Then, Kim's infamous sex tape was released in March 2007, and then "Keeping up with the Kardashians" was announced by August that same year, per The Sun.
Since the family has been in the spotlight, they have been at the center of plenty of drama over the years. For starters, Kim's marriage to former basketball player Kris Humphries notoriously lasted just 72 days before the two called it quits. Khloé's marriage to Lamar Odom also publicly was in shambles when Odom admitted to cheating with multiple during their marriage from 2009 to 2016. Kim was accused of using blackface for a KKW Beauty ad, Scott Disick cheated on Kourtney and ended their relationship, Kylie Jenner admitted to lip injections, and the list goes on and on.
The latest scandal to come out of the Kardashian-Jenner family involves Kendall Jenner, and it's a bit more harmless than you may expect.
Kendall Jenner is being slammed for her chopping skills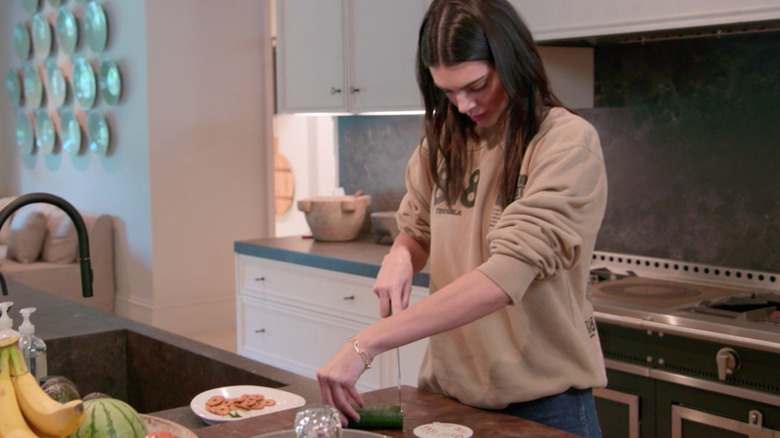 Hulu
On the May 12 episode of Hulu's "The Kardashians," Kendall Jenner caused quite an uproar on the internet for an unexpected reason. Out of all of the things to make a fuss over, the internet is fixated on how Kendall cuts veggies. In the episode, Kendall visits her mother Kris Jenner at her home and insists on making a snack herself rather than Kris' chef. She said, "Just gotta chop up some cucumber. It's pretty easy." She then proceeds to cut the cucumber with her hands crossed in the weirdest way possible. At least she admitted to the camera crew, "I definitely am not a good cutter, so don't zoom in on me."
Twitter users had some pretty brutal reactions to Kendall's chopping method, to say the least. One person wrote, "​The way Kendall Jenner cuts cucumber is beyond me," while another tweeted, "Kendall Jenner trying to chop a cucumber is the most ABSURD thing I've ever seen I cannot believe it." Someone else wrote, "Kendall Jenner trying to cut a f*king cucumber is the most tragic thing I've ever witnessed," to which the model herself playfully responded, tragic!"
This wouldn't be the first time the model has come under fire on the internet. Kendall infamously starred in a controversial Pepsi ad in 2017, in which she calmed down a protest by offering a can of soda to a police officer. People quickly called her out for the insensitive and out-of-touch ad, forcing her to later apologize, per Buzzfeed News.