What Travis Barker Did To Get Closer To Kourtney Kardashian Has Fans Totally Divided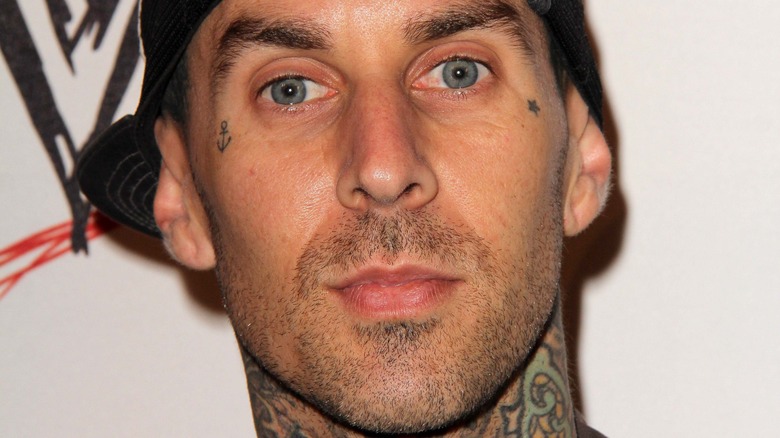 s_bukley/Shutterstock
In the new reality series "The Kardashians," we've been treated to some exclusive behind-the-scenes details about eldest sister Kourtney Kardashian's romance with Blink-182 drummer Travis Barker. We saw footage of all the planning that went into his epic beachside proposal, and how the family reacted to the engagement (Kris Jenner cried, as per usual). We saw #Kravis visit a fertility clinic in an effort to have a baby, and saw the nurse instruct, in frank detail which, er, fluids they needed to collect. Needless to say, the revelations in this new reality series have spilled copious amounts of tea.
It's definitely now part of #Kravis lore that the pair have been friendly neighbors for years. He moved to Kardashian's Calabasas neighborhood in 2017, and the two would occasionally hang out and go for dinner, per E! News. Their children have also been friends for a long time (Barker has daughter Alabama and son Landon from his relationship with Shanna Moakler; Kardashian has Mason, Penelope, and Reign from her relationship with Scott Disick). Barker even made an appearance in 2017 on "Keeping Up With The Kardashians," where Kardashian talked about their friendship and their kids getting along, per Elite Daily.
However, in "The Kardashians" episode 5, which premiered on May 12, we also learned some more juicy deets about how the tattooed rockstar and the Poosh founder originally got together, and it turns out, Barker had a game plan way before they hooked up.
Travis Barker moved just to be near Kourtney Kardashian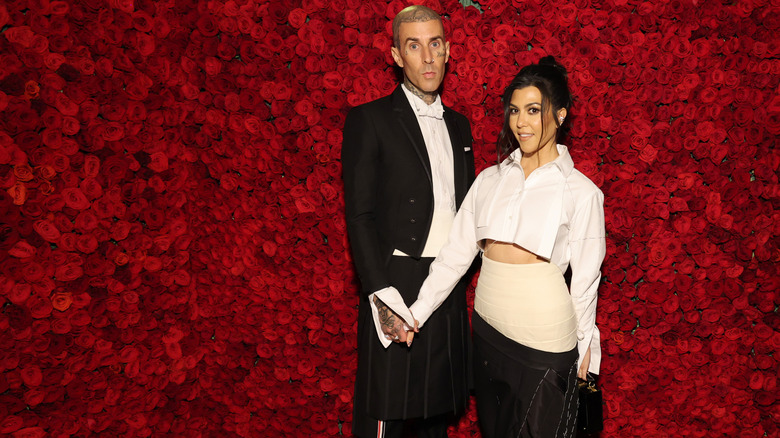 Cindy Ord/mg22/Getty Images
In episode 5 of "The Kardashians," we learned some new deets about the origins of Travis Barker's relationship with Kourtney Kardashian. Momager Kris Jenner spilled the tea that the drummer moved specifically to Kardashian's neighborhood because he intuitively knew she was the one for him. Speaking to her daughter, Jenner gushed (via In Touch), "He goes, 'Do you want to know the real reason why I moved to Calabasas? Because I knew she lived in Calabasas, and I knew she was the love of my life. I didn't even know her like that, but I just knew if I couldn't date her or be with her because she was with someone else that at least I could live by her.'"
As Jenner held back tears (of course), Kardashian replied, "I've never met a better human in my life." But fans on social media are rather divided over that news. "Does anyone else think this is creepy asf?," one Twitter user commented, with another saying, "Stalker vibes fr ... I don't see this as being romantic at all." One viewer predicts a "fun breakup" is in the works, but at least there's one #Kravis stan who "loves" the idea.
We cannot wait for fan reactions to their upcoming wedding (which may be sooner than predicted).