Why Kourtney Kardashian And Travis Barker's Wedding May Be Coming Sooner Than We Thought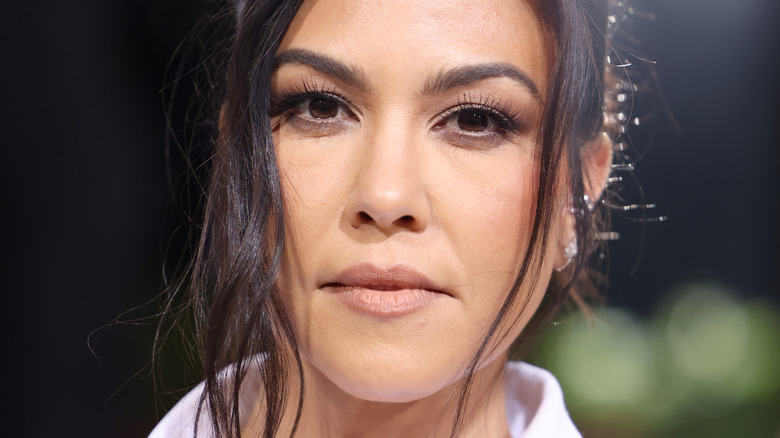 John Shearer/Getty Images
Wedding bells may ring a bit earlier than expected for Kourtney Kardashian and Travis Barker. The couple has been officially an item for a bit more than a year, but have been seemingly inseparable since confirming their relationship in January 2021. In October, the Blink-182 drummer orchestrated a spectacular beachfront proposal marking the start of the pair's engagement.
On the surface, the couple's relationship appears to have moved quickly, but Kardashian and Barker have been friends since 2017, according to Us Weekly. Barker even gushed over his fiancée during an interview with Billboard. "We're very similar, with our backs to the wall," Barker said. Adding, "We have no quit, and I need someone like that in my life"
For her part, Kardashian raved about the musician during an appearance on "Jimmy Kimmel Live." The reality star even clarified that their Las Vegas wedding — which took place following the 2022 Grammy Awards — was not official as the pair could not obtain a marriage license. Now, a slew of social media evidence has some questioning whether the couple's actual wedding is coming sooner than we thought.
Travis Barker seemingly hosts a wedding shower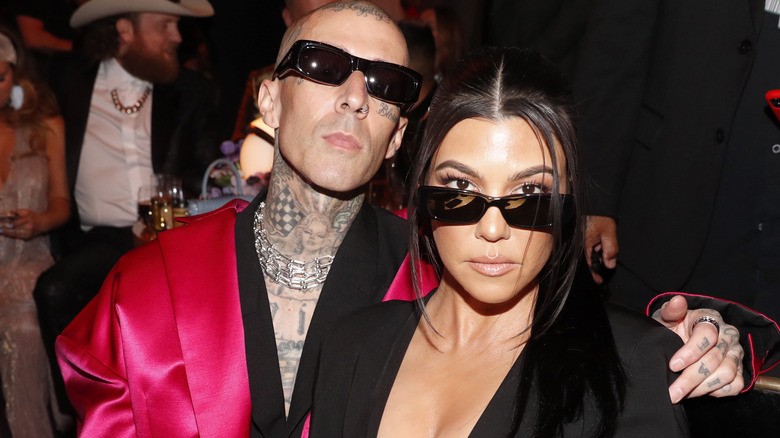 Jerod Harris/Getty Images
Kourtney Kardashian and Travis Barker are sparking wedding rumors (again) after a series of photos appeared online, of what appears to be the couple's wedding shower. According to Page Six, the couple hosted an event in Palm Springs on May 11, that included close friends, sweet treats, and a balloon displayed that read: "KRAVIS 4 EVER." One of the most telling pieces of evidence is an image shared by H2O frontman Toby Morse. Morse posted an Instagram Story from the event, along with the message: "Thanks for having us & congrats! ... #YoureSoCool" (via Page Six).
While Kardashian or Barker has yet to confirm whether they hosted a wedding shower, the move would make sense, as the couple has previously shared that they are trying for a baby. "It's a beautiful thing that we'd love to have happen, but the journey is a bit hard for any woman who went on it," Kardashian told ET. Fortunately for Kardashian, Barker seems to be just as keen on expanding his family with the Poosh founder.