Inside Travis Barker's Dating History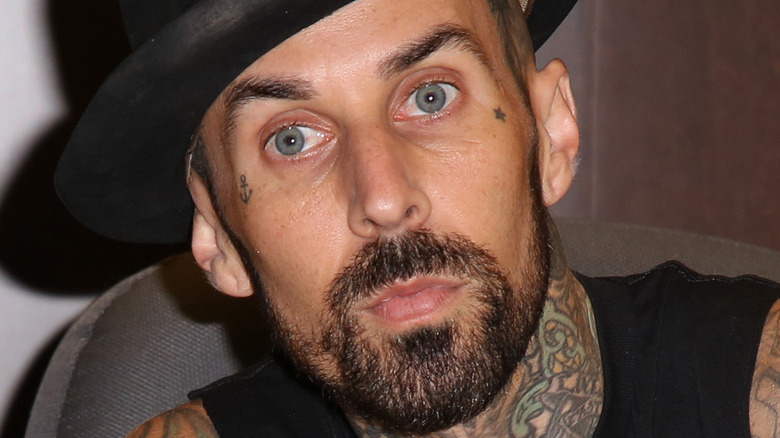 Shutterstock
Now that Travis Barker has been fully enveloped in the Kardashian/Jenner universe, he's going to learn a few things about how they operate. The Blink-182 drummer is head over heels for Kourtney Kardashian. The couple went Instagram official with their relationship on Valentine's Day and have been publicly canoodling at every opportunity.
Barker recently went to Disneyland with Kourtney and posted a photo to his Instagram of him holding her hand while riding the carousel. He captioned it "Happiest Place On Earth." Kourtney responded, "happiest." And then Barker commented, "with the love of my life." Awwwww, that's sweet! And earlier this month, Barker had "I love you" in Kourtney's handwriting tattooed on his arm, per Instagram. He also had her first name tattooed across his chest. He's all in, folks!
Barker is, of course, a rock star and has been for decades, so he's had his fair share of chances to date whomever he wants. Keep reading to find out who Barker dated before he fell in love with Kourtney Kardashian.
Travis Barker had a rock star love life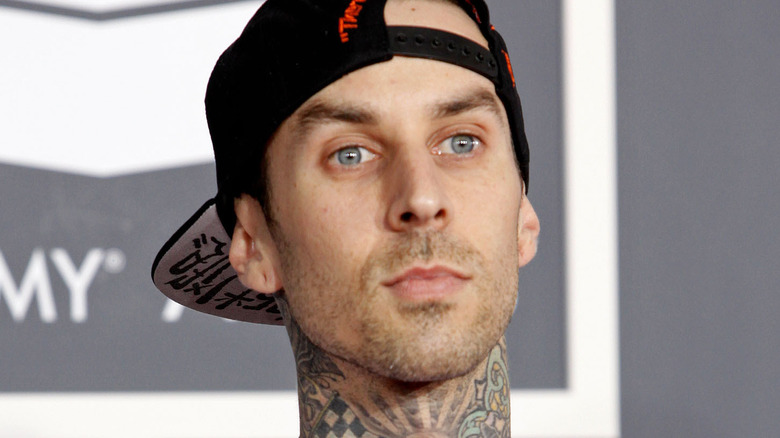 Shutterstock
Travis Barker has been married twice and linked to several celebrities over the years. He was married to Melissa Kennedy for nine months from 2001 to 2002. And he was married to 1995 Miss USA Shanna Moakler from 2004 to 2008, per Life & Style. They have two children together, Landon and Alabama. In fact, the former couple lived together until 2012, saying it was for their children.
In May 2021, Moakler accused Barker of cheating on her with Kim Kardashian in 2008, which she said led to their divorce. But a source close to the Kardashians told In Touch it wasn't true. To be fair, Barker did say he had been eyeing Kim, who was Paris' assistant at the time. "How could you not stare at Kim? Mind you, I enjoyed hanging out with Paris, but I love curvy girls," he said to Us Weekly in 2015. Barker did confirm, though, that he'd hooked up with Paris Hilton in 2006, per Life & Style. He was also briefly linked to 2006's Miss USA Tara Conner that year.
The year 2015 was also a busy one in Barker's dating life. He was briefly linked to Rita Ora, UFC ring girl Arianny Celeste, and Lindsay Lohan, per Life & Style. These days, though, Barker only has eyes for Kourtney Kardashian.