The Truth About How Silk Sonic Got Their Name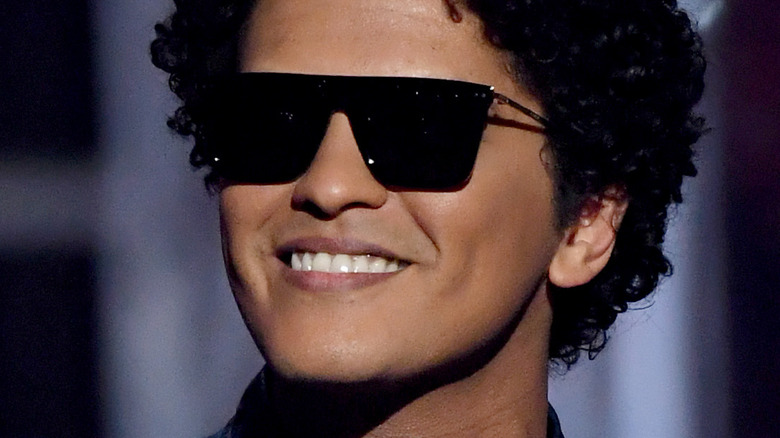 Ethan Miller/Getty Images
Silk Sonic, the musical group which is comprised of musicians Bruno Mars and Anderson .Paak, was first formed in 2017 while they were on tour together, per The U.S. Sun. While nothing came from it at the time, it wasn't until four years later that the pair decided to just go for it. "We locked in and made an album," Mars shared on Instagram in February 2021. And, ever since they hit the scene, they have been making record-breaking and award-winning music. 
"What we're doing, it's becoming rare, but I think it's something everybody wants to see," .Paak said during an interview with the Los Angeles Times. Their smash debut single "Leave the Door Open" resonated with listeners around the world and quickly became a viral sensation. According to Billboard, the record sold 28,000 copies, brought in over 21 million U.S. streams, had a radio airplay audience of over 59 million impressions, and went No.1 on both the Hot R&B and Hot R&B/Hip-Hop  songs. 
While the story of how they came together is pretty unique, the story behind how they formed their name Silk Sonic is even cooler.
Silk Sonic got their name from a legend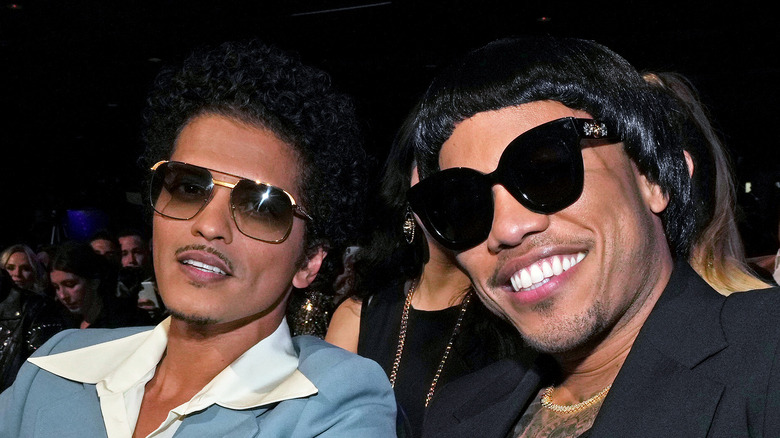 Kevin Mazur/Getty Images
During an interview with Apple Music's Zane Lowe, Bruno Mars and Anderson .Paak opened up about their journey coming together to form a band. The musical geniuses described how everything happened organically including coming up with their band name. In fact, .Paak revealed RoboCop Funk, The Conquistadors, The Atlantic Stars. and Lava Lamps were all names they originally toyed with until Funk legend Bootsy Collins threw out the idea — Silk Sonic. 
"Done deal," Mars and .Paak said simultaneously when asked their thoughts on Collins' suggestion. "He's got a way with names." Mars also credited Collins for naming R&B singer Babyface too. "Bootsy is the definition of a superstar, just for everything," the "Grenade" singer said. "The songs, the vibes ... There's so many artists that you can see that grew up on him."
According to AllMusic, the iconic bass guitarist and musician has been a pillar in the funk and R&B world since the 70's having worked alongside James Brown, Bill Laswell, Fatboy Slim, and Snoop Dogg to name a few. In 1997, Collins and his band Parliament-Funkadelic were inducted into the Rock and Roll Hall of Fame. The recognition never stopped for Collins, either. In 2020, Rolling Stone ranked the musician as No. 4 in the legendary list of "50 Greatest Bassists of All Time." 
Silk Sonic cemented their legacy with a Las Vegas residency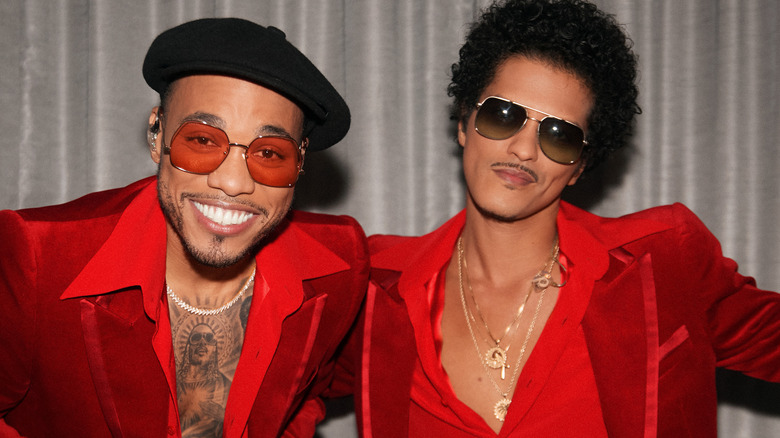 John Esparza/Getty Images
It's safe to say Silk Sonic is here to stay. In such a quick period of time, Bruno Mars and Anderson .Paak released their debut album "An Evening with Silk Sonic" and it's already catapulted their career to all-new heights. 
In addition, it's won them a slew of music awards. Silk Sonic took home four of the Grammys they were nominated for at the 2022 awards ceremony, leaving everyone including themselves stunned. "We are really trying our hardest to remain humble at this point," .Paak said during his Record of the Year acceptance speech. "In the industry, we call that a clean sweep!"
According to The U.S. Sun, Silk Sonic kicked off their Las Vegas residency, which kicked off in February. Mars has been lucky enough to experience selling out several Las Vegas shows as a solo artist, but now he gets to do it alongside his fellow bandmate and friend in .Paak.