What Kyle Cooke From Summer House Really Does For A Living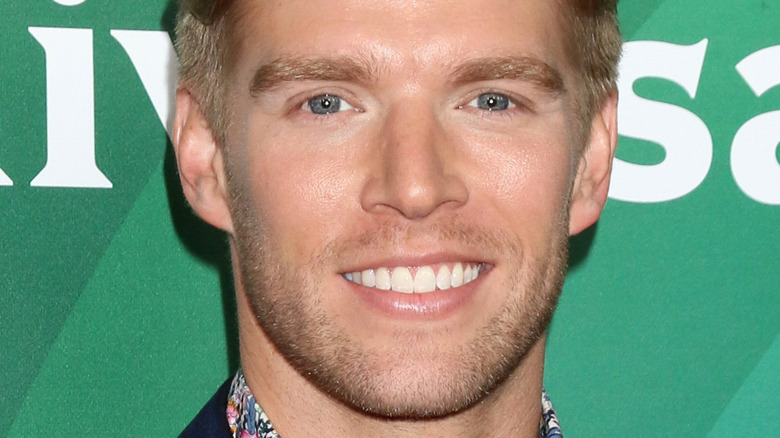 Kathy Hutchins/Shutterstock
It seems as if "Summer House" fans have been waiting a lifetime to see Kyle Cooke and Amanda Batula tie the knot. Three years after he proposed, the couple finally exchanged vows, per Bravo. Kyle shared a carousel of images on Instagram and captioned it, "More sneak peeks! Actually these are just all the happy moments that you didn't get to see." The blonde groom included snaps from Batula's bridal shower, a video of her twirling, their tasting menu experience as they hunted for the perfect wedding cake, Batula trying on wedding bands, and enjoying their welcome drinks dressed up to the nines.
It seemed as if Cooke was also feeling all the feels after their wedding episode aired. He again took to social media and reminisced about the day he and Batula walked down the aisle. He called his nuptials "the happiest day of my life" and waxed poetic about his bride. He wrote, "Nothing compares to the feeling of marrying your best friend ... we both know what true love is and what's worth fighting for." Cooke also penned a message directly to his wife. He shared, "To @amandabatula, I know I've given you every reason to doubt me, so I thank you for looking past all of that and seeing and loving me for me and believing in us."
Now that the season has ended, one might wonder what Cooke does for a living when he's not living it up in the summer.
Kyle Cooke founded his own beverage company
Kyle Cooke is a man of many talents. Per Life & Style, Amanda Batula's husband previously worked in high-power positions for companies like Birddogs, Cigna, and ZocDoc. However, the reality star has unleashed his entrepreneurial prowess and left the corporate world to start his own thing. Of course, "Summer House" fans know that he founded Loverboy, a beverage company selling specialty drinks. Loverboy cocktails and sparkling hard teas cater to those who are looking for a healthier alternative. In fact, their gluten-free sparkling hard teas contain only 90 calories and no sugar. Instead, the canned drink is sweetened with monk fruit. 
In February 2021, Cooke spoke with Beverage Industry and explained, "We're not cutting corners. Although monk fruit is more expensive than erythritol, it really brings out the flavors." He also spoke of how the brand uses "sweetness that comes from actual juices and purées." Loverboy has seemingly, therefore, distinguished itself as a brand that values quality above cost, and it has become increasingly popular. "In New Hampshire, we convinced them to take a full truck despite them only wanting a half truck. In three days, they ordered three more trucks," he dished.
Cooke also seemed to be optimistic about the future of Loverboy in the interview and emphasized that they "built a brand around authenticity." But, Cooke's talents are not limited to his business endeavors. 
Kyle Cooke cashes in on Summer House
Kyle Cooke has also been in the entertainment industry prior to "Summer House." According to IMDb, he has worked as an actor and starred in the 2013 flick, "Across Dystopia." Perhaps, that is where he learned to work a camera. As two of the original "Summer House" reality stars, Cooke and his wife Amanda Batula have become synonymous with the Bravo show.
In fact, Life & Style reports Cooke is probably one of the castmates who makes more than some of his co-stars. The outlet estimates that most cast members could earn approximately $10,000 to $20,000 per episode. There were 17 episodes in Season 6, including the two-part reunion, which adds up to $170,000 to $340,000 that the reality stars could have potentially earned for the season. Not too bad for living it up in the Hamptons!
Not only has the show provided a platform for "Loverboy," but it seems as if "Summer House" has already played an important part in Cooke and Batula's relationship. Batula shared, per Page Six, "[The show has] helped us get through [our issues] and it's helped us build confidence. It's helped us become stronger. It's helped us connect with people who might be going through something similar." And that may be enough reason for the newlyweds to keep starring on the show. Yay!