What Gerard Butler Had To Say About Kissing Jennifer Aniston And Angelina Jolie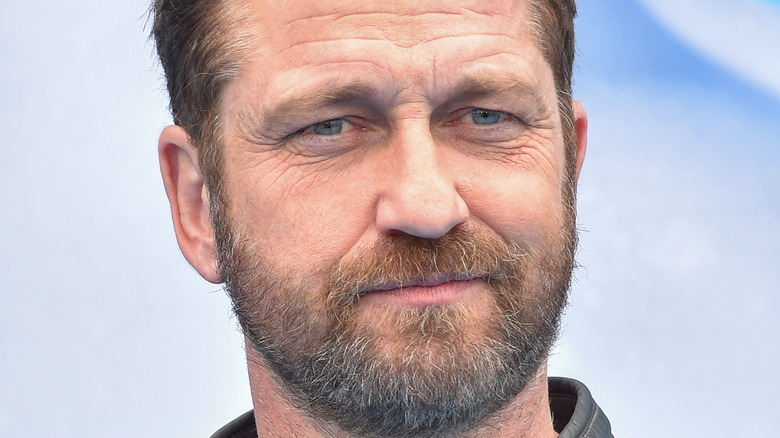 DFree/Shutterstock
When Angelina Jolie and Jennifer Aniston's names are put together in one sentence, another one usually follows: Brad Pitt. For years, the two Hollywood stars were part of a fictionalized love triangle that the tabloid media had going for some time. As many fans can recall, Aniston and Pitt pulled the plug on their marriage in 2005, which was about the same time that Pitt and Jolie were making red carpet appearances together for their film, "Mr. & Mrs. Smith."
During an interview with InStyle back in 2012, Aniston admitted that she was tired of hearing so many stories about her, her ex-husband and her supposed love rival six years after her divorce. When asked about what aggravated her the most at the time, Aniston said (via Daily Mail), "I would say the triangle with my ex-husband — and that there's a feud there. It's constant. It's a story headline that won't go away, but it's a money thing — (people make money off) a story that has nothing to do with reality."
And while that tabloid storyline has seemingly died down in recent years, there's another huge Hollywood star who was once connected to both Aniston and Jolie: Gerard Butler. And what he has to say about kissing both of them may raise some eyebrows.
Gerald Butler had to pick between Angelina and Jennifer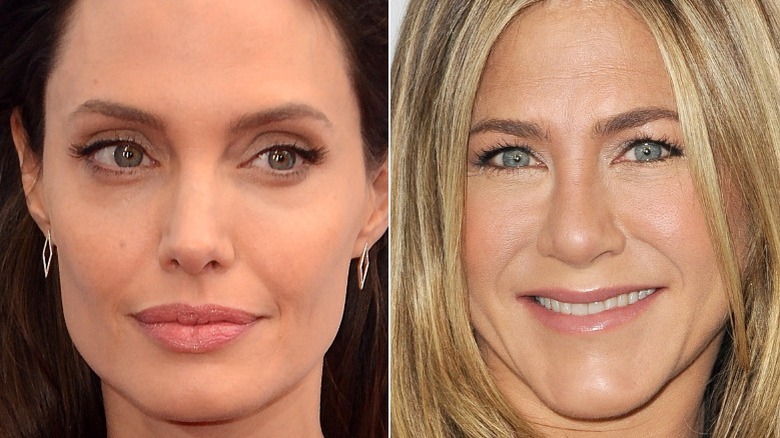 Tinseltown & Kathy Hutchins/Shutterstock
Back in 2018, Gerard Butler appeared on "Watch What Happens Live" and played a dangerous game of "Plead the Fifth" with host Andy Cohen. The actor was given the option of skipping one of three questions.
When Cohen said, "Gerard Butler, you have kissed both Angelina Jolie and Jennifer Aniston on screen. Who is the better kisser?", Butler couldn't help but squirm in his seat. He also put his hands in his face and moaned, "Oh no," as he probably knew that there was no right answer to the question. If that weren't enough, rapper 50 Cent, who also happened to be sitting next to him, said, "We need to know this." With his eyes closed, Butler finally answered, "Jennifer Aniston."
Needless to say, the room erupted in what seemed to be cheers of approval. Cohen did not ask any follow-up questions, nor did Butler explain his answer. However, Butler did work with Jolie back in 2003 on the film "Lara Croft Tom Raider," which was only a few years after she famously puckered up with her brother James Haven at the 2000 Oscars, per Us Weekly. Now whether or not that had anything to do with Butler's answer, no one knows, but this wasn't the only time that Aniston has gotten attention for her kissing skills.
Jennifer Aniston is an award-winning kisser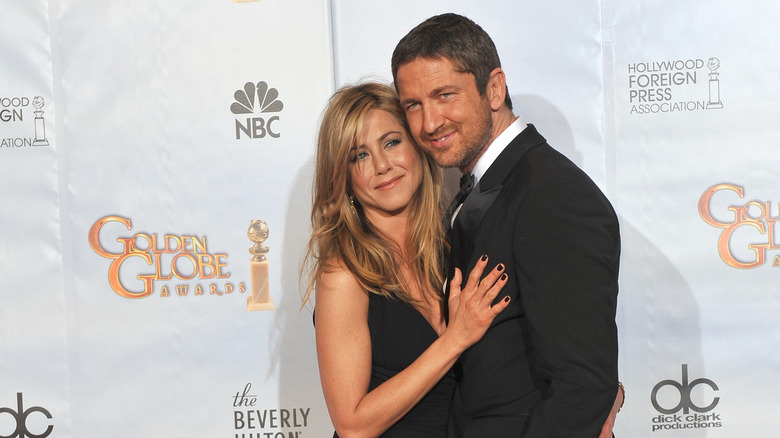 Featureflash Photo Agency/Shutterstock
Back in 2014, both Jennifer Aniston and Emma Roberts won the Best Kiss Award at the MTV Movie Awards for their three-way kiss in "We're The Millers," according to E! News. Both were not at the awards ceremony that night, but Roberts did acknowledge the win by tweeting, "Just found out about the MTV kiss award!!!! So awesome!! Thanks guys! And thanks to this guy @PoulterWill."
If that weren't enough, Aniston's other co-star Will Poulter also told Collider in 2013 that he was so thankful to have Aniston work with him during their scene together. While he wouldn't spill the "secret" advice the "Friends" star gave him pre-smooch, he did say, "It was kind of a bizarre scene to film, we kind of just laughed our way through it." Similarly, he told the Independent of Aniston, "She took care of me, and was aware that, being a 19-year-old kid in that scenario, I was very nervous." Poulter also noted that, "This was before intimacy coordinators, which I really would have appreciated, and I'm sure Emma and Jen would have, too."
With that said, seeing how Aniston gets so many rave reviews, we can only wonder how Brad Pitt would answer the same question about Aniston and Angelina Jolie's kissing skills.