Cara Delevingne's BBMAs Appearance Has Everyone Talking For The Wrong Reasons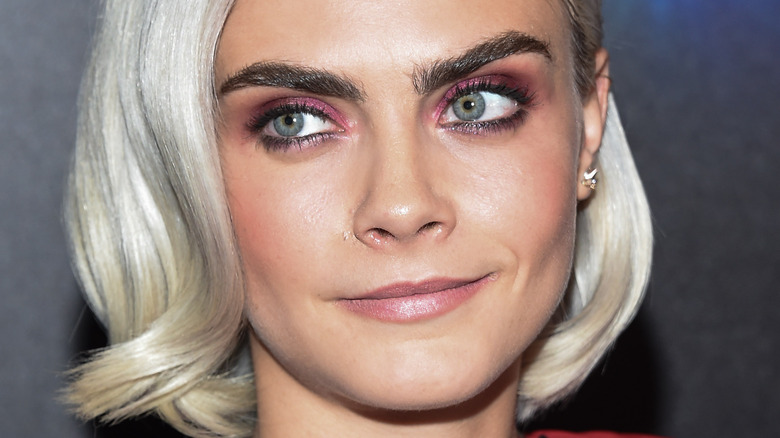 DFree/Shutterstock
So, Cara Delevingne attended the Billboard Music Awards on May 15 where, judging by the videos circulating around the internet, she seemed very eager for attention from Megan Thee Stallion. Well, the model and influencer got some attention all right, though maybe not the kind of attention she was necessarily hoping for. 
Videos from the event show Delevingne grabbing Meg's train during her red carpet photos, leaning way, way into the rapper's face when she won her BBMA award, and bringing back the good old-fashioned photo bomb. We're not sure of the exact nature of Delevingne and Megan's personal relationship, so maybe the "Thot Sh**" rapper was unbothered by all the kooky attention. The internet, however, was definitely bothered, and soon Delevingne's name began trending on Twitter for all the wrong reasons. It's never great to be the site's main character, but it's somehow even worse to become the main character when you haven't even tweeted. 
Cara Delevingne trended for her weird behavior towards Megan Thee Stallion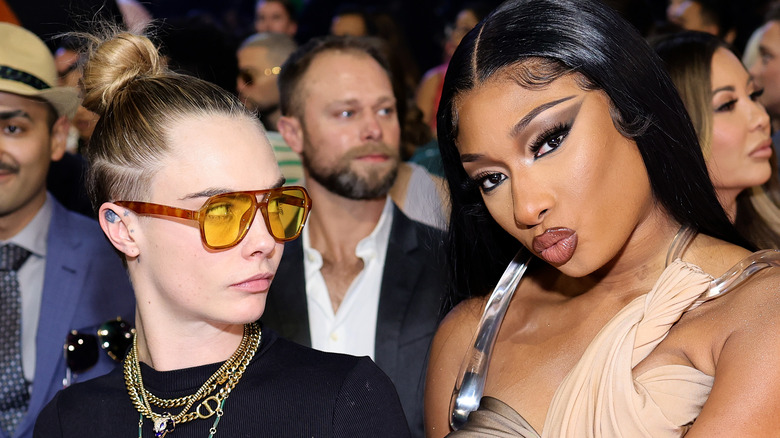 Matt Winkelmeyer/Getty Images
Megan Thee Stallion's fans on social media were categorically not here for Cara Delevingne's Billboard Music Awards antics. "CAN SHE LEAVE MEGAN ALONE YO," read one viral tweet. "Oh if I was Megan I would already push that b**** out of my way," read another. Other Twitter users made movie comparisons, like one who added a GIF of Elizabeth Olsen as Wanda Maximoff to a tweet reading, "Cara Delevingne coming through the mirror when Megan Thee Stallion tries to hide from her in the bathroom." 
Delevingne also made an impression on TikTok. "Y'all what is wrong with Cara Delevingne," one TikToker queried. "Cara loves her some Megan," another person joked on TikTok, with a green screen video of themselves crying/laughing.
But Delevingne's interactions with Megan Thee Stallion don't appear to be the first time she's made a not-so-great name for herself at celebrity events. A Daily Beast headline dubbed her "Hollywood's Weirdest—and Most Unwelcome—Party Girl," citing that time she was caught dancing with New York City mayor Eric Adams and when she licked Azealia Banks' leg on stage as other examples.