Samuel L. Jackson's Rumored SNL Ban Just Got Even More Confusing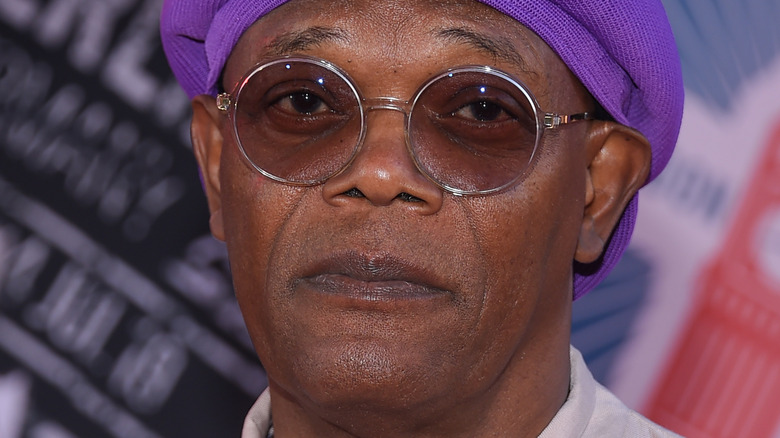 DFree/Shutterstock
So, what's really going on with Samuel L. Jackson and that rumored ban from "Saturday Night Live?" As you may or may not remember, the prestigious actor appeared on the show back in 2012 and uttered a word he most definitely should not have done. That word? Well, it begins with an F. And you can guess the rest. The moment went down during a sketch with "SNL" veteran Kenan Thompson, titled "What's up With That?," in which he introduced the actor as he responded, "Man, f-" before a clearly surprised and trying not to laugh Thompson joked, "that costs money."
Jackson addressed the incident shortly after in a tweet, sharing a snap of himself looking surprised and claiming he "only said FUH" and "K was sposed to cut off da BULLS***, blew it!!," suggesting that Thompson missed his cue cutting him off. He then doubled down on that claim on "Jimmy Kimmel Live!" (via E! News) that same year, blaming Thompson again and adding, "I'm just saying, I'm used to working with professionals that know their lines. Even the ones that are written on cue cards in front of you." Shade! The actor also shared the same story on "The Ellen DeGeneres Show" in March 2022, blaming Thompson again.
Jackson hasn't returned to the iconic NBC comedy sketch show since, leading to widespread rumors he wasn't allowed back due to his infamous F-bomb drop. But things have now taken a dramatic turn worthy of the entertainment world.
Is Samuel L. Jackson really banned from Saturday Night Live?
Despite Samuel L. Jackson seemingly thinking he's been banned from "Saturday Night Live" for around a decade, it turns out he was apparently never actually banned after all. Speaking on "The Awardist" podcast in May, Jackson revealed that he'd had a run in with "SNL" showrunner Lorne Michaels in an elevator and took the opportunity to ask if he'd ever be allowed back. That's when Michaels told him, "You're not banned," before the two had a back and forth in which Jackson claimed he was and Michaels said he wasn't. "So maybe I'm not [banned]. I don't know," Jackson then mused. Jackson's retelling of the interaction came around two months after Entertainment Weekly reported that there was no official back keeping him away from the series.
So, it looks like we're just going to just have to wait and see if Jackson heads back to the NBC show anytime soon, but one thing we know for sure? That Jackson loves a swear. Like, seriously loves one. Although we can't condone dropping a swear on the live show, Entertainment Weekly revealed back in 2012 that Jackson has quite the penchant for expletives and had actually tweeted a whopping 57 different ways of writing the MF words. 57. Really.