Samuel L. Jackson's Celebrity Crush Might Surprise You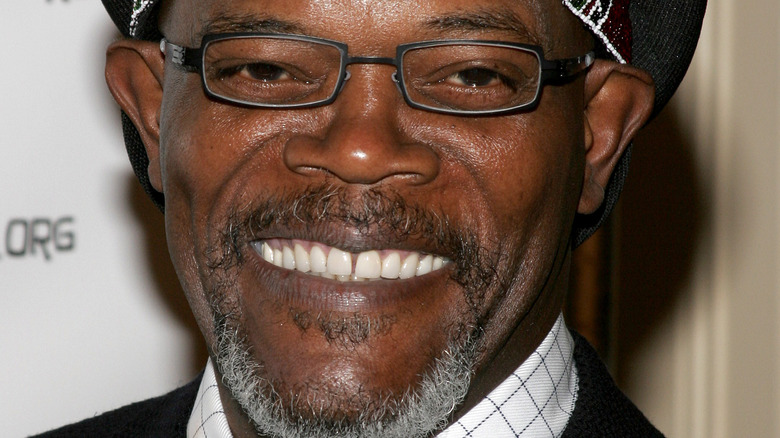 Tinseltown/Shutterstock
With a total of over 120 film roles making up his career, Samuel L. Jackson remains one of the most dominant actors in Hollywood after nearly 50 years in the industry. His acting credits include starring in projects like "Pulp Fiction," the "Star Wars" prequel trilogy, "Snakes on a Plane," and "Do the Right Thing." These are just some of the many well-known performances that have made Jackson a highly sought-after movie star. He's also a soon-to-be honorary Academy Award winner and an Emmy nominee, per IMDb.
Just like everyone else, however, even the most celebrated actors end up having their own celebrity crushes. This is the case for Jackson, who revealed in an interview that actor Helen Mirren is a public figure he has a special affection for. Digital Spy reported that the X-rated film, "The Cook, The Thief, His Wife & Her Lover," is a movie that Jackson particularly enjoys watching due to Mirren's performance.
"I'll watch anything with Helen Mirren in it. Especially when she was young. I mean, come on!" Jackson said. "I love Helen. I watch 'The Cook, The Thief, His Wife & Her Lover' at least four times a year."
Helen Mirren and Samuel L. Jackson have similar acting roots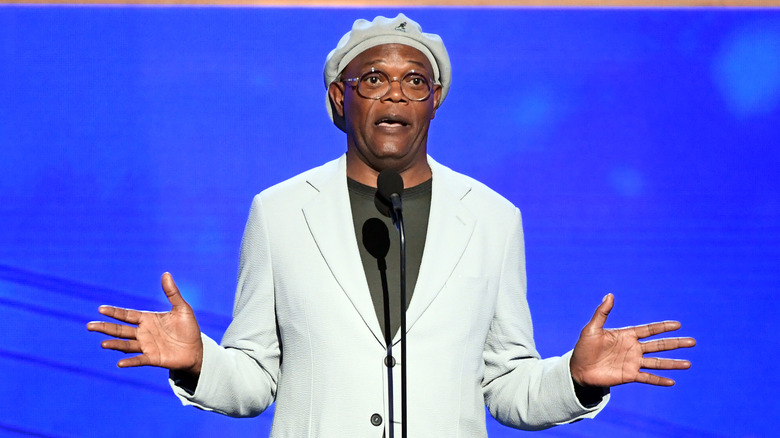 Kevin Winter/Getty Images
Although Samuel L. Jackson's crush on Helen Mirren might seem like a surprising confession to some, his attraction to her makes sense, given that the two actors have a similar story of how they fell in love with acting.
Mirren began her career performing with the Royal Shakespeare Company, according to Biography. She joined the company after playing a part in an amateur production of "Hamlet," and later took on lead roles in plays such as "Macbeth" and "Antony and Cleopatra" as she honed her acting skills. Jackson likewise learned of his passion for entertainment by performing on stage. While he underwent theater training, Jackson learned how to inspire an audience, which is a lesson he has kept with him throughout his legendary Hollywood career.
"That's what I was taught when I was doing theater, that, when you come on stage, you want to light it up to the point that, when you leave, people want to go with you,"  he said in a "60 Minutes" interview. "And I hope that's who I am when I show up."
Samuel L. Jackson isn't the only one blown away by Helen Mirren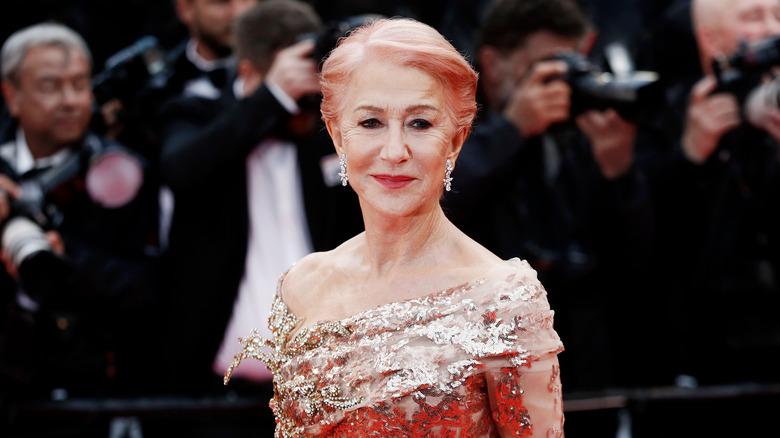 Andrea Raffin/Shutterstock
Samuel L. Jackson is certainly not the only man in Hollywood who has taken notice of Helen Mirren's allure. Another celeb who has expressed his admiration for Mirren is 50 Cent, who once gushed over the actor after he ran into her while he was traveling abroad. "I just saw [Mirren] in [the] South of France when I was out there," he said on "Conan." "She just looked at me and this interesting thing was going on in her eyes ... It's, like, this confidence thing ... She looks at you like she knows she's sexy."
When Mirren visited "The Late Show with Stephen Colbert" in 2016, she greeted Stephen Colbert by giving him a soft kiss on the lips. This exchange threw the normally very composed comedian off his game, and even he admitted that Mirren's gesture of affection had left him at a loss for words. "I suddenly can't remember any questions. That is one of the nicest greetings any guest has ever given me," Colbert said to Mirren after the kiss, before adding, "You really know what you're doing."
It's easy to see why these entertainers would take an interest in Mirren due to her talent, charisma, and magnetic personality!