Jada Pinkett Smith Responds To Leah Remini's Scientology Accusations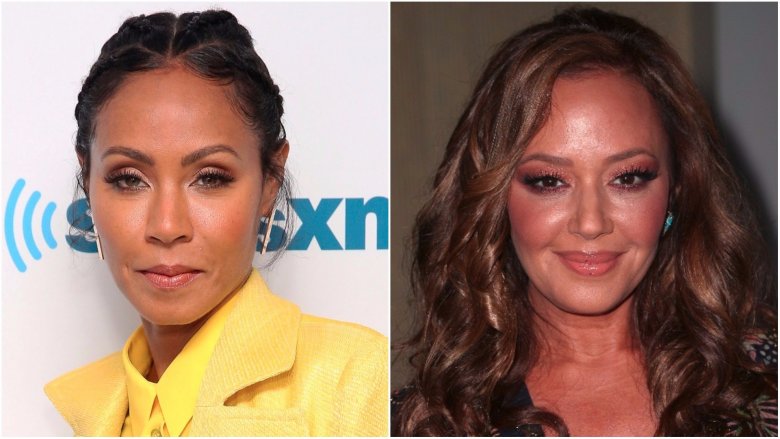 Xenu who?
Early this morning, Jada Pinkett Smith responded to Leah Remini's recent accusation that Pinkett has "been in Scientology a long time" with a Twitter thread that denies her affiliation with not only Scientology, but all religions. 
Pinkett Smith's tweets started with, "I recently lit Shabbat candles with Rabbi Bentley at Temple Sinai... but I am not Jewish." From there, the Gotham star rattled off a series of logic bombs, presumably aimed squarely at Remini. 
"I have prayed in mosques all over the world... but I am not a Muslim," Pinkett Smith's thread continued, followed by, "I have read the Bhagavad Gita... but I am not a Hindu."
"I have chanted and meditated in some of the most magnificent temples on earth... but I am not a Buddhist," the Girls Trip actress then tweeted, before confronting Remini's accusation directly with, "I have studied Dianetics, and appreciate the merits of Study Tech... but I am not a Scientologist."
Pickett Smith's last words on the matter were, "I practice human kindness, and I believe that we each have the right to determine what we are and what we are not," followed by, "NO ONE ELSE can hold that power." 
The tweets are widely believed to be in response to Remini's September 17th, 2017 interview with The Daily Beast in which she recounts the now infamous tale of playing hide-and-seek at a dinner party at the home of noted Scientologist, Tom Cruise. Remini claims Will and Jada Pinkett Smith were also in attendance. 
"I know Jada's in. I know Jada's in. She's been in Scientology a long time," Remini said, adding, "I never saw Will [Smith] there, but I saw Jada at the Celebrity Centre. They opened up a Scientology school, and have since closed it. But Jada, I had seen her at the Scientology Celebrity Centre all the time."
The Daily Beast also reports that The Smiths "largely funded" the New Village Leadership Academy, a purportedly "secular" school that just so happened to be staffed with many Scientologists.  
So far, Pinkett Smith's tweets have been her only response to Remini's comments.
When reached for comment about Pinkett Smith's "rumored involvement" with them, a rep from the Church of Scientology in LA told Page Six, "I don't know who that is," and, "Maybe you should call and ask her." 
Want to find out more dirty laundry Leah Remini has aired about her time as a Scientologist? Nicki Swift has you covered right here.