How Many Times Has Jane Fonda Been Arrested?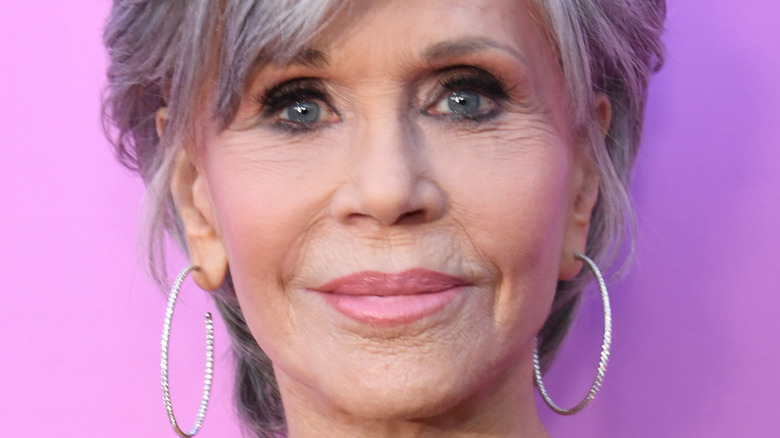 Jon Kopaloff/Getty Images
Hollywood A-listers are often slammed for talking the talk and not walking the walk. "Thoughts and prayers" tearfully dropped into the middle of award show acceptance speeches can come across as hollow platitudes. However, some celebrities don't mind getting their hands dirty and fighting the good fight — even if it means getting hauled away in a cop car. 
Emily Ratajkowski and Amy Schumer were among the over 300 people arrested outside of the Senate Building in Washington, D.C. as they protested the Supreme Court nomination of Brett Kavanaugh. Jaime King was cuffed during a peaceful Black Lives Matter demonstration in Los Angeles. King raised awareness of the LAPD's alleged treatment of fellow protesters by tweeting to her over 206,000 followers. Susan Sarandon was arrested as she participated in a nonviolent sit-in protest against former President Donald Trump's immigration policy, per the Independent. The list goes on. 
However, out of all of Hollywood's elite, award-winning actor and workout video goddess Jane Fonda has been in the back of a few police cars for various causes. How many times, you may ask? Well, let's discuss. 
Jane Fonda's arrest record goes way back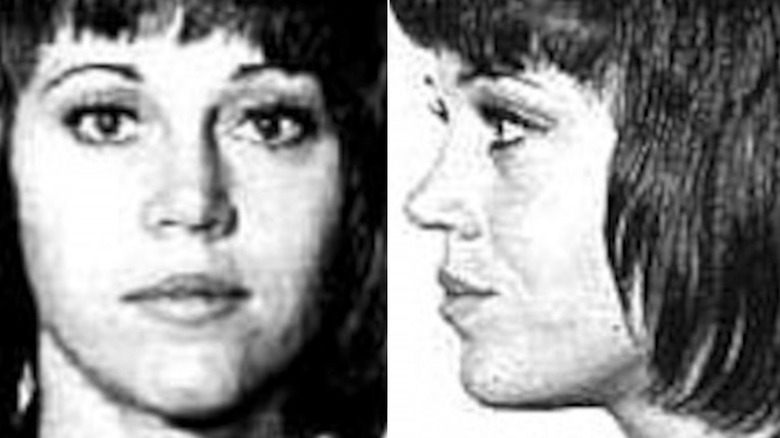 Kypros/Getty & Kypros/Getty Images
Jane Fonda has been arrested six times. According to Deadline, five times were during her climate change protests — the last was the night before she turned 82. Fonda's first arrest was in 1970 and, per The Washington Post, the mugshot proved to be as revolutionary as its subject — with its anti-establishment message of defiance. 
The actor's activism began during the Vietnam War — and it came with a high price. On her website, Fonda claims she was set up by President Nixon's administration and the CIA and FBI had been tailing her for months. She was arrested for smuggling drugs, which were actually vitamins. Fonda proved controversial amongst the public too. She was a polarizing figure, as many disagreed with Fonda's staunch anti-war stance and accused her of being unpatriotic.
Meanwhile, she said it's much easier for her to protest these days than back then because of her privilege and her fame's currency. "Unlike [with] my earlier activism, I have a hit series at my back," Fonda told LA Times. "It's so much easier for me. People like me! I used to do this [in the Vietnam era], and chunks of my hair would literally be pulled out."
Jane Fonda's still being arrested today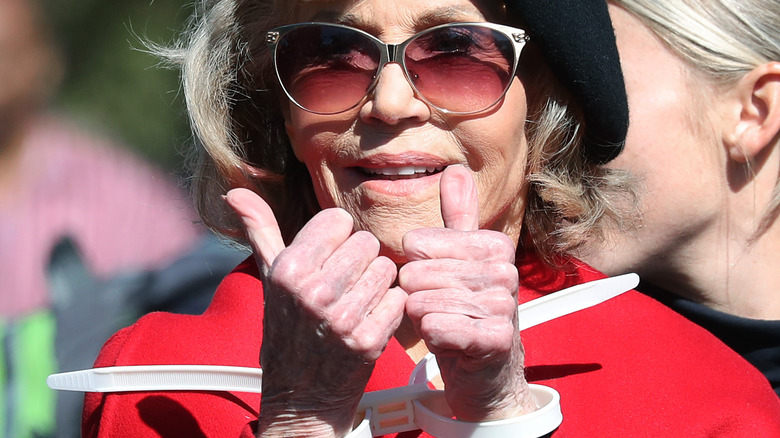 Mark Wilson/Getty Images
Jane Fonda has been arrested so many times, it's surprising she hasn't gotten her own monogrammed handcuffs. For decades, Fonda has been protesting against injustice, inequality, and state-sanctioned harms. She's used her celebrity platform to shine a light on issues she believes in. Fonda regularly rallies other celebrities to help her cause and raise awareness, which can lead to arrests. 
In 2019, Fonda vowed to protest on the steps of the U.S. Capitol every week until forced otherwise. She was stopped in her tracks after being arrested in October, per the LA Times, along with 15 others. According to NBC, the protesters were booked on misdemeanor offenses of "crowding, obstructing, or incommoding." They faced the possibility of a 90-day jail sentence and/or a $500 fine.
The Capitol police station was more like a Vanity Fair Oscars after-party than a cop shop during 2019. Martin Sheen, Lily Tomlin, Joaquin Phoenix, Ted Danson, Gloria Steinem, Diane Lane, Sally Field, Sam Waterson, and Rosanna Arquette were among the celebrities who were arrested for protesting at Fonda's climate change demonstrations. PBS asked Fonda why she was still so passionate about activism, marching, and protesting. "When you're older, what have you got to lose?" she questioned. "You can rise to who you are meant to be, and you can be brave."