Ant Anstead Takes Yet Another Swipe At Christina Hall Amid Custody Drama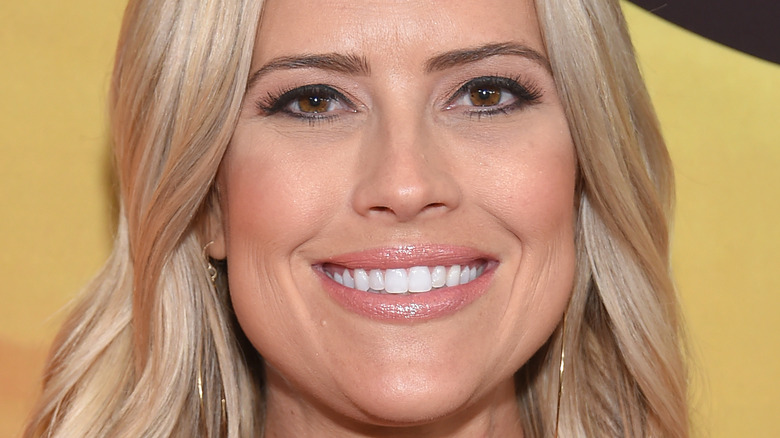 DFree/Shutterstock
Christina Hall and Ant Anstead's marriage lasted only two years, but their ups and downs didn't stop when they signed the divorce papers. After secretly tying the knot in December 2018, the "Christina on the Coast" star and the British TV presenter announced they were separating in September 2020, People reported. Two months later, Hall filed for divorce from Anstead. But their relationship didn't end there — Hall and Anstead welcomed a baby boy, Hudson, in September 2019, according to People. The birth of their child coincided with the couple's marriage beginning to fall apart. "After the baby, they started having conflicts," a source told People. "Christina found it difficult to balance everything."
Post-divorce, they continued to have issues, with Hudson at the center. On April 28, the "Wheeler Dealers" host filed for full custody of their child, seeking to alter their joint-custody deal, Us Weekly reported. In the filing, Anstead accused Hall of spending less than a third of the month with Hudson, People detailed. In her response, Hall denied Anstead's claims.
"What Ant is doing deeply saddens me. If this was really about Hudson, as he says, this should have been handled privately with a private judge or mediation," she told Us Weekly, suggesting Anstead was using Hudson to hurt her. Amid their custody battle, Anstead seemingly continues to criticize Hall's parenting skills.
Ant Anstead took a jab at Christina Hall on Instagram
Ant Anstead is doubling down on his claims that Christina Hall is less than a perfect mother to Hudson. In the documents he submitted to the judge, Anstead accused Hall of using their son in sponsored content on social media to capitalize on his image, Insider detailed. When he shared a video of Hudson playing soccer on his Instagram on May 16, users were quick to point out the apparent hypocrisy. "I thought you didn't want your son to be exploited on social media," one wrote in the comments section (via Page Six). 
Anstead used the opportunity to seemingly take a jab at his ex-wife. "Absolutely I don't," he replied. "Being a kid and capturing organic moments in the footsteps of a toddler I'm all in favour of ... But being a puppet 'used' for commercial gain and being made to perform makes my stomach sick. The two are of course very different." But not all were buying Anstead's arguments against Hall. "I hear Hudson, saying, 'put your phone down!!' You're always posting, more then [sic] Christina ever has," another Instagram user chimed in. Anstead's doesn't appear to have responded to the comment.
In her response to Anstead's filing, Hall pointed out he also uses Hudson to promote his brand on Instagram, People reported. In April, a judge initially denied Anstead's request for full custody of Hudson. The two have a hearing scheduled for June 28.