Jimmy Kimmel Has To Take Yet Another Break For A Familiar Reason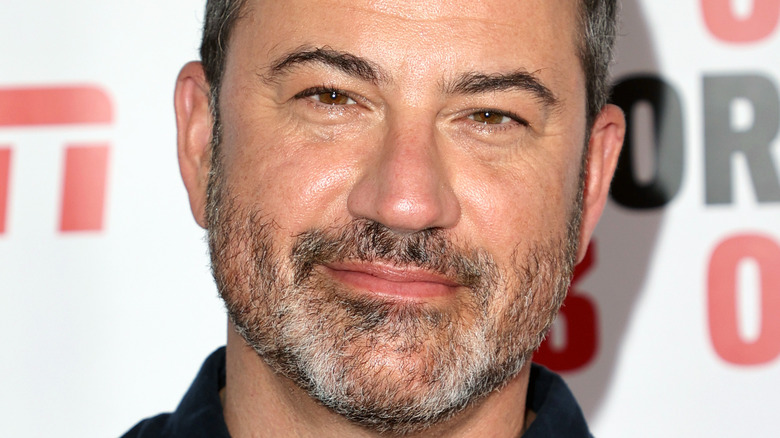 Kevin Winter/Getty Images
Jimmy Kimmel has one of the longest-running late-night shows, but even he needs to take a break once in a while. He's previously taken summers off in 2017 and 2020 to spend time with family, and now he's out of commission again mere weeks after taking a sick leave due to COVID-19.
From May 3 to May 7, comedian Mike Birbiglia filled in for Kimmel to positive reviews and made himself very comfortable. During his short stint hosting, Birbilgia said, "I will say I'm having a great time. So Jimmy, I know this is maybe a weird thing to say, feel free to have COVID as long as you want." He caught up with Kimmel and his wife Molly McNearney in a video call, in which they drank plenty of fluids, but not necessarily the kind doctors recommend.
Kimmel eventually recovered and returned to "Jimmy Kimmel Live" after one week, but it didn't last very long. On May 17, he announced that he'd be taking a break yet again — this time with two new co-hosts.
Jimmy Kimmel tested positive for COVID-19 (again)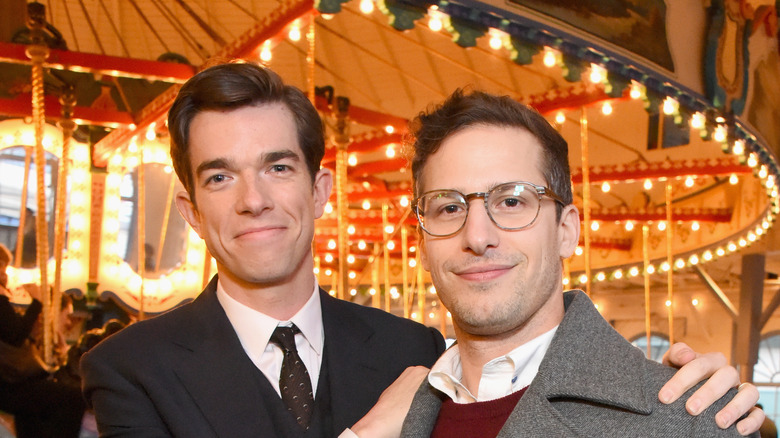 Araya Doheny/Getty Images
It looks like Jimmy Kimmel accidentally fulfilled former guest host Mike Birbiglia's wish, as he tested positive for COVID-19 for the second time in a month. On Twitter, he said, "I'm such a positive person, I tested positive AGAIN. I am feeling fine – the great John @Mulaney & Andy Samberg @TheLonelyIsland have graciously agreed to host @JimmyKimmelLive for me tomorrow." Although it's rare for someone to test positive for COVID-19 twice in one month, Kimmel and other late-night hosts are interacting with a large amount of people on a regular basis, so it makes sense that they'd be the exception to the rule.
Mulaney and Samberg's co-hosting gig comes ahead of the Disney+ film, "Chip 'n' Dale: Rescue Rangers," in which they voice the title characters. The show's scheduled guests remain the same, with "Curb Your Enthusiasm" star Cheryl Hines and Australian rock band Gang of Thieves set to take the "Jimmy Kimmel Live" stage. However, there's one person who feels left out: Mike Birbiglia responded to not being asked to return by tweeting a text from his wife, where autocorrect spelled Samberg's name wrong.
Kimmel is one of many late-night hosts to take time off for COVID-19 reasons in 2022, with Jimmy Fallon, James Corden, and Seth Meyers all testing positive within a week of each other in January. Even though he has guest hosts clamoring to take his place, let's wish Kimmel a speedy recovery.