Corey Gamble Has A Complicated Relationship With Kris Jenner's Children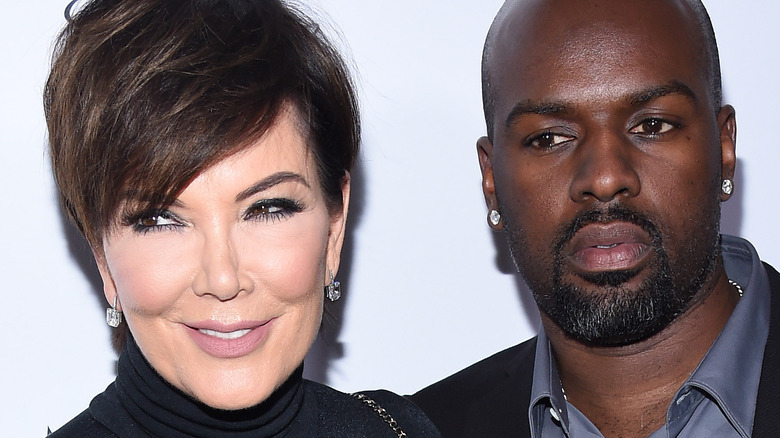 DFree/Shutterstock
Kris Jenner has been in a long-term relationship with Corey Gamble since 2014, although the pair didn't go Instagram official until 2015, per People. Gamble — who once worked as Justin Bieber's tour manager — has since become an integrated member of the Kar-Jenner clan, making regular appearances on Jenner's Instagram, spending time with the family on their lavish getaways, and cropping up on "The Kardashians" on Hulu. According to People, Gamble even provided key testimony in the KarJenner's trial with Blac Chyna in April 2022, when he shared his account of an alleged explosive fight between Chyna and her ex-fiancee Rob Kardashian.
Jenner has publicly gushed about Gamble, calling him a rock in their eight-year relationship. "He's the greatest guy, and he's just an amazing support system for me, and he really gives me a lot of strength and insight," the momager told The Wall Street Journal in 2021. "He's a great sounding board. And he loves my kids and my mom, and they love him." But is that last claim entirely true? 
Per Cosmopolitan UK, fans witnessed Gamble's falling-out with Kourtney Kardashian and Scott Disick over how to discipline their daughter, Penelope Scotland Disick, on an episode of "Keeping Up With The Kardashians." Kim Kardashian also shaded Gamble during her 2021 "Saturday Night Live" appearance when she joked about him being a "gold digger," according to InTouch Weekly. If there's one constant we can count on from America's most famous family, it's that drama seems inevitable — and Gamble's relationship with Jenner's kids is no exception.
Kanye West put Corey Gamble on blast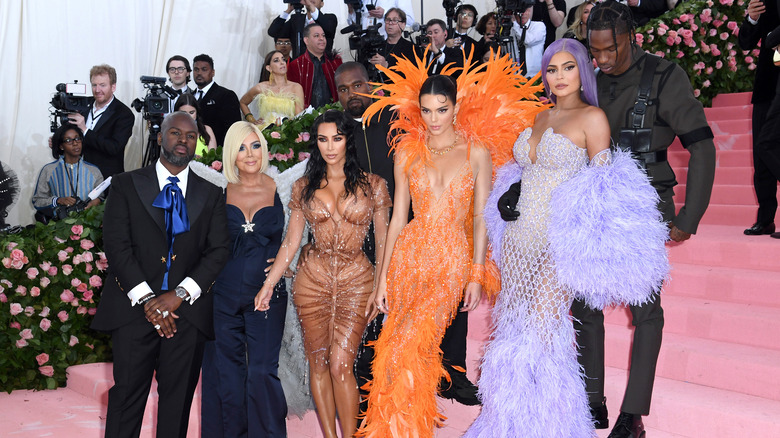 Karwai Tang/Getty Images
Drama aside, the Kardashian-Jenner family happen to be an extremely close-knit family — a fact that makes their reality shows so compelling. However, the same cannot be said of Corey Gamble's relationship with his own family. 
Back in 2019 (when KimYe was a thing), Kanye West put Gamble on blast by quizzing the former tour manager on why Kris Jenner and her kids had yet to meet anyone in Gamble's family, per People. When Khloé Kardashian agreed with West and pointed the finger at Gamble, the familial tension sent Jenner spiraling. "I want you to recognize that when you do question my relationship with Corey, it isn't okay and it hurts feelings," Jenner told her daughter. "I think what you guys don't realize is that Corey is really taking care of me like no one ever has in my entire life."
Everyone appeared to put the blame-shifting behind them — except for maybe West. In the wake of his divorce from Kim Kardashian, the "DONDA" rapper called out Gamble again. "God has a plan to remove the godless Corey needed to never be here anyway," West wrote in a since-deleted Instagram post, via Page Six, in February 2022. "We still never met his family And I guess we never will." 
Does Corey Gamble like Kylie Jenner the best?
The KarJenners may not have met Corey Gamble's family, but he's become a token member of theirs. In particular, Life & Style Magazine reported, that Gamble has embraced Kylie Jenner like a true friend. "They pal around, they have the same sense of humor and taste in music," a source shared. During an episode of "KUWTK," Kylie praised Gamble for the way he has supported her mom since Kris Jenner's divorce. "He's just helped me navigate through life and I really appreciate his advice," Kylie added. "He's just always been a good, good guy. According to Heavy, Gamble called the makeup mogul his "ace," pointing to the fact that Kylie is always there for him as well.
Because the pair are close, it's unsurprising that Gamble defended Kylie after she got into a fight with big sister Kendall Jenner. The girls' spat — which was documented during a 2019 episode of "KUWTK" — started when Kylie refused to drop off Kendall after a night out, and culminated in some harsh words (and maybe a little bit of shoe throwing). Cosmopolitan UK noted that Gamble rushed to Kylie's defense by attacking Kendall. "You've been a rude person for years. You're an a****** when you feel like it, you get riled up for no reason. I'm about to tell you the truth about how you are. You don't apologize for nothing," he ranted, after Kendall replied, "f*** off." Per People, the "unfortunate" incident may have impacted Kendall's relationship with Gamble for the worse.