This Actor Had A Bizarre Experience At Jason Beghe's Wedding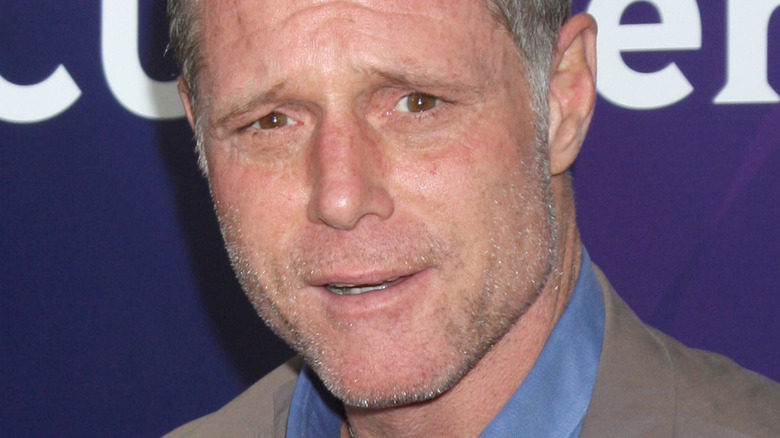 Kathy Hutchins/Shutterstock
On the gritty NBC drama "Chicago P.D.," Jason Beghe plays a man married to his job: Hank Voight, the head of the Windy City police department's intelligence unit. "Voight, obviously, is still kind of alone, but his family is the unit," Beghe said in an April 2022 interview while, discussing his character's lack of a love life, per Cinema Blend.
But there was a time when Voight had a life outside of work; he was a happily married man before he tragically lost his wife to cancer. Beghe also knows what it's like to love and to lose, but the actor's own 17-year marriage to actor Angie Janu ended in divorce in 2017, per People. When the couple tied the knot, Beghe was probably better known for his work in films thanks to his roles in "Monkey Shines" and "G.I. Jane." He also got a little practice playing a fictional cop when he was cast as a state trooper in the 1991 classic "Thelma & Louise."
One of Beghe's BFFs during that time period was a huge television star: David Duchovny. Beghe landed a small part starring alongside his pal in a 1998 episode of Duchovny's popular sci-fi series, "The X-Files," and Duchovny attended Beghe's wedding two years later. At the event, Duchovny had an experience that even an expert in the unusual, like his character, Special Agent Fox Mulder, might find unsettling. It also turned out to be an early sign that his friendship with Beghe was in jeopardy.
Scientologists tried to recruit David Duchovny at the wedding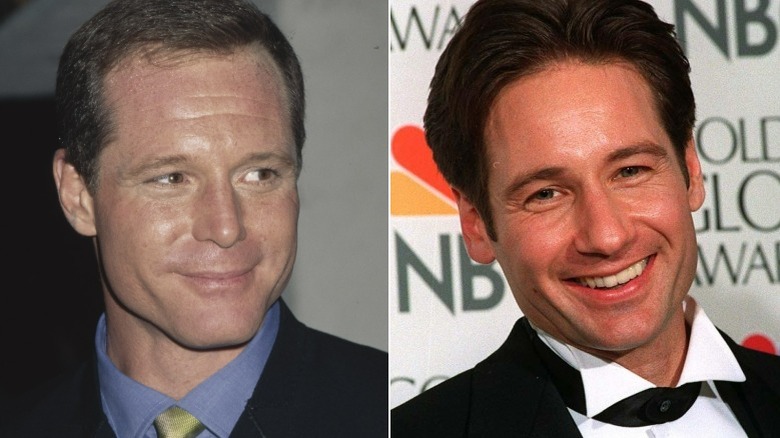 Featureflash Photo Agency/Shutterstock & Michael Ochs Archives/Getty Images
Jason Beghe and David Duchovny's friendship began when they were in ninth grade at the Collegiate School in New York City. Duchovny was the new kid, and Beghe was immediately drawn to him. "I saw him, and I said, 'You know something? You and I are gonna be friends,'" Beghe recalled in a video interview with Mark Bunker. "And I was right." Per the New York Daily News, it was Beghe who convinced Duchovny to pursue an acting career.
The two remained so close after school that Duchovny received an invite to Beghe and Angie Janu's 2000 wedding at the Church of Scientology's Celebrity Centre in Los Angeles. Beghe was a practicing Scientologist at the time, and Duchovny told the Daily Beast that other members of the church used a device similar to a lie detector to test him at the wedding, presumably to see if he was Scientology material. "I did a session on the E-meter, and I realized immediately, because they're asking very personal questions, that they were gathering information that I didn't want to give out to a stranger," Duchovny recalled. "So, the session didn't go well."
Duchovny revealed that he had observed a distinct change in the way Beghe spoke and acted, describing his friend's behavior as "cult-ish." Eventually, the two men became distant. "Scientology affected our relationship in that we didn't get to enjoy each other as much as we could have," Beghe confessed to the Daily Beast in 2017.
Jason Beghe reconnected with David Duchovny after leaving Scientology
In 2007, Jason Beghe made the decision to ditch the Church of Scientology. In a tell-all interview with Mark Bunker, he revealed that his now-ex-wife, Angie Janu, left the church at the same time he did. "She's one of those people you just can't brainwash," Beghe said. "She'd always pointed out things that were inconsistent."
Janu and the oldest of her two sons with Beghe, Bix, both lost friends when the family left, but the exit did wonders for Beghe's relationship with David Duchovny. As soon as he was out, Beghe visited Duchovny at home, and he spoke to his friend about some of the church's beliefs — including the alien origin story concocted by its founder, L. Ron Hubbard. "I couldn't get a third of the way through the story. We had our faces on the floor, we were laughing so hard," Beghe recalled.
Beghe estimated he gave the Church of Scientology around $1 million, per the Daily Beast, so it's a good thing he had no shortage of work in the years after he left. This included playing Hank Voight for the first time on "Chicago Fire" in 2012 and working with Duchovny on the series "Californication" beginning in 2009. "A friendship like that, I don't think you can get further apart," Beghe said of his relationship with Duchovny. "It's just about getting all the lies out of the way so you can truly appreciate it."