The Truth About Chicago P.D. Star Jason Beghe's Divorce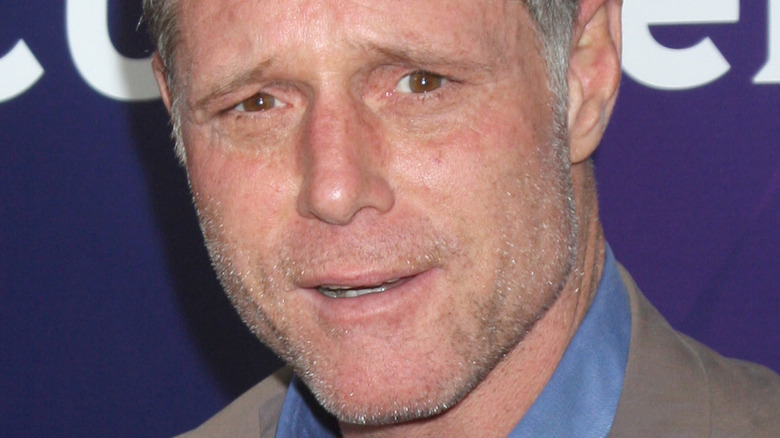 Kathy Hutchins/Shutterstock
Fans of the long-running, multi-procedural series set in Chicago will know about star Jason Beghe and some of the difficulties he's had, thrusting him into the public eye. From allegations of sexual misconduct on the set, to a falling-out with the Church of Scientology after 13 years, to his suspect relationships to coworkers like Sophia Bush, news of the actor travels. One story fans follow is Beghe's public divorce from his wife of 17 years, Angie Janu.
The 61-year-old actor with the gravelly voice has played Detective Hank Voight on "Chicago P.D." since its 2014 premiere. The character debuted on Season 1, Episode 3 of its parent series "Chicago Fire" in 2012, and now Beghe's morally-suspect cop appears occasionally in all four of the windy city-based franchise shows ("Chicago Med" and "Chicago Justice" being the other two). This is after a more than 35-year career in the entertainment business, acting in movies and shows from "Thelma & Louise" and "Murder, She Wrote" to "Home Alone 4" and "Californication."
Beghe and Janu married in February 2000, according to E! News, and stayed together until May 2016 when the couple separated. Beghe filed for divorce in December 2017, citing irreconcilable differences. The couple share two boys together, 18-year-old Bix, and Bo Bear, who is 14. Questions remained about the status of their divorce and who would maintain custody of their children, until their divorce settlement ruling in October 2020.
Jason Beghe won shared custody of his children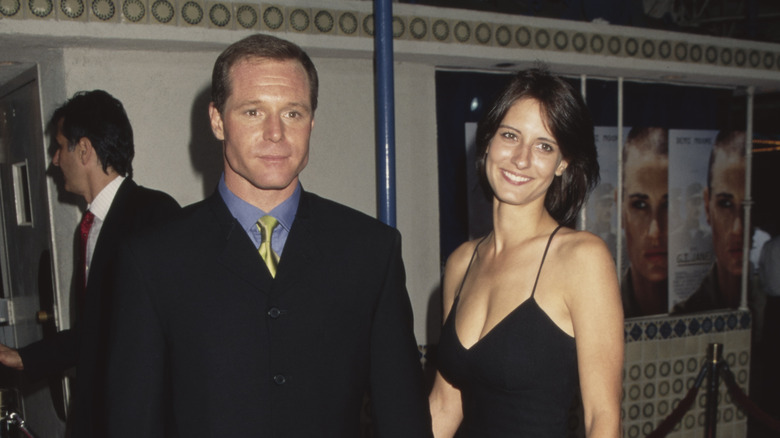 Michael Ochs Archives/Getty Images
When Jason Beghe filed for divorce against his wife, whose full name is Angeline Dawn Beghe, per E! News, he requested joint custody of his two children, Bix and Bo Bear. He also offered to pay spousal support to Angie Janu, and inquired about who would maintain the rights to certain properties. He requested to keep inherited properties he had in Oklahoma and Texas, and had sold a property in Washington D.C.
In October 2020, People reported a judgement in the divorce proceedings, awarding Beghe joint legal custody of his children. According to court documents, Beghe and Janu will "share in all major decisions concerning the minor children's health, education and welfare including, but without limitation, schooling, religion, medical care [and] enrichment activities." They are also not allowed to make "derogatory nor disparaging remarks" about each other in front of their kids.
Beghe will share physical custody of the boys as well, seeing them on "alternate weekends" between July and April. He is also allowed to keep the children from May 1 and July 10 of each year, "provided that [Janu] shall be permitted to have the children for one uninterrupted week." Beghe was also ordered to pay $14,200 monthly in child support, but now that Bix is of legal age, the amount of spousal support Beghe pays increased, from $16,700 to $20,000 per month. That's a hefty sum, but given Beghe's estimated net worth of $9 million, he might be all right.
Jason Beghe also won some desired property in the settlement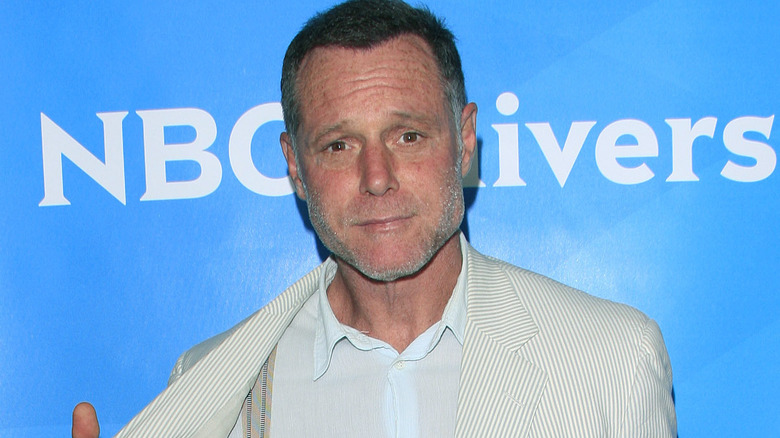 Joe Seer/Shutterstock
Part of Jason Beghe's estimated $9 million net worth is the properties he owns, including what he was allowed to keep in the divorce settlement. While his wife Angie Janu was awarded their house in Malibu, California, according to Celebrity Net Worth, Beghe kept the lavish $1.63 million condo he bought in Chicago's Near West Side, per Chicago Tribune, where he lives while filming the "One Chicago" franchise. Beghe and Janu have also split their bank accounts, per a settlement the pair hashed out in 2019 as reported by TMZ, but Beghe has some dough that is not subject to the split.
Beghe and Janu divorced around the same time the gruff actor was accused of improper behavior on set, including anger management issues and sexual harassment. He was accused by many on set, both before and behind the camera, of sexually suggestive language and aggressive intimidation techniques, per Deadline, partially leading to the departure of "Chicago P.D." co-star Sophia Bush.
NBC launched an investigation and addressed the problem by hiring a coach to work with Beghe on his anger issues. Beghe also apologized for his actions, saying, "I am deeply sorry for my behavior, which I know has been hurtful to my friends and colleagues. I have struggled with anger issues for some time, and over the past year, I have been working with a coach to help me learn how to mitigate my temper." The sessions seem to have helped.