Why Kyle Richards Says She May Not Return To RHOBH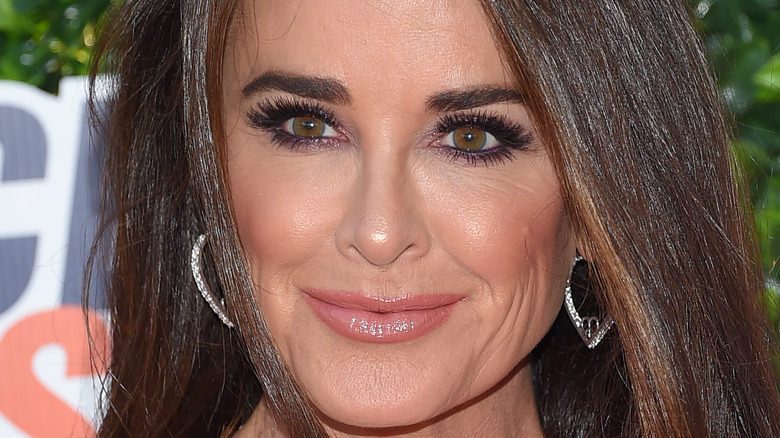 DFree/Shutterstock
In the past, Kyle Richards has admitted that being on "The Real Housewives of Beverly Hills" could be frightening. The "Halloween Kills" actor was asked to compare that movie to a "RHOBH" reunion show in October 2021. "That is a tough one. Sometimes I think I'd rather hang out with Michael Myers than these girls," she jokingly told Pedestrian. "I mean, it can be pretty scary." At the time, the reality star's status for Season 12 of the hit Bravo series was up in the air, as she wanted to take her time before diving back into filming. "Every year I think 'Oh, it's a given,' but you kind of wait and see how you feel," she told the outlet. The television veteran also hinted that she considered exiting the series at some point. "Well, eventually I'm gonna have to walk away!"
The OG "RHOBH" member did decide to return for Season 12, along with her sister Kathy Hilton. Although the pair have bickered on-screen, it was Richards who worked to get her sister on board for Season 11. At the time the pair were "in such a good place," as Richards told Page Six on May 17, but being on the show together tested the tumultuous relationship of the pair. "The fact that we're on television complicates things," Richards said about Hilton.
Season 12 could be the last time fans see the sisters on "RHOBH" together, as Richards may be done with the series.
Why this season was especially difficult for Kyle Richards
Roy Rochlin/Getty Images
The strain of filming "The Real Housewives of Beverly Hills" had worn Kyle Richards out to the point that she has seriously considered leaving the show. As mentioned in previous interviews, Richards approaches the series one season at a time. "I always say, 'I don't know,' and each season I think, 'Well maybe I can do one more," she told E! News on May 18. However, the on-camera drama of Season 12 took an exceptional emotional toll on the "ER" alum. "And sometimes I'm just like, 'How can I keep doing this?' especially when I get really upset, like this last season when we ended," Richards said. 
It appears that season could have been the straw that broke the camel's back for the OG castmate. Initially, when filming wrapped, Richards wanted to permanently exit the series. "I'm done. I'm finished. I want to live my life in peace. I can't take this," she recalled thinking at the time, per E!
Usually, the cast members ease into filming, but Season 12 had a different dynamic with various castmates enduring hardships. "But this year ... it was just automatically drama from day one," Richards told People on March 11. Previously, the "Halloween" actor said she planned to leave "RHOBH" when filming became too burdensome. "I think when the bad outweighs the good, I will know it's time to give up my diamond," she told ET in 2021. Perhaps Season 12 is when Richards finally decided that enough is enough.