Kerry Washington's Comments About Kissing Her Famous Co-Stars Totally Backfired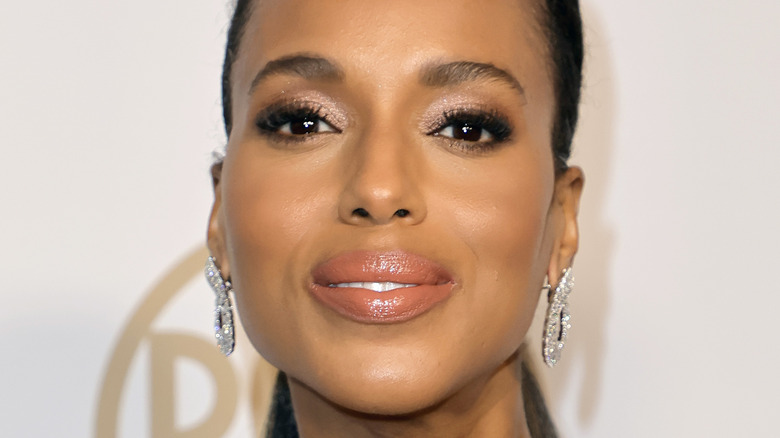 Kevin Winter/Getty Images
ABC's "Scandal" was an instant success when it premiered in 2012. Developed by "Grey's Anatomy" creator Shonda Rhimes, "Scandal" gave drama-lovers a fictional glimpse into a steamy affair between the President of the United States and the leader of a crisis management firm. "Django Unchained" star Kerry Washington took on the starring role as "fixer" Olivia Pope, while President Fitzgerald Grant was played by actor Tony Goldwyn. Washington and Goldwyn's characters had a famously tumultuous relationship that became further complicated when actor Scott Foley joined the cast in Season 3.
Foley's character, Jake Ballard, and Olivia soon became involved in a romantic quarrel of their own. Jake's addition to the already sensational show left Olivia in the center of an intense love triangle. Now Washington is speaking out about her experience filming the hit show and her former on-screen lovers. However, Washington's comment about kissing her former co-stars may have landed her in hot water.
Kerry Washington says her co-stars were upset that she hated kissing them
Kerry Washington has revealed that she got herself in trouble with her former "Scandal" co-stars, Tony Goldwyn and Scott Foley, after a comment she made about kissing the actors on-screen. During her final visit to "The Ellen DeGeneres Show," Washington revealed that she "got in a lot of trouble" with Goldwyn and Foley after she previously told Ellen DeGeneres that she did not like kissing either one of them.
"I thought I was keeping the peace when I said I didn't like kissing either one of them, but they were both pretty p*ssed for years," Washington quipped to DeGeneres. She then jokingly mocks her former co-stars, who asked, "Why would you say that on national television?"
And it seems the entire incident was taken lightly, as Washington appears to have maintained a friendly relationship with Goldwyn and Foley following the show's end in 2018. In February, Goldwyn joined Washington for an Instagram talk series — which coincidentally occurred on Presidents Day. A month prior, Washington posted a throwback picture of the "Scandal" cast — which, of course, included Foley.