Heidi Montag Just Announced A Major Career Change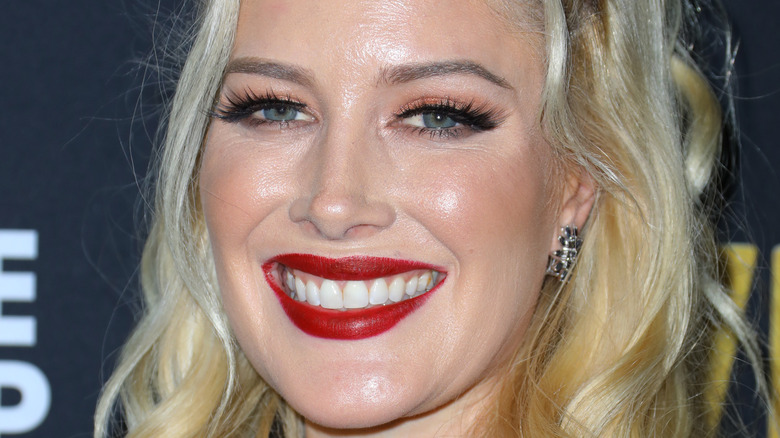 Jc Olivera/Getty Images
Heidi Montag is an American actor and singer, who first captured the attention of the masses on the show "The Hills," according to IMDb. Since then, she's been featured in a variety of series including "Hashtaggers" and "The Hills: New Beginnings," but it seems as though the reality star is ready to move on from her on-screen career now.
During a recent episode of "The Perez Hilton Podcast," Montag explained that she would be taking her career in a completely new direction after realizing her family needed a more stable source of money. "I'm like, 'we need a different income,'" Montag explained of a conversation she had with her husband, Spencer Pratt. "I don't want to be waiting on TV money. We've spent way too much of our money."
During an interview with People in 2016, Montag and Pratt opened up about how fast they were burning through their savings. The couple, according to the outlet, were making more than $2 million a year, but quickly spent it as fast as it was coming in. Pratt bought an expensive crystal collection estimated at $1 million, while Montag shopped until she practically dropped. The couple made the majority of their money from reality TV, and Montag recently recognized that she needed to make a change for the sake of her family.
Selling Sunset may gain a new cast member
Kathy Hutchins/Shutterstock
Heidi Montag told Perez Hilton on his podcast that she is now pursuing a career in real estate. Like everyone else, Montag will have to pass a series of tests before obtaining her real estate license. However, she explained that she is not putting too much pressure on herself to pass the first time. She is still taking classes and will take pre-tests before her first attempt at the real exam.
Montag also shared that her husband, Spencer Pratt, has an interest in real estate and will pursue the same career as his wife once she passes the test. The couple has been married for over a decade and shares a 4-year-old son, Gunner, according to Page Six. Once Montag obtains her license, she's apparently all set to begin working for a top-tier agency. "I already have a big agency that said I could come and work for them and study under them," she told Hilton.
It is unclear what agency Montag is referencing. However, the Oppenheim Group of "Selling Sunset" could possibly be the "big agency" Montag is talking about. Page Six reported that they contacted Montag's representative, but have yet to receive an answer. Montag dodged Hilton suggesting that pursuing a career in real estate may lead to her being on another reality TV show. It seems there could still be a chance of fans seeing "The Hills" star on their TV screens again.