Pete Davidson Is Reportedly Saying Goodbye To An Important Chapter Of His Life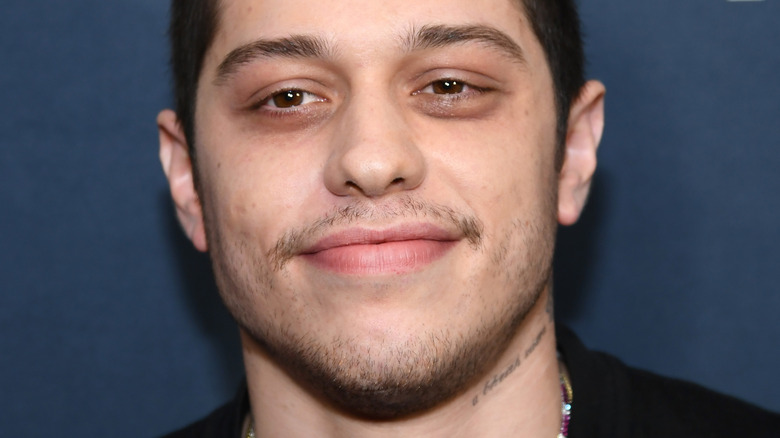 Dimitrios Kambouris/Getty Images
Pete Davidson is one busy guy. When he isn't starring in films like "The King of Staten Island" and "Big Time Adolescence," working on stand-up specials, entertaining audiences with the cast of "Saturday Night Live," or blowing up the internet with his Met Gala attendance alongside girlfriend Kim Kardashian, he's still looking ahead.
The comedian kicked off 2022 with an announcement of starring in the upcoming horror thriller "The Home" and even debuted his film "Bodies, Bodies, Bodies" at the SXSW Film Festival, per EW. If that isn't enough, he is starring alongside Kaley Cuoco in a romantic comedy titled "Meet Cute." This is an incredible workload, but on a more personal note, Davidson is also gearing up for his next project on Peacock — an autobiographical comedy series called "Bupkis."
He will play a fictionalized version of himself alongside Edie Falco as his mom, according to Deadline. "I'm so excited to be playing your mother in this show, Pete," Falco said at a presentation before making a hilarious reference to her iconic role in "The Sopranos." She continued, "Finally, I get to play an overwhelmed mother of two living in a world of corruption. Except this time, it's Staten Island." As Davidson keeps close to NBC and his contacts at the network, his latest career decision may be a bit of a surprise. However, with so many opportunities in the works, something has to get cut.
Is Pete Davidson ready to let this gig go?
Fans may have been anticipating the move for some time, but it is expected that Pete Davidson will be leaving "Saturday Night Live" as Season 47 wraps up, according to a source for Variety. After nearly a decade on the legendary show — joining at only the age of 20 in 2014 — Davidson will leave behind a legacy of "Weekend Update" self-deprecation, celebrity impressions, and, honestly, the fun of just being himself live from Studio 8H.
Davidson has been contemplating on when to exit "SNL" for some time. During an interview with Charlamagne Tha God in 2020, the comedian said, "I have conversations with a lot of people [about leaving]. It's a hard thing to do, because you don't want to ever pull the trigger too early. Everybody's always been like, 'You'll know when you know and it'll all be all right.'" He admitted then that he knew it was time, but still chose to return for a few more laughs. The disruption of the pandemic certainly delayed the decision.
During a roundtable for the Hollywood Reporter, Davidson said, "I was so happy when they said that SNL was going to come back ... I was really excited just to work and see people and I had a different outlook for this season and moving forward." For what seems to be his final seasons, he added, "I think I've been able to have a lot of fun and I just really appreciate it — not working at all really sucks."