The View Co-Hosts Roast Kourtney Kardashian For Enjoying PDA In Front Of Her Kids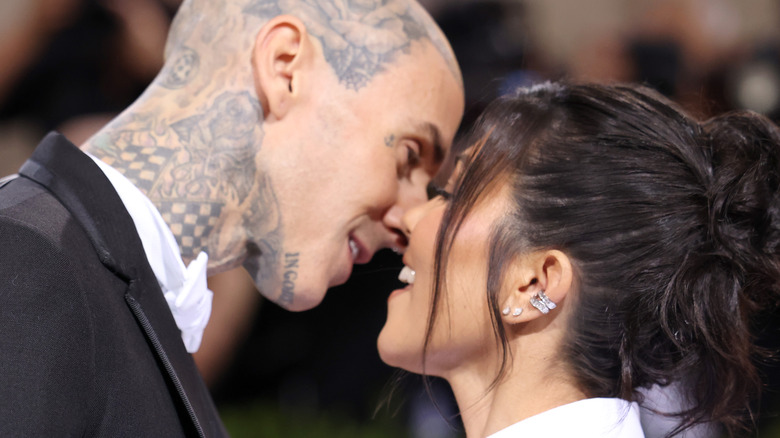 John Shearer/Getty Images
Newlyweds Kourtney Kardashian and Travis Barker are infamous for their PDA. In November 2021, the oldest Kardashian sister received backlash after sharing an Instagram video giving Travis a lap dance at a wedding reception. Even her family cringes at Kourtney's public displays of affection. During a visit to "The Ellen Show" a month earlier, Kris Jenner told Ellen: "You feel like they're the only two people in the room, and we almost don't know what to do with ourselves." The momager confessed she's "looking for a closet to hide in" once the couple starts making out.
However, the backlash doesn't seem to mind Kardashian, who defending her PDA during the April 21 episode of "The Kardashians." She explained, "Kissing and hugging is not a bad thing. I'm actually grateful that my kids can see a loving, affectionate relationship because they haven't seen that their whole lives." Fans weighed in on Kourtney's defense of her PDA after watching the couple grind in front of their realtor on the Hulu show. A Redditor wrote: "Does Kourtney not knowing there's a difference between showing your kids a 'loving and affectionate relationship' and being hyper-sexual and engaging in exhibitionism every second of the day in every public setting." Another Redditor commented: "I was disturbed during that scene lol."
Online critics aren't the only ones upset — now "The View" co-hosts have something to say, especially in regards to how Kardashian's kids reacted to her PDA with Barker.
The View hosts say Kardashian and Barker's PDA is uncomfortable
On May 20, "The View" hosts discussed Kravis' PDA after Kourtney Kardashian's youngest son Reign was seen on "The Kardashians" begging the couple to stop "kissing in French." Another clip saw Penelope expressing frustration with her mom and new stepdad's non-stop smooching. 
Of course, "The View" crew did not hold back. Sunny Hostin commented, "I feel like it looks very germy, the kissing that they're doing... I just think in front of the kids, maybe I'm taking this too deeply, you know, he is not their father." Hostin continued, "As a child myself of divorce, you never quite get used to seeing your parents with other people, and I think that's a very uncomfortable thing — especially when they're doing this germy, nasty kissing in front of them." Sara Haines weighed in that she would never give her husband an "intimate kiss" in public, but kisses him on the cheek when she says goodbye. She also recommended the newlyweds adopt a "very gentle" approach to the situation as the kids adapt. As for Behar? The co-host lamented the Kardashian fam's public-facing ways, complaining that nothing is private when it comes to them.
Either way, the couple doesn't seem too affected by the PDA criticism. Page Six reported Kardashian and Barker making out in Italy before their wedding like teenagers. Happy Kardashian-Barker wedding weekend to all who celebrate!