How Many Times Has Justin Bieber Topped The Billboard Hot 100?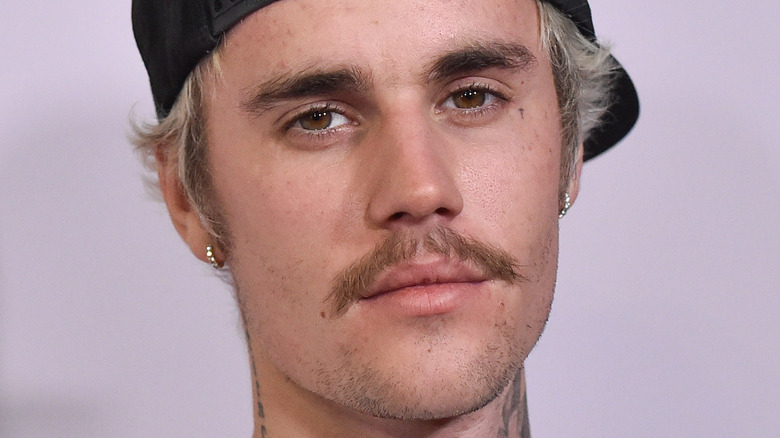 DFree/Shutterstock
Justin Bieber's rise from a young teen singer to a music icon has been well-documented over the course of his career. Unless you've managed to avoid anything related to pop culture over the past 10 years, you will be fully aware of some of Justin's biggest hits from his catalog, including "Baby," "What Do You Mean?" and "Stay."
Songwriting has played a big part in Justin's success at the top. In April, the "Never Say Never" singer admitted in an interview with SiriusXM's Pandora NOW that his wife, Hailey Bieber, becoming the inspiration behind his more recent songs has allowed him to create magic. "I think being inspired by my relationship has definitely produced some great music and sometimes you get out that writer's block or whatever, but I said it before, but love is kind of like the foundation of life and love being the foundation of my music in general," Justin said. "So, like, it's important to me that I'm singing about what I'm living first."
Justin's music is played on heavy rotation on the radio, therefore, it's not surprising he has scored himself five chart-topping singles on the Adult Pop Airplay chart. But how many No. 1's has he had on the overall main US Hot 100 chart?
Justin Bieber held a chart record with Drake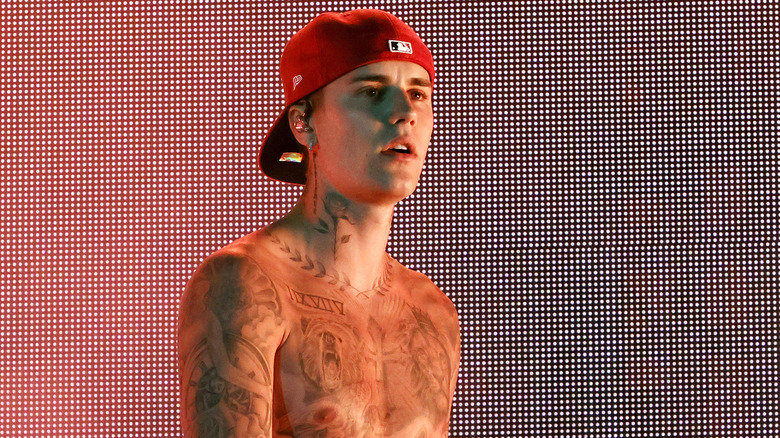 Kevin Winter/Getty Images
Since 2009, Justin Bieber has been racking up the hits. Even though songs like "Baby," "Boyfriend," and "As Long As You Love Me" dominated the charts, they didn't earn the singer a No. 1 single on the US Hot 100. In fact, it wouldn't be until six years into his career that Bieber would accomplish this achievement with 2015's "What Do You Mean?," per Billboard. While it may have taken a hot minute to get his first chart-topper on the Hot 100, Bieber has since been on a roll, gaining another seven No. 1's.
As of this writing, the "Love Yourself" hitmaker has a total of eight No. 1 singles on the US Hot 100, his most recent being 2021's "Stay" with The Kid Laroi. Meanwhile, Bieber's collab with Latin artists Luis Fonsi and Daddy Yankee, "Despacito," is the longest of his chart-toppers to stay at No. 1 for 16 weeks in 2017. As previously noted by Forbes, both Bieber and rapper Drake held the record for the Canadian artist with the most No. 1's on the chart in 2021.
Despite all the chart victories and trophies to match, Bieber told Billboard in 2021 that accolades aren't what motivate him. "At this point, I've reached a level of success so many times that I know success isn't a be-all, end-all to my happiness," he explained to the music outlet.
Justin Bieber also holds records in his home country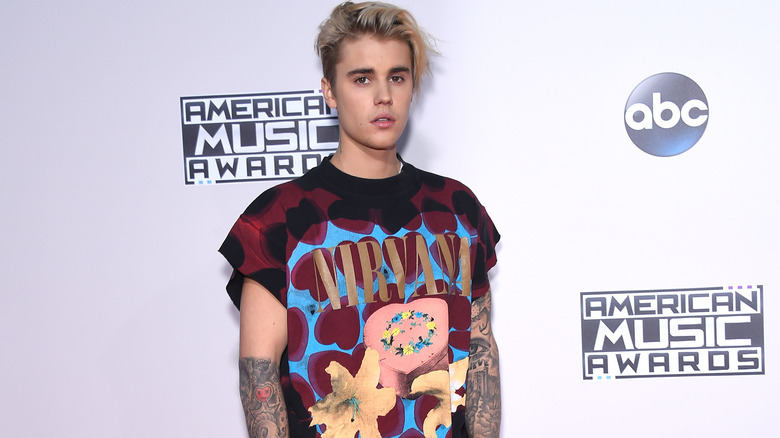 DFree/Shutterstock
Outside of the US, Justin Bieber has had his fair share of No. 1 singles. In the UK, the "Sorry" hitmaker managed to hit it big, scoring himself seven chart-topping hits, according to Billboard. In his home country, Canada, Bieber currently has an impressive 13 chart-topping singles on the Billboard Canadian Hot 100, cementing himself as one of the most successful Canadian artists of all time. As previously reported by ET Canada in July 2021, Bieber became the youngest artist in history to have 100 entries on the Hot 100 chart after the release of "Stay" with The Kid Laroi. JB earned his home country another victory when his single "Peaches" featuring Daniel Caesar became the first-ever Billboard No. 1 by two Canadian artists.
Even though Bieber is a global star, he told NME in 2015 about how he is just as much a "human" as everyone else. "People see the glam and the amazing stuff, but they don't know the other side. This life can rip you apart," he explained, comparing the media scrutiny he often goes through to the late Amy Winehouse. "People thought it was funny to poke her when she was at rock bottom, to keep pushing her down until she had no more of herself. And that's what they were trying to do to me." While many have tried to push him down, Bieber's songs always come out on top.