The Sad Reason Naomi And Wynonna Judd Stopped Performing Together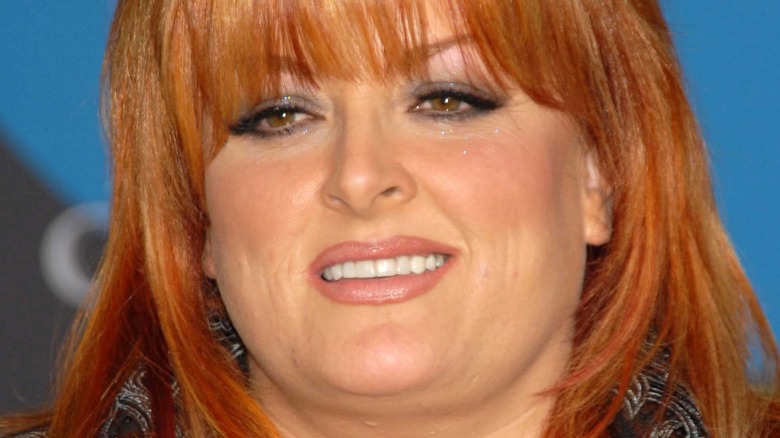 s_bukley/Shutterstock
As they say in the entertainment business, the show must go on. Musicians come and go, but the music is forever. The Judds, composed of mother-daughter duo Naomi and Wynonna Judd, wowed audiences since they formed in 1983. Starting with their breakout hit "Mama, He's Crazy," the duo produced six studio albums and 14 No. 1 singles before 1991. "Wynonna and I couldn't talk to each other, but, low and behold, we could sing together," Naomi said, according to PBS.
The Judds continued performing off and on throughout the decades, marking their final performance — a tender version of "Love Can Build a Bridge" — at the 2022 CMT Music Awards. Sadly, Naomi died shortly thereafter at age 76, bringing the duo's time to a sad end. But her daughter Wynonna has vowed to keep performing, touring the sold-out days she was supposed to play with Naomi. "Tonight, as we close, the show must go on, as hard as it may be. And we will show up together, and you will carry me," Wynonna said according to the New York Post.
It wasn't the first time Wynonna had to go it alone, though. Back in the 1990s, Wynonna went her own way and stopped touring with Naomi for this tragic reason.
Wynonna and Naomi Judd temporarily called it quits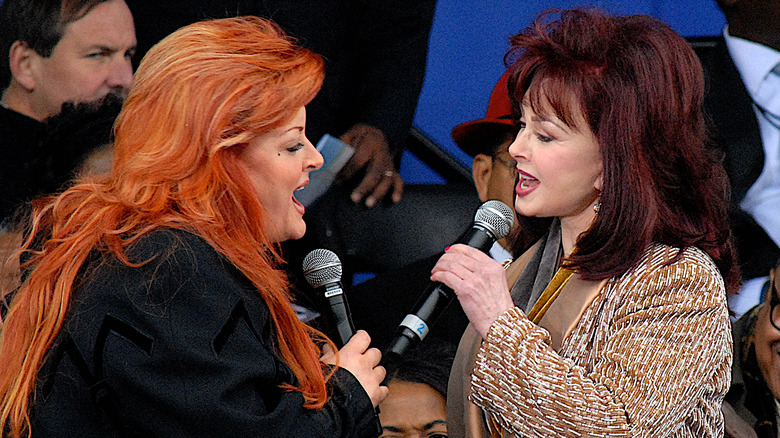 mark reinstein/Shutterstock
Unlike some popular duos, Naomi and Wynonna Judd didn't stop performing together because they had a falling out. Instead, in 1990, Naomi's health took a turn for the worse. According to TODAY, doctors diagnosed Naomi with hepatitis C that year. In fact, they gave the Judd matriarch only three years to live. Hepatitis C affects people differently, with it being short-lived in some and turning into chronic illness in others. It can lead to cirrhosis and other complications.
In a 2019 interview with Dr. Oz, Naomi reflected on how the prognosis threatened her career. "I was flipped out because I was going to lose my career. Wynona and I had contracts for a year of concerts. I felt like I was the CEO of a big corporation. If I didn't sing, then people didn't eat. It was hideous," she said.
But, once again, the show went on. After The Judds disbanded, Wyonna launched a successful solo career at her mother's urging, releasing four No. 1 singles. For her part, Naomi refused to give up and beat the disease after five years. Alan P. Brownstein, former ALF chief executive officer, reflected on how much of an inspiration she became. He said, "While a number of celebrities affected by liver diseases contributed in many ways, Naomi was a standout — she was my hero. "
Wynonna Judd will continue her mother's legacy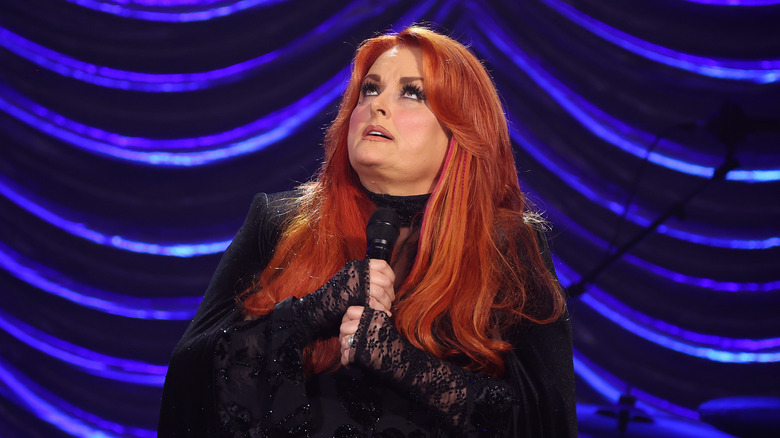 Jason Kempin/Getty Images
Over the next few decades, The Judds would perform occasionally for special reunions and one-off concerts. But they never matched the same output that they did during their award-winning run in the 1980s. In April 2022, the duo announced a 10-stop "Final Tour" together to begin in September.
The Judds were also due to be inducted into the Country Music Hall of Fame the day after Naomi Judd's passing. Wynonna took the stage and reflected on her mother's heartbreaking death, according to The Tennessean, saying, "It's a strange dynamic to be this broken and this blessed... But though my heart is broken, I will continue to sing."
Wynonna will perform the sold-out shows alongside Martina McBride, as planned. But, right now, the country singer is focused on remembrance and honoring her mother's legacy. She expressed her grief through the power of song, the one thing that always united both mother and daughter through the years. "Tonight, we remember her in song," she said, according to ABC. She performed a moving rendition of "River in Time," continuing her mother's legacy because the show always has and always will go on.