The Real Reason Kanye West Lived In China As A Child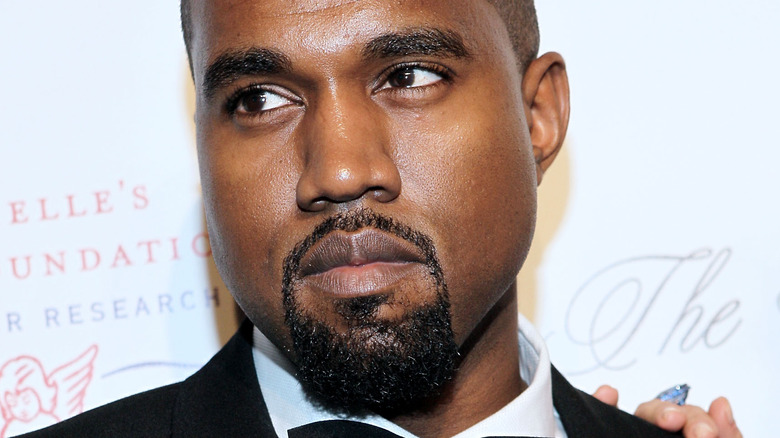 Steve Mack/Getty Images
As one of the most successful creatives on the planet, there's no doubt that Kanye "Ye" West has made quite a few trips around the world in an effort to support his music and, of course, reach out to his fans throughout the years. But, despite all of the places he's been and the big cities he's touched down in, Ye has made it no secret that his hometown of Chicago will always have a special place in his heart. In an interview with Chicago's 107.5 back in 2018, when Ye was asked if he felt as though he had to come back to Chi-town from time to time in order to get back in touch with his roots, he said "most definitely." He's also shown Chicago lots of love in the form of his song lyrics. In his song "Homecoming," he sings (via XXL Mag): "Every interview I'm representin' you, makin' you proud / Reach for the stars, so if you fall, you land on a cloud / Jump in the crowd, spark your lighters, wave 'em around / If you don't know by now, I'm talkin' 'bout Chi-Town."
And while there's no doubt that Chicago will always be the one place he calls home, little do some of his fans know that Ye actually lived in China during his childhood — and for this reason, too.
Kanye West lived in China as a child for one year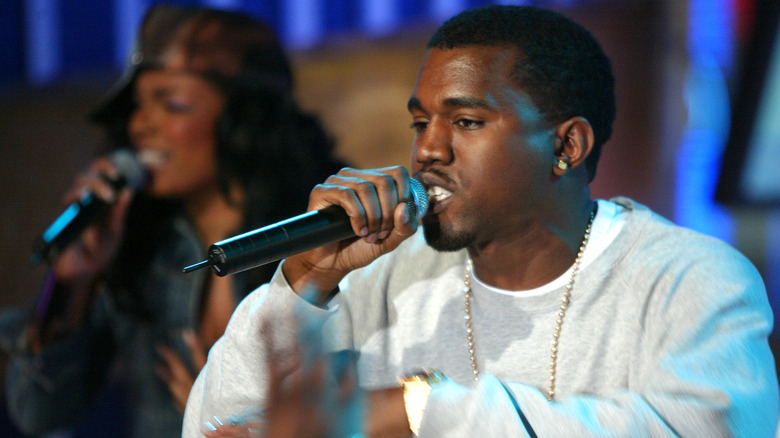 Scott Gries/Getty Images
Kanye "Ye" West's roots might be in Chicago, but he received quite the worldly experience and education in China, too. In an interview with JET back in 2007, his late mother, Dr. Donda West, explained that she and her son lived in China for one year. She told the publication, "We had such a full and rich lifestyle when we didn't have a lot. There were benefits to being a university professor. Our staying in China for a year was because I was a foreign expert to the People's Republic of China, teaching English."
What's more, Ye himself also told Jonathan Cheng of the Wall Street Journal that living in China had a profound effect on his life. He also seemingly defended the people of China during the COVID-19 breakout in 2020. "I love China. I love China. It's not China's fault that disease. It's not the Chinese people's fault. They're God's people also. I love China. It changed my life. It changed my perspective, it gave me such a wide perspective," he said, according to Cheng's Twitter. But China isn't the only foreign country in which Ye has spent some time. 
Kanye West and his multiple zip codes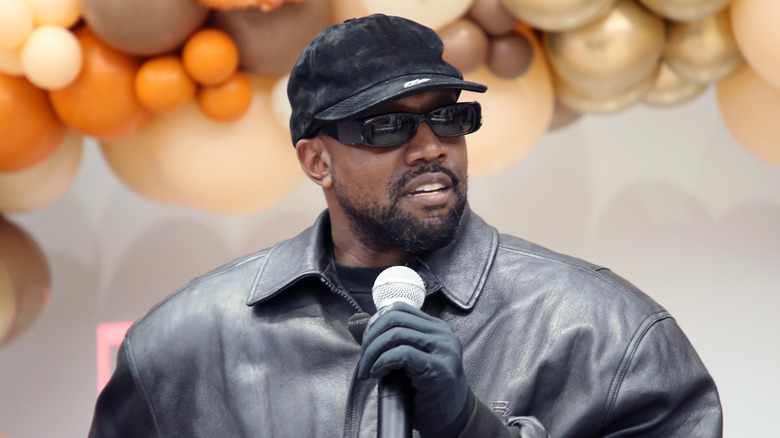 David Livingston/Getty Images
Back in 2013, Kanye "Ye" West also spent some time living in Paris, France. The rapper admits that he temporarily moved to the French capital for creative reasons more than personal ones. He told the Los Angeles Times, "In Paris, you're as far as possible from the land of pleasant smiles. You can just trip on inspiration — there are so many people here who dedicate their lives to excellence."
If that weren't enough, Ye has also spent a lot of time at his $14 million Cody, Wyoming ranch in order to get away from the hustle and bustle from L.A. And despite his efforts of distancing himself from the entertainment capital of the world, People reported in January that Ye returned to Los Angeles and bought a home across the street from his estranged wife Kim Kardashian just so he could spend more time with his kids. In an interview with Hollywood Unlocked, he said, "You see when my mom took me from Atlanta to Chicago, my dad didn't come to the coldest and most dangerous city in the world to be next to [me]. He said, 'I'm going to stay down in Atlanta.'" Regardless if he's in Chicago, China, Paris, or Wyoming, it seems like for Ye, home is where the heart is for him. And you sure don't need any lyrics to explain that feeling, right?