Kanye West Has Regrets About His Recent Treatment Of Kim Kardashian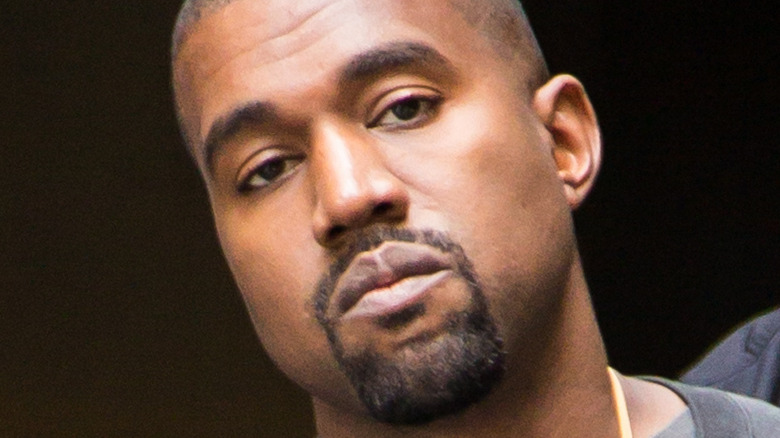 Liam Goodner/Shutterstock
On February 14, rapper and producer Kanye "Ye" West gave the world a Valentine's Day showdown no one was entirely prepared for — one which led to concerns over whether or not his behavior towards his ex, Kim Kardashian, had reached troubling new heights. Following reports that Ye had delivered a truck load of roses to Kim (which he uploaded to his Instagram in a now-deleted post, per TMZ), the Yeezy CEO seemingly chose to escalate the situation in a social media campaign against Kardashian's current beau, "Saturday Night Live" star Pete Davidson. As Us Weekly reported at the time, Ye's targeting of Davidson a week after Davidson publicly referred to Kim as his girlfriend began mid-February, in the form of now-deleted Instagram posts. 
Though not the first time Ye has attacked Davidson in a public forum, Ye referred to Davidson as "SKETE" and seemingly accused him of walking around in his underwear in front of the four children the rapper and Kim share. As BuzzFeed noted, Ye also posted a number of screenshots of private messages between himself and Davidson, calling Davidson a "dickhead" and "garbage." In a later post, per Buzzfeed, Ye seemingly encouraged his fans to go after Davidson, and to "scream" in his face. But now, it looks like the dust has settled — and Ye is now singing a different tune.
Kanye West says he's taken 'accountability'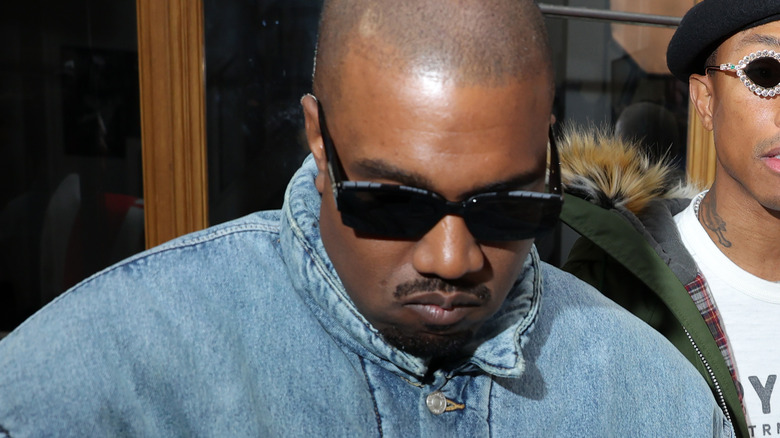 Victor Boyko/Getty Images
Kanye "Ye" West appeared contrite in his latest Instagram post — one which went live after the rapper appeared to delete all prior posts on Instagram, save for his apologia. Seemingly referencing his previous anti-Pete Davidson posts, which were written in all-caps, Ye thanked his supporters while promising to focus on bettering his communication skills with others. "I've learned that using all caps makes people feel like I'm screaming at them," wrote Ye. "I'm working on my communication. I can benefit from a team of creative professionals, organizers, mobilizers and community leaders." 
Ye also acknowledged the optics of prior posts uploaded to his Instagram, both about Davidson and Kim Kardashian. "I know sharing screen shots was jarring and came off as harassing Kim," Ye continued, presumably referencing screenshotted DMs in which Kim said her ex was creating a "dangerous and scary environment" for Davidson, per the Independent. "I take accountability. I'm still learning in real time. I don't have all the answers." He added, "To be good leader is to be a good listener."