The Truly Bizarre Way The Late Marlon Brando Just Got Dragged Into The Depp-Heard Trial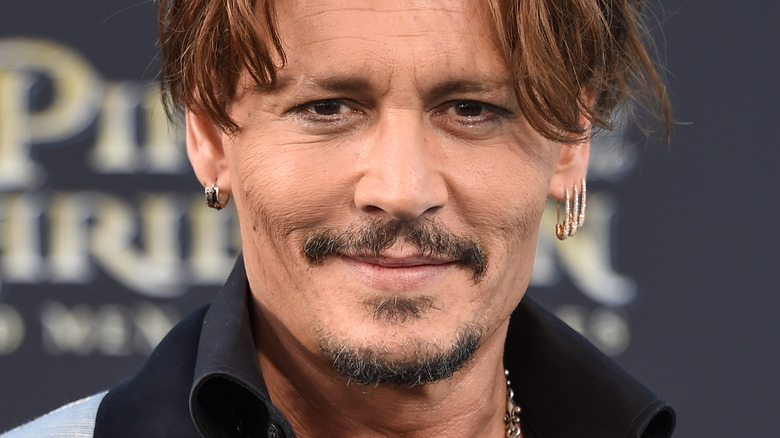 DFree/Shutterstock
The following article contains discussion of alleged domestic abuse.
Johnny Depp's $50 million defamation lawsuit against his ex-wife, Amber Heard, has grown increasingly weirder every day as the trial plays out in a Virginia courthouse. Now the situation has gotten even messier as the trial enters the final week.
The case, originally filed by Depp in 2019, has seen the former lovers make a slew of bizarre allegations about their time together. Depp has claimed that a fight with Heard left him severed with fingertips, per New York Post and Heard has since doubled down on the allegations of abuse. She testified that the "Pirates of the Caribbean" star was emotionally and physically abusive during their time together, pointing to an incident where she said the actor sexually assaulted her. She also spoke out on domestic violence, without specifically mentioning her ex, in a 2018 Washington Post op-ed. Both actors have accused the other of damaging their reputations and commercial prospects, as per Page Six.
Johnny Depp and Amber Heard's defamation trial has been tumultuous, to say the least. CNN reports that one of Depp's many A-list exes, model Kate Moss, will testify in the trial. Now a long-dead actor has also been dragged into the courtroom drama.
Heard's expert witness wonders whether Brando is dead
In addition to the accusations the ex-lovers have made about each other, Depp's former talent agent, Tracey Jacobs, has testified that the actor had to use an earpiece during scenes, per CNN. The alleged use of the earpiece was further brought into question during testimony by psychologist Dr. David Spiegel.
As per New York Post, Spiegel testified that Depp was fed his lines while on set, suggesting that the actor's cognitive abilities were diminishing. "If I was giving a lecture and I was fed my lines, I would think there's a cognitive deficit," Spiegel told the court. He then admitted: "I don't know what the standard for Hollywood is."
During cross-examination, Depp's attorney, Wayne Dennison, fired back at Spiegel's claims. "Do you know whether Marlon Brando used an earpiece?" Dennison asked the psychologist. Spiegel then questioned, "Isn't he dead?" In response to the bizarre moment, Depp simply put his head down. "So the answer's no, he does not use one now," Dennison asserted.
Depp has previously explained his reasoning for wearing an earpiece. He claims that he had sounds including "a baby crying and bombs going off" piped in through the earpiece, and this helps his performance on set. "It creates a truth. Some of my biggest heroes were in silent films," Depp said, per Vanity Fair. "It had to be behind the eyes. And my feeling is, that if there's no truth behind the eyes, doesn't matter what the f***ing words are."