What We Know About Meghan Markle's Father Reportedly Requiring Hospitalization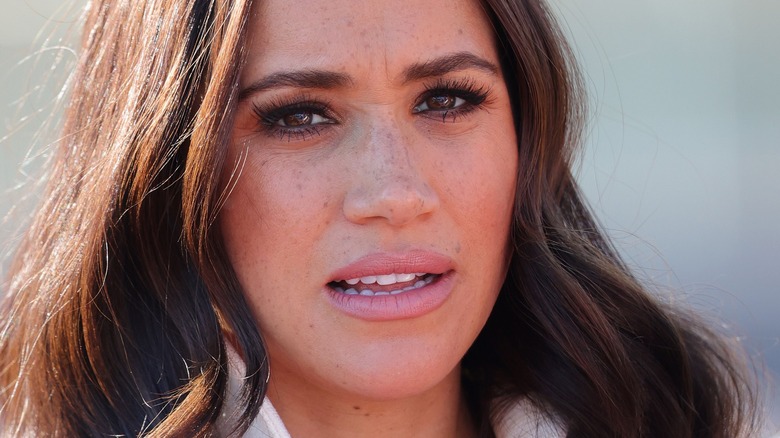 Chris Jackson/Getty Images
Thomas Markle has had a famously estranged relationship with daughter Meghan Markle and her husband, Prince Harry. The 77-year-old referenced the messy state of affairs when revealing plans to attend Queen Elizabeth's Platinum Jubilee in June, per Marie Claire UK. With the celebration likely to be filled to the brim with Britain's royals and family members, Thomas addressed the notion of bumping into the Sussexes. "I'm getting the feeling that if they know I'm coming, they won't be coming," he told "GB News." He added, "But if they do come I would love to reach out, speak with them and try to figure out what was wrong and how we can repair it."
Thomas seemed otherwise over-the-moon thrilled to attend the Jubilee, which will commemorate Elizabeth's 70 years of reign. "I'm going to show my respect for the Queen and I'm going to make sure that the Queen understands that my entire family respects the Queen and the Royals." (Hmm, we wonder to whom he could be subtly referencing here?)
However, an unexpected health emergency seems to have pulled the breaks on Thomas' U.K.-bound travel plans.
Meghan Markle's father might have had a stroke
Thomas Markle reportedly suffered a stroke and was hospitalized on the night of May 23, TMZ has reported. Paramedics were seen tending to him in Tijuana, Mexico, with the former lighting director wearing an oxygen mask while being loaded into an ambulance. According to the outlet, Thomas was the one to inform EMTs of his suspected stroke-like symptoms. Reportedly unable to speak, Thomas listed them down on paper.
Thomas' last major public health concern occurred in April 2018 — right before daughter Meghan Markle was set to marry Prince Harry, per Cosmopolitan. After he was caught allegedly staging paparazzi photos of himself at the time, Thomas claimed what many believed to be a fake heart attack so as to not attend the wedding. Making matters worse, per court documents from Meghan and Harry's 2020 trial against Associated Newspapers, Meghan only learned of her father's health scare after he released a statement to TMZ.
With Thomas' late May hospital trip seeming to be the real deal, a close friend has informed TMZ that he will remain hospitalized for the time being. Meanwhile, his condition likely guarantees that he will have to miss out on Queen Elizabeth's Platinum Jubilee — and the chance to bump into his daughter.