Why Morgan Wallen Was Glad He Didn't Win The Voice
Frazer Harrison/Getty Images
NBC's "The Voice" is a singing competition headlined by some of the best celebrity judges in the business — and it's produced its fair share of successful songbirds along the way. Per Parade, this includes Season 3 winner Cassadee Pope, who carved out an impressive niche for herself in the country music industry, even nabbing a Grammy nom in 2017 for Best Country Duo/Group Performance with Chris Young for "Think of You." 
Just one season later, up-and-comer Danielle Bradberry came for Pope's crown, according to Us Weekly. As the youngest winner of "The Voice," Bradberry has had 15 songs on the Hot Country chart, including "Goodbye Summer," "Never Have I Ever," and "Sway."
"The Voice" aside, country music might be the most successful genre to come out of the reality singing competition space. After all, "American Idol" is perhaps best known for producing powerhouse country stars like Carrie Underwood and Kelly Clarkson, the later of whom has been a judge on "The Voice" as well.
Along with Pope and Bradberry, Taste of Country reported that "Voice" country music alumni, including Raelynn, Sundance Head, The Swon Brothers, and Morgan Wallen, have all made names for themselves in the biz. Of course they weren't even all final winners. Of this batch of names, Wallen in particular is glad that he didn't end up winning the show in 2014.
Morgan Wallen is grateful for his time on The Voice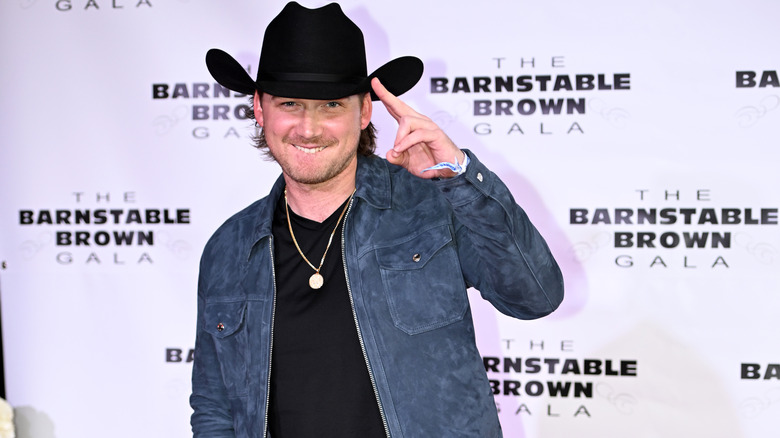 Stephen J. Cohen/Getty Images
Today, Morgan Wallen is one of country music's hottest young stars. Despite leaked footage that showed the previously-embattled singer using a racial slur in 2021, Wallen had a record year musiclly. 
Per the Daily Mail, MRC Data (formerly Nielsen SoundScan) revealed that Wallen's album "Dangerous: The Double Album" sold nearly 3.1 million albums, making it the top-selling record of that year. In fact, Rolling Stone reported that "Dangerous" experienced a 1,220% increase in digital album sales and a 327% uptick in song sales. Wallen's reaction to the hugely popular album was mixed, because he acknowledged that his racist controversy might have had something to do with the record sales, per the New York Post.
Either way, such media exposure would likely have been too much for the star back when he was on "The Voice." In a 2019 interview with People, Wallen explained that he was thankful for getting kicked off the show when he did, because he wouldn't have been ready to enter the country music industry had he won. "I'm thankful for how it all turned out," he told the outlet. "And honestly, I'm thankful that I didn't win because it gave me a chance to take a couple years after the show and really figure out who I was as an artist and get the right team around me. When I got there, I had no clue what I was doing."
Blake Shelton felt Morgan Wallen had a surprising journey on The Voice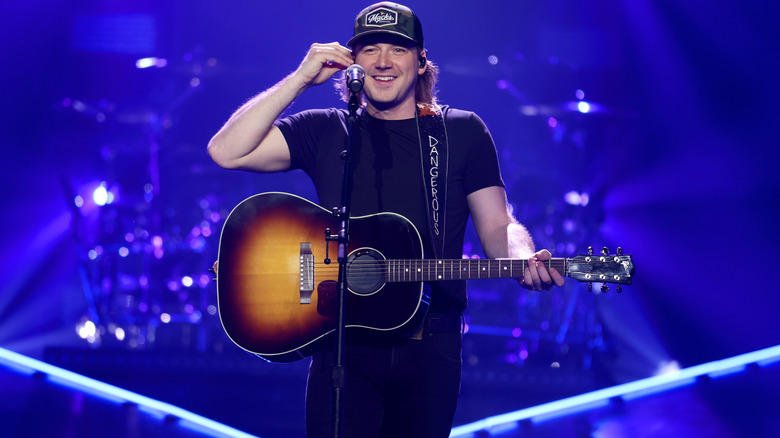 John Shearer/Getty Images
When Morgan Wallen first auditioned for "The Voice," he told The Country Daily that because he sounded more like a pop singer because he hadn't figured out his sound as an artist yet. 
Consequently, he ended up working with coaches Usher and Adam Levine on the show, instead of learning under the King of Country, Blake Shelton. Actually, it might be the one thing Wallen regrets from his reality TV tenure, per People. "I think that the best music and the music that people relate to the most is the honest music that people feel themselves in it," Wallen explained. "That takes time to figure out; that takes time to write. So those couple of years after that show were really, really important to me. And I'm glad that it happened the way it did."
But while Wallen is glad about how things turned out, not everyone is. Shelton — who has been a mainstay on the show ever since it first kicked off — told The Country Daily in 2020 that he feels Wallen is "the one who got away." "I think the one I look back on now and go, 'What the hell' is Morgan Wallen," Shelton shared. "He wasn't even on my team ... He didn't even get through the battle [rounds] and now here he is having these gigantic, huge number one hits, and I can't take any of the credit. It's like, 'I had him right there and he got away.'"