Here's How Far Morgan Wallen Really Made It On The Voice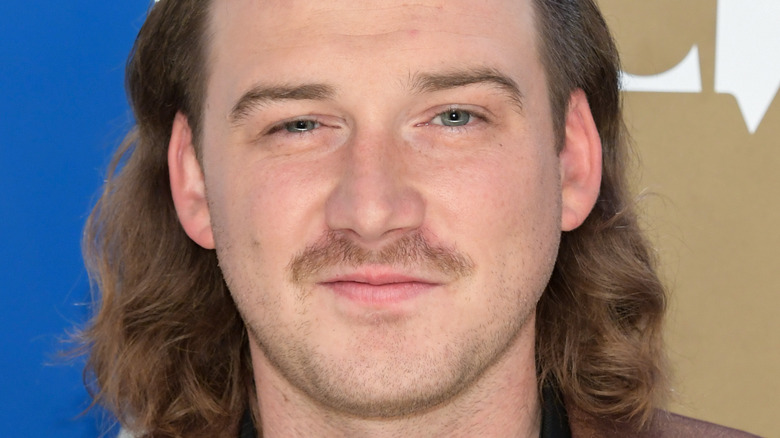 Jason Kempin/Getty Images
Morgan Wallen experienced one of the biggest falls from grace of 2021. Wallen was exposed for saying a racial slur after TMZ put out footage of the country singer acting belligerent after a night of partying in February. The rising star told the outlet he was "embarrassed and sorry" over his words coming to light. "I promise to do better," Wallen said at the time.
Wallen's use of the racial slur earned him disapproval from his peers in country music and resulted in the singer being banned from multiple awards shows, including the CMA Awards and the American Music Awards. Wallen was briefly suspended from his music label and his songs were pulled from radio and streaming rotations in the fallout of the leaked video.
But the repercussions of Wallen's words didn't seem to stall fans' devotion to Wallen or his music. "Before this incident, my album was already doing well," Wallen said on "Good Morning America." He added, "Me and my team noticed that whenever this whole incident happened, that there was a spike in my sales." The artist said the spike translated to about $500,000 worth of sales. "We decided to donate that money to some organizations, [Black Music Action Coalition] being the first one," he said.
Before scandal took over Wallen's career, the star's meteoric rise had humble beginnings. In fact, fans may remember he was first a contestant on "The Voice." So, how far did he make it on the show?
Morgan Wallen didn't win The Voice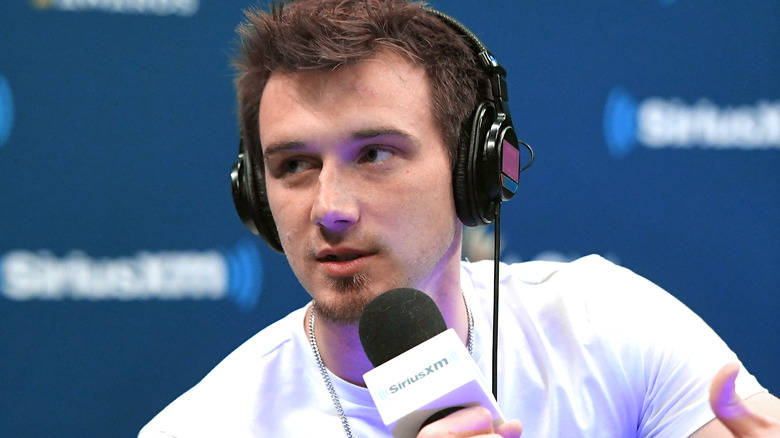 Matt Winkelmeyer/Getty Images
Music fans first met Morgan Wallen when he joined the competition on "The Voice" in 2014."That whole experience kind of kick-started me a little bit," Wallen said of the show to People in 2019. A fresh-faced Wallen, aged 20 at the time, had yet to dawn his famous mullet on the show. (Shelton would later joke about Wallen's now-signature mullet, quipping during an interview with 100.3 The Wolf, "It's pretty weak. His mullet is kind of like a bob haircut. I wanna see it get down to about the middle of his back, like me and you know, Tracy Lawrence.")
The Tennessean also left behind his country twang at his blind audition, at which he sang a raspy rendition of "Collide" by Howie Day. Judges Shakira and Usher fought over Wallen after his blind audition, with Wallen ultimately siding with the R&B star on Team Usher, per Country Thang Daily. Wallen went on to compete with performances of pop songs, Avicii's "Hey Brother" and One Direction's "Story of My Life," the latter of which led coach Adam Levine to steal Wallen after Usher sided with his opponent in the Battle Rounds.
Unfortunately, Wallen didn't make it to the end stages of his season of "The Voice" and was sent home in the first round of The Playoffs. "It was a big first step," Wallen surmised to People. "I guess that's the first time in my life where I realized that maybe I actually have a shot at this."
Morgan Wallen didn't need The Voice to succeed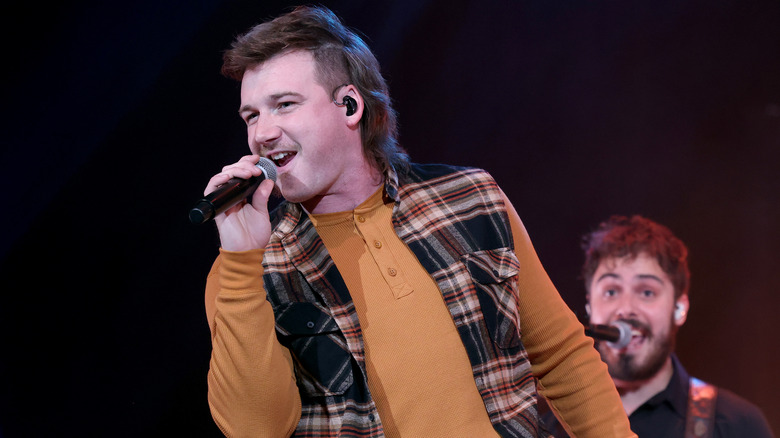 John Shearer/Getty Images
Morgan Wallen is actually glad he didn't take home "The Voice" trophy years ago. "I'm thankful that I didn't win because it gave me a chance to take a couple years after that show and really figure out who I was as an artist and get the right team around me," Wallen told People. Wallen found his footing in country music after "The Voice" and made a big first impression with his hit "Up Down," featuring Florida Georgia Line. And the rest, as they say, is history.
Wallen has achieved major success in the music industry. The country singer boasted via Instagram in November 2021 he was "back in the news again" for headlining a show in Georgia that saw over 30,000 in attendance, leading a public safety alert to be issued ahead of the country singer's performance. Woah. Wallen's album "Dangerous: The Double Album" became one of the best-selling albums across genres that year. "This couldn't have been accomplished without God's grace and without a common love of country music I've been so blessed to be able to make," Wallen wrote in reaction to the news.
"The Voice" OG coach Blake Shelton has expressed his regret about letting Wallen slip away on the show. "Now here he is having these gigantic, huge number one hits, and I can't take any of the credit," Shelton said, per The Country Daily. "It's like, 'I had him right there and he got away.'"