Fans Have One Burning Question For Adele
Cubankite/Shutterstock
Adele has legions of loyal fans across the globe, but even her die-hards are starting to lose patience with the Emmy-winning singer. Adele was scheduled to embark on her first-ever Las Vegas residency at Caesars Palace in January 2022. Titled "Weekends With Adele," the "Rolling In The Deep" hitmaker had plans of embarking on shows until April. However, not one show from the residency has gone ahead.
In an Instagram video shared on January 20, Adele announced she was postponing her whole residency less than 24 hours before opening night. "I'm so sorry, but my show ain't ready," she explained, listing Covid concerns and delayed deliveries as her reasons for the cancelation. "I can't give you what I have right now and I'm gutted and I'm sorry it's so last minute," Adele continued, "We've been awake for over 30 hours now trying to figure it out and we've run out of time. I'm so upset and I'm really embarrassed and I'm so sorry to everyone that traveled to get [here]."
Adele insisted the shows aren't canceled and that the dates have only been be postponed. With that being said, those who spent money on tickets haven't been given an update in months. Now fans are demanding answers.
Some Adele fans want their money back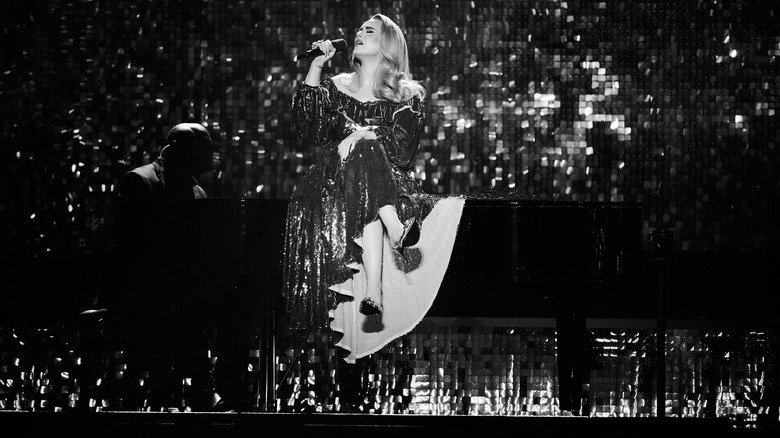 Gareth Cattermole/Getty Images
During an appearance on "The Graham Norton Show" earlier this year, Adele made the statement that her postponed Las Vegas shows will "absolutely be happening this year, 100 percent." At the time, fans were already frustrated by the delays, as per The Independent. Months later, fans still haven't been updated about the residency, leaving them unhappy with the "Easy On Me" hitmaker and questioning one thing.
"Are you ever going to reschedule your Vegas Residency?" one user tweeted, "You have a serious amount of money for tickets that you haven't provided any communication on next steps. I've been waiting years to see you but seriously considering refunding the tickets. The worst fan experience." Another shared: "I've decided I'm requesting my refund from the Adele Vegas show. It's been 4 months and we haven't received any official word on new dates. The way these flight prices are currently, it's no longer worth it to me." A third fan remarked, "What about Las Vegas shows[?] Such a joke. Nearly 4 months later and still no date. Cancel and give us our money back."
As previously reported by The Daily Mail, the face value of the tickets started from $85 while some were as pricey as $680. However, due to high demand, tickets sold quickly and were being re-sold for more than double of face value. As noted by the outlet, people listed their tickets that ranged from over $1,000 to more than $37,000!