Kate Moss Settles A Major Rumor During Depp V. Heard Testimony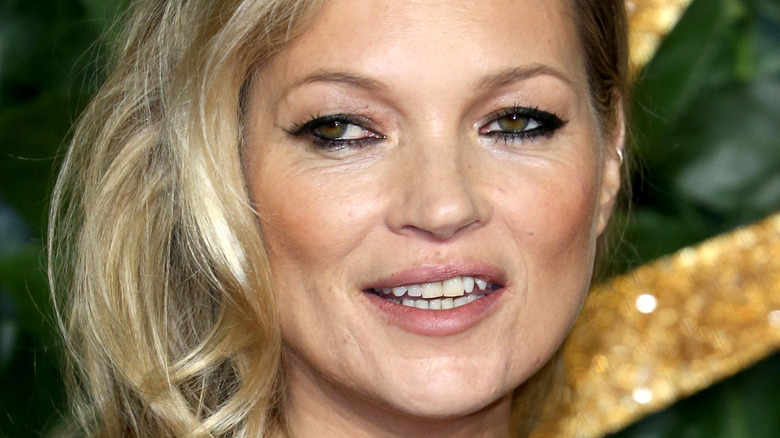 Cubankite/Shutterstock
The following article contains discussions of domestic abuse allegations.
Kate Moss' name was unexpectedly dropped during Amber Heard's testimony in her defamation trial against Johnny Depp. The "Aquaman" actor testified on May 6 that during a March 2015 quarrel atop a staircase, Depp grabbed her. With her younger sister Whitney trying to intervene, Heard claimed she had to physically defend Whitney. "She was trying to get Johnny to stop," Heard alleged. "Johnny swings at her ... I don't hesitate and wait, I instantly think of Kate Moss and stairs. I, for the first time, hit him, square in the face."
Heard's mention of the '90's icon alludes to a rumor she claimed to have heard of Depp pushing Moss down the stairs during their erstwhile relationship. Unfortunately for her, it seems to have come at her own detriment. Will Delgado, founding partner at Los Angeles' DTO Law firm, said in a May 24 Distractify interview that Moss has reportedly "always been supportive" of Depp (much like other famous exes Vanessa Paradis and Winona Ryder). "Now, Depp's team is going to try to drive a steamroller through it by having Moss contradict Heard," Delgado said, adding, "If you are suing someone for defamation, it's a good day when you can show that the defendant has been spreading untrue, defamatory statements about you."
Moss was indeed called to the stand on May 25 — and let's just say it played out exactly how many anticipated. 
Kate Moss testifies that Johnny Depp was never violent in relationship
Kate Moss testified in court via live video link on May 25, denying all rumors of Johnny Depp being physically violent during their former relationship. Amber Heard referenced such speculation not only during her current defamation trial against Depp, but also during Depp's libel trial against The Sun in 2020, per the Independent. "He was about to push [my sister] down the stairs and the moment before that happened, I remembered information I had heard that he pushed a former girlfriend — I believe it was Kate Moss — down the stairs," Heard testified in 2020. 
During direct questioning by Depp's attorney, Moss testified that Depp "never pushed me, kicked me or threw me down any stairs." Instead, the incident in question involved her injuring herself on vacation and Depp coming to her rescue. "Johnny left the room before I did ... I slid down the stairs and I hurt my back. I screamed because I didn't know what happened to me and I was in pain. He came running back to help me and carried me to my room and got me medical attention," Moss said. 
Moss' testimony is consistent with her previous recollections of Depp post-breakup. In a 2012 Vanity Fair interview, Moss said that "there's nobody that's ever really been able to take care of me" like Depp did. However, a source close to Heard told the Independent that Moss' testimony only proves Depp "1 for 2 in the abuse column."

If you or someone you know is dealing with domestic abuse, you can call the National Domestic Violence Hotline at 1−800−799−7233. You can also find more information, resources, and support at their website.