Below Deck: Inside Captain Lee Rosbach's Relationship With His Wife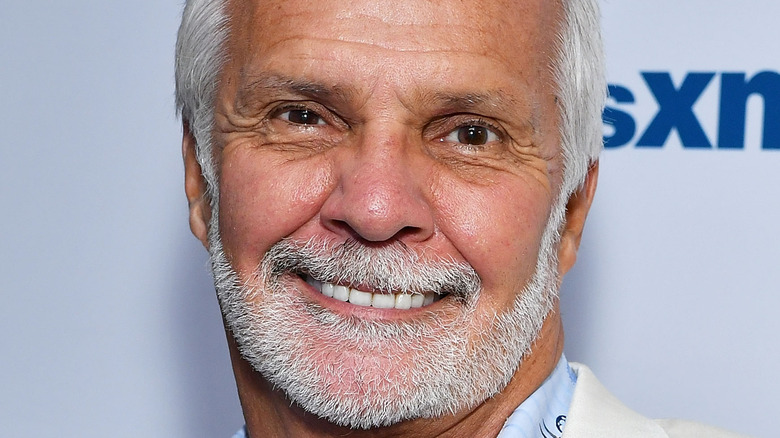 Slaven Vlasic/Getty Images
"Below Deck" may be best known for its messy love affairs and relationship drama (and, y'know, the wild ways of yachties!), but when it come's to the show's captain, it's clear skies and smooth sailing in the love department. 
As anyone who follows Captain Harold Lee Rosbach on Instagram knows, the "Below Deck" OG rarely — if ever — refers to Mrs. Rosbach by name alone. Instead, he favors using the term, "my bride" as a precursor to anything concerning her. In light of that, one might think the lovebirds are a relatively new couple, still in the honeymoon phase. However, that couldn't be further from the truth. In fact, in 2020, Rosbach posted a sweet tribute to his wife, in honor of their 45th wedding anniversary. "45 years ago today I had the honor and pleasure of marrying my very best friend in the world," the caption read. "To my bride: I love you more today than ever before. You're the best there is. I love you special."
So, what is it that keeps these longtime loves so in sync with one another, after all these years? And how did they meet, in the first place? 
The Rosbachs once worked together
Given all the drama that ensues when love and yachting mix, it's unsurprising that Captain Lee has a strict no fraternizing with charter guests policy. That said, when it comes to crew, he's pretty laidback. After all, as he's previously told Life&Style, "There's a lot that I don't see and trying to prevent them from hooking up on a boat is a total exercise in futility. It's never gonna happen."
However, there might just be another reason why the captain isn't too phased by (the non-messy kinds) love stories on board. Actually, it's how he met his future wife: Working alongside her, once upon a time. The captain's admission came in a 2019 episode of "Watch What Happens Live with Andy Cohen." Asked by a caller if he had ever hooked up with a crew member or — gasp — a guest, Rosbach began with a simple, "Yes," then added, "my wife." He went on to explain that Mary Ann Rosbach was his chief stew when they met. Lee adds that she's, "The only one." 
Mrs. Rosbach has also spoken about how she met her husband. In a Season 5 episode of "Below Deck," she visited Captain Lee and the crew briefly. Whilst there, she shared a sweet story that, despite having gone out with him in a group once before, he didn't remember her the second time they met. However, Captain Lee was quick to add that after that meeting, he was smitten. "After the second time, that was it," he recalled. Second time's a charm, we guess! 
The Rosbachs are the poster couple for 'absence makes the heart grow fonder'
The Rosbachs have been together for close to half a century. So, what's their secret to staying together? Ironically, their not staying together might just have something to do with that. 
Speaking in a 2017 episode of "Watch What Happens Live with Andy Cohen," Lee Rosbach revealed that his marriage was evidence that "the old adage, 'absence makes the heart grow fonder' is true," according to The Daily Dish. As the captain mentioned, not being by each other's side 24/7 has only helped the couple enjoy each other's company when they are together. "I think that is one of the keys to our relationship being successful, is the fact that we spend extended periods away from each other." 
Well, given that the Rosbachs celebrated their 47th wedding anniversary in April 2022 — Captain Lee posting yet another sweet Instagram message to his "bride" in honor of the occasion — we're inclined to believe that whatever these two are doing, it's working.