Sebastian Stan Was Spotted Getting Cozy With Another Star's Ex
Dimitrios Kambouris/Getty Images
Sebastian Stan and Alejandra Onieva were not shy about gushing over each other on social media. Onieva made the couple Instagram official in December 2020 when she uploaded a snap that captured the shadow as the pair embraced. "Walking on a dream," the "High Seas" actor added in the caption.
The couple apparently bonded during lockdown amidst the COVID-19 pandemic. In June 2021, the "Pam & Tommy" star uploaded a short film to Instagram in honor of his girlfriend's birthday. Stan was shown struggling while alone in his home in the whimsical video, until he found peace with Onieva. "Over a year ago, out of a lot of darkness ... you became the light I'm so grateful," he wrote. "The love you give me is the most beautiful gift this life has given me, te quiero!" Onieva replied in the comments. A couple months later, in August 2021, the Spanish actor repaid the gesture as she uploaded a video montage of the loving couple to Instagram on Stan's birthday. "Life is a gift, and experiencing it with you is the true beauty of it!!" she wrote in the heartfelt caption.
Onieva posted a cute snap of her beau to Instagram in November 2021, but that was her last Stan-centric post. Months later, Stan was spotted with a different woman, who was once romantically linked to another A-lister.
Sebastian Stan was photographed locking lips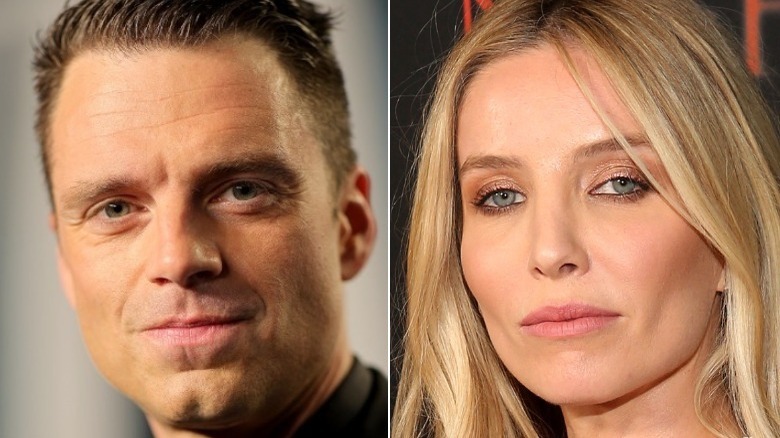 Rich Fury/vf22 and Jesse Grant/Getty Images
A series of photos from Robert Pattinson's birthday party were uploaded to Instagram on May 21, and one shot caught Sebastian Stan getting extra cozy with Annabelle Wallis. Photographer Myles Hendrik shared snaps from the exclusive event that included photos of Pattinson with girlfriend Suki Waterhouse, Zoe Kravitz with Tessa Thompson, a pic of Donald Glover, and more. One photo — that has since been deleted from the post — featured Stan holding Wallis as she pressed her lips against his bottom lip, per People. Keen-eyed fans noticed the suggestive image had been removed. "where is sebastian," one follower asked.
The Stan-Wallis picture was included in a viral tweet that shared Hendrik's photos from the star-studded private event. That sparked debate among fans about the potential status of the "Captain America: Winter Soldier" and Wallis. "Is Sebastian Stan dating Annabelle Wallis," one Twitter user asked. "[T]his is the first time we see him with a nother woman after his last 'gf'. that's a fact," another fan observed. What made the possible pairing extra juicy was that Wallis had recently broken up with Chris Pine.
The "Malignant" star was first romantically-linked to Pine in 2018. "Chris and Annabelle are dating! She was seeing someone else when they met," a source told Us Weekly at the time. In March, after being together for four years, it was reported that Pine and Wallis had been broken up "for a few months now," per another Us Weekly report.